The picture-in-picture mode has been around on YouTube's Android and iOS apps for quite some time now. This feature minimizes the video player into a floating window and lets you do other things in the app like searching some other videos or just scrolling through the feed while that video plays. Well, if the latest report is anything to go by, then we might soon see this feature making its way to YouTube's desktop site as well.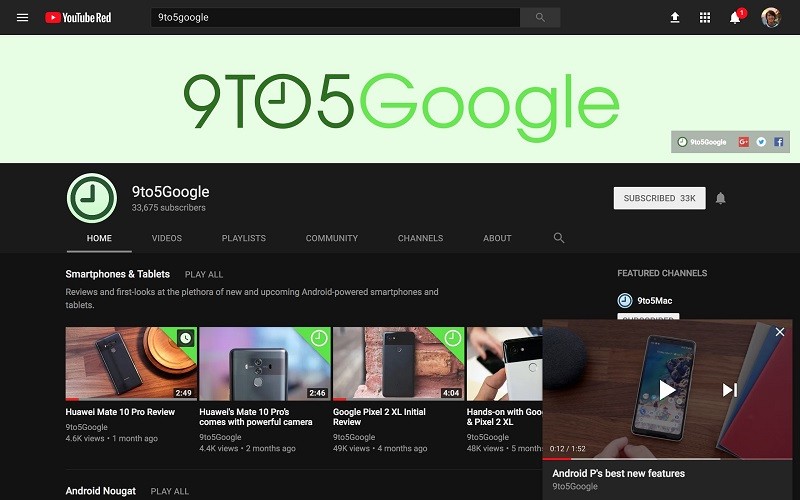 According to a report by 9to5Google, YouTube has started testing the Picture-in-Picture Mode on its desktop site. If a video is playing and you click anywhere on the screen, that video player will be reduced to a small floating window in the bottom-right corner of the screen.
Once the video player is reduced to a floating window, you can go to YouTube's homepage, subscribe to a channel or perform a search while that video keeps playing in the floating window. The window also has controls to play/pause a video, replay it, or watch the next one.
The name of the video is also displayed underneath in the floating window, and, there's also an icon in the window at the bottom-right corner that lets you view an entire playlist and scroll through it. Furthermore, there's a 'x' button at the top-right corner of the floating window to close it. However, there seems to be no option to enable/disable this feature.
Having said that, the person over at 9to5Google who got this feature is a YouTube Red subscriber, hence, this makes it unclear whether the Picture-in-Picture Mode will only be available to YouTube Red subscribers on desktop or will it be rolled out to all.
Also Read: How to use Picture-in-Picture Mode in Android Oreo [Guide]
Anyways though, we would love to see the Picture-in-Picture Mode being rolled out to YouTube's desktop as well. However, just because YouTube has started testing this feature on its desktop site doesn't mean that it will actually the see the light of the day.
Would you like to see the Picture-in-Picture Mode being rolled out on YouTube's desktop site?