Google introduced YouTube Offline back in 2014 in India. Google did that to tackle the issue of video buffering in countries where finding a reliable Internet connection can be a daunting task. With YouTube Offline, users can download the YouTube videos on their devices and can keep them on their devices for up to 48 hours for offline viewing. Now Google has announced another great feature in India called Smart Offline.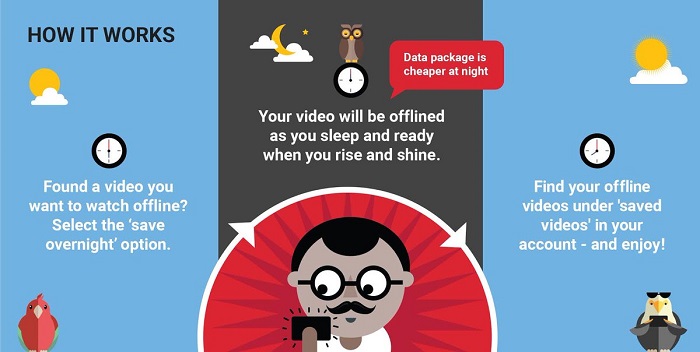 YouTube's Smart Offline feature lets you schedule download of YouTube videos on your device. You can select a time to take those videos on your device for offline viewing. This is to take advantage of the data plans provided by operators which allow Internet surfing at cheaper rates during night time.
"We're always working on ways to make the YouTube offline experience even better. Many mobile operators already offer discounted data and promotions to their subscribers, for the Internet during late night hours. Today, we're beginning to roll out a feature called Smart Offline on YouTube that lets you takes advantage of these cheaper data rates as offered by your mobile operator, without requiring you to stay up late at night." said Jessica Xu, Product Manager, YouTube.
"Here's how it works: when you tap on the familiar grey arrow 
to take a video offline, a prompt will appear, giving you the option to select "Save overnight" using your mobile operator's discounted night data plan. When you select it, the YouTube app will smartly schedule your video to be offlined after peak hours that night. When you wake up the next morning, your videos will be ready for you to watch offline and on the go, with no buffering." Jessica Xu further added.
As of now, this feature is rolling out to the subscribers of Airtel and Telenor with Google hoping to bring it to all the other users in India as well. In order to be able to see and use the Smart Offline feature, you need to be connected to your carrier's data network (Airtel or Telenor). Also make sure that the YouTube app on your device is updated to the latest version. Here's how to use Smart Offline on YouTube.
It's very good to see Google taking such steps and rolling out features like YouTube Offline and Smart Offline in India. If you happen to live in India, we need not explain the Internet issues an Indian user faces. Google also announced Carrier Billing on Google Play in India earlier last month in partnership with Idea.
So, what do you think about this Smart Offline feature?