The latest entrant in the flagship segment is the ASUS ZenFone 5Z equipped with a Qualcomm Snapdragon 845, dual cameras on the back, and Android Oreo powered ZenUI 5 which has a number of features that you might not know. Here we have shared 8 ZenFone 5Z tips and tricks as well as hidden features to make the most out of it.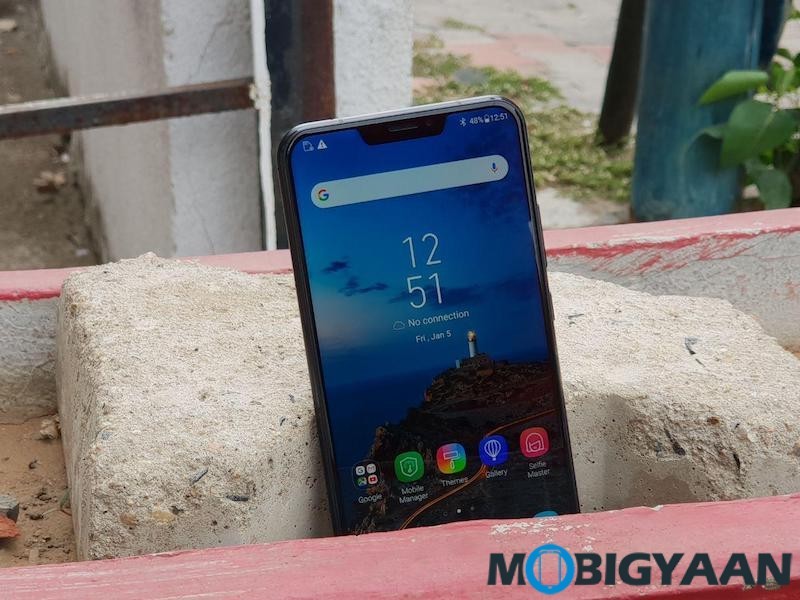 1) AI Features – AI Charging, AI Ringtone, AI Camera, And More
The ZenFone 5Z also packs nifty AI features in the Oreo-based ZenUI 5. Features like AI Camera, AI Display, AI Ringtone, AI Boost, AI Charging, and AI Photo Learning can do much more than you've actually thought.
The AI Charging extends the battery life by adjusting the charging rate automatically, it learns from your previous charging behavior. With AI Ringtone, the phone can intelligently set the ringtone volume depending on the environment.
The AI Boost is the performance booster; when enabled, it boosts the performance of the device to run heavy applications. The camera also has a bunch of AI features to offer. The camera detects 16 different scenes and adjusts the parameters accordingly.
The AI portrait mode applies a bokeh effect to the background in real-time and it works not just for the dual cameras, you can snap selfies with bokeh effects too.
2) Beauty Mode In Live Videos
BeautyLive is another feature that lets you add beauty effects during live video streaming on popular social media platforms. To use the BeautyLive, just head to your favorite social media app and go live. Once you are live, you can see the beauty icon that lets you adjust the beauty levels.
3) Zenmoji – Get Animated Avatar In Videos
What's ZeniMoji? Well, it's basically a ripoff of the Apple's Animoji and Samsung's AR Emoji. You might have seen the Snapchat's Bitmoji that turns your face into animated characters. ASUS has released the ZenFone 5Z bringing its very own ZenMoji.
The ZeniMoji, unlike the Animoji and AR Emoji, can be used for live video streaming and also you can make video calls using it. This is where the ASUS takes the lead since neither of the two we mentioned is able to do it.
To use the ZeniMoji, first, you need to make a video call or go live on your social apps. Then hit the ZeniMoji button to enable the emojis.
4) Record Games And Stream Live
There's an addition to the ZenUI 5 for gamers. If you love playing games and want to record it or live stream it on Youtube and Twitch accounts, the Game Genie is responsible for it.
Access the toolbar from the on-screen navigation bar while gaming. For Game Genie settings, go to Settings -> Advanced -> Game Genie and turn it On or Off. You also have the settings like video resolution, audio source, storage location and live streaming options.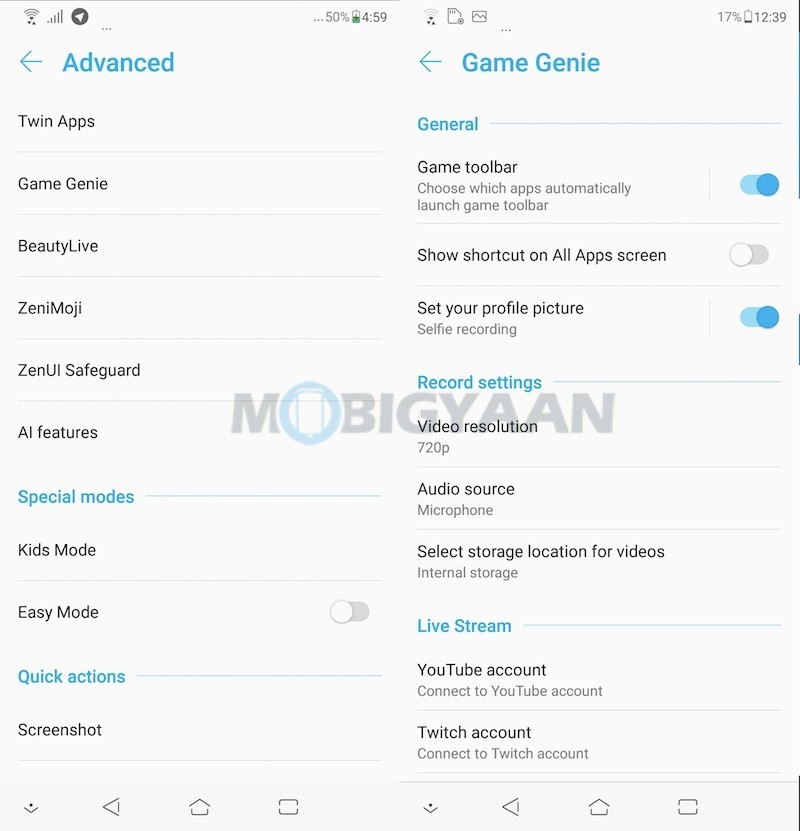 5) ZenMotion – Touch & Motion Gestures, One-Hand Mode
There are a number of touch gestures and motion gestures available on the phone, ASUS call it as ZenMotion. From double tap wake to draw a character, these gestures are able to make things easier for you. Here's what you can do with them.
Double-tap to wake and lock: Double tap to wake the screen while the same gesture can also be used to lock the screen. You can swipe the screen to wake the phone from idle.
Flip to mute: Flip the phone face down to mute the calls (if receiving any).
Draw characters for apps: You can draw various characters, alphabets to be specific to open apps. For instance draw W for weather, C for dual cameras, S for selfie camera, Z for Gallery, V for Dialer, and more.
You can also pick calls automatically when you lift the phone and put it to your ears.
Double tapping on the home key to activates the One hand mode. Go to Settings -> Advanced -> One hand mode.
6) Clone Apps And Run Together
Worried about how to run two WhatsApp accounts or other apps on which you have two accounts? This nifty feature Twin Apps will let you add a clone of the app you choose to run your second account. For instance, if you are using two WhatsApp accounts, create a clone of WhatsApp by using the Twin Apps feature, so don't have to rely on another phone. Just run two WhatsApp accounts on the same phone, thanks to the ZenUI 5.
To enable Twin Apps on ZenFone 5Z, head to the Settings -> Advanced -> Twin Apps and choose the apps you want to clone.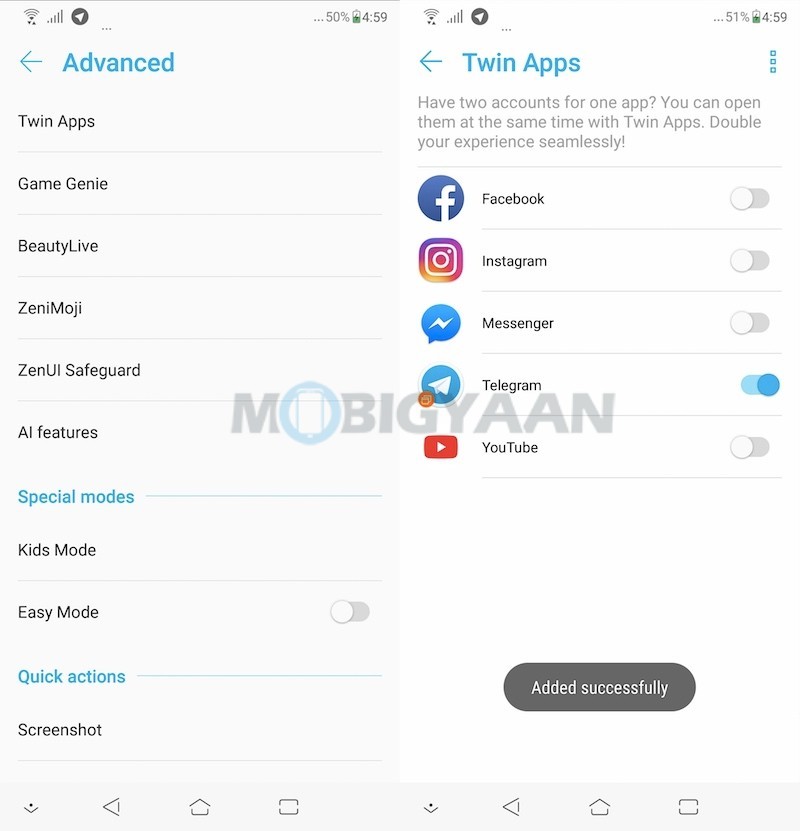 7) Get 100 GB Google Drive For Free
The ZenFone 5Z has a lot to offer when it comes to storage, it goes up to 256 GB in its top variant with an addition of a microSD card that expands up to 2 TB. Along with that, it offers a 100 GB Google Drive storage for free for 1 year, just log into your Google account and redeem.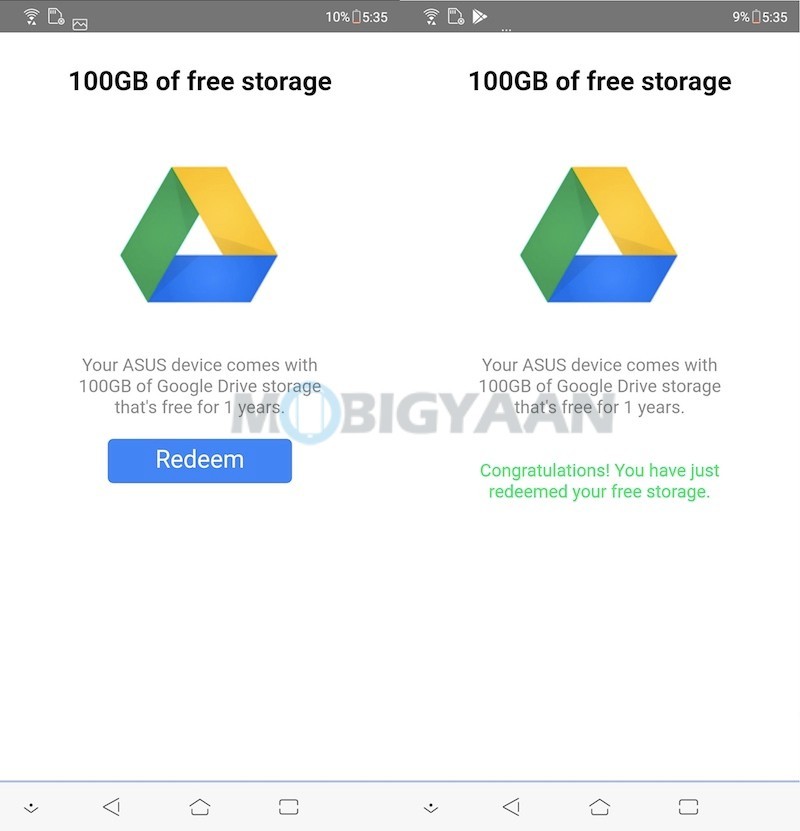 8) Unlock With Fingerprint & Face
There are a bunch of smartphones out there with face unlock and fingerprint scanner features, the ZenFone 5z is no exception. You can add your facial data right away and unlock the phone via your face. The fingerprint scanner is an added security that shouldn't be ignored.
To enable face unlocking and fingerprint scanning, head to Settings -> Security & lock screen and add your face data and fingerprints from there.
9) Take Screenshots Via Recent Apps Key
Taking screenshots using the Power key and Volume key is the most common way to take screenshots, however, you may require both the hands. Using this gesture, you can take screenshots with just one finger. Press and hold the recent key to take a screenshot.
Enable it under Settings -> Advanced -> Screenshot.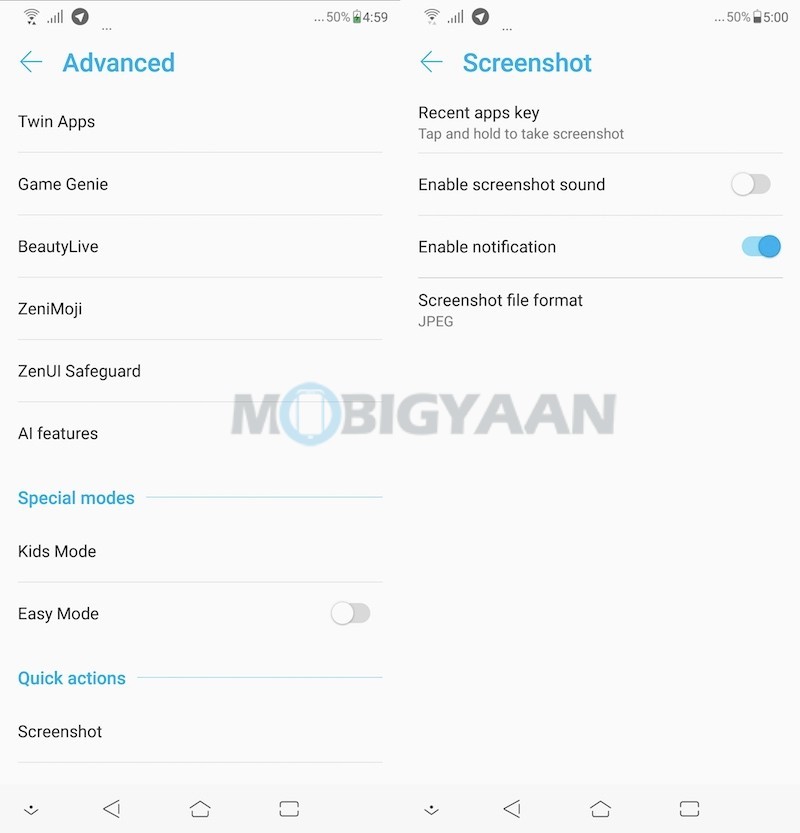 10) Battery Saving Modes
The ZenFone 5Z comes with a 3,300 mAh battery and it lasts more than a day easily. Now there are a number of power saving battery modes that you can make use of if you want to extend the battery life. Under Battery settings, you will find the modes like Performance for power users, Normal for the everyday use and Power saving for longer battery life.
There's a Super saving mode that will disable most things including fancy themes, Wi-Fi, Bluetooth and other networks, except phone calls, SMS, alarms. You are also provided with a feature that stops the unnecessary apps running in the background to save more power.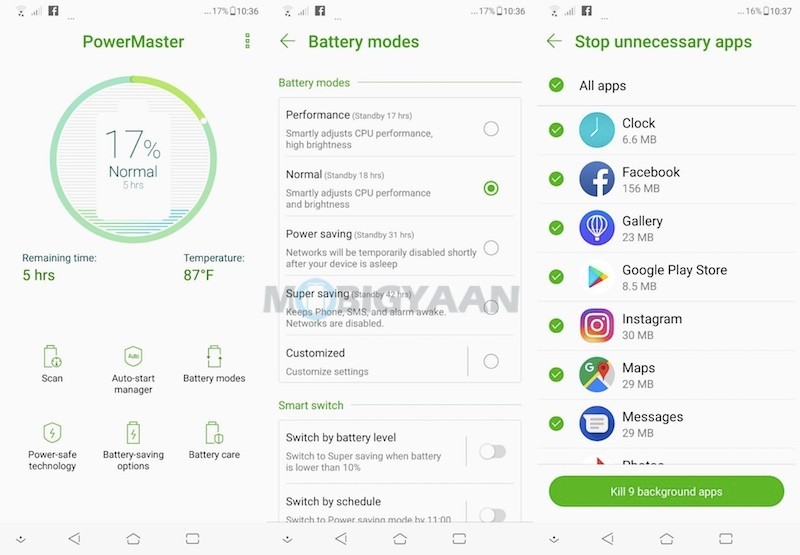 11) Browse Offline With Page Marker
The ZenUI 5 has a feature called Page Marker that saves your web pages to view them later even when you are offline. The Page Marker can let you highlight an important part of the articles whether you are previewing or viewing the downloaded web pages. Also, you can manage the downloaded pages by creating tags for future searches. Just tap the tag icon to create tags for keyword searches.
The Page Marker can be enabled from Settings -> Advanced -> Page Marker.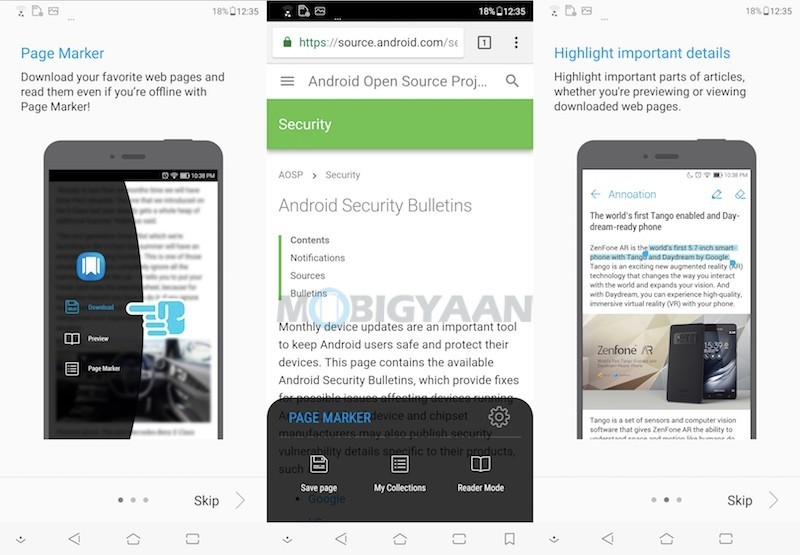 That was it. If you know any more features and tricks that aren't mentioned here, share them with us so that we know it.
What's the best thing you like about the ASUS ZenFone 5Z?