Google Maps has made the navigation easy for many people and no doubt it's the most used navigation service in India. It turns out, there are a handful of hidden features in Google Maps that the users are unaware. To show you that, we made a list of Google Maps tips and tricks to make things easier for you.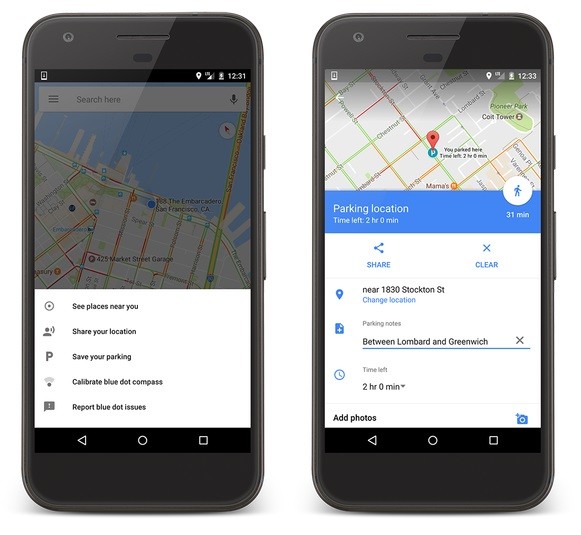 1) Save your parking location
At times, you often forget where you have parked your vehicle especially in large parking areas like malls, and unknown places. Google Maps can find your parked vehicles and reminds you how much time left for your parking.
To save your parking location, tap the blue dot and then click 'Save your parking'. This would create a label on the map identifying where the vehicle is parked.
To enable the parking reminder, tap or swipe on the label after you save your parking location to open the parking card and add the details about your parking. The parking location can be shared with your friends as well.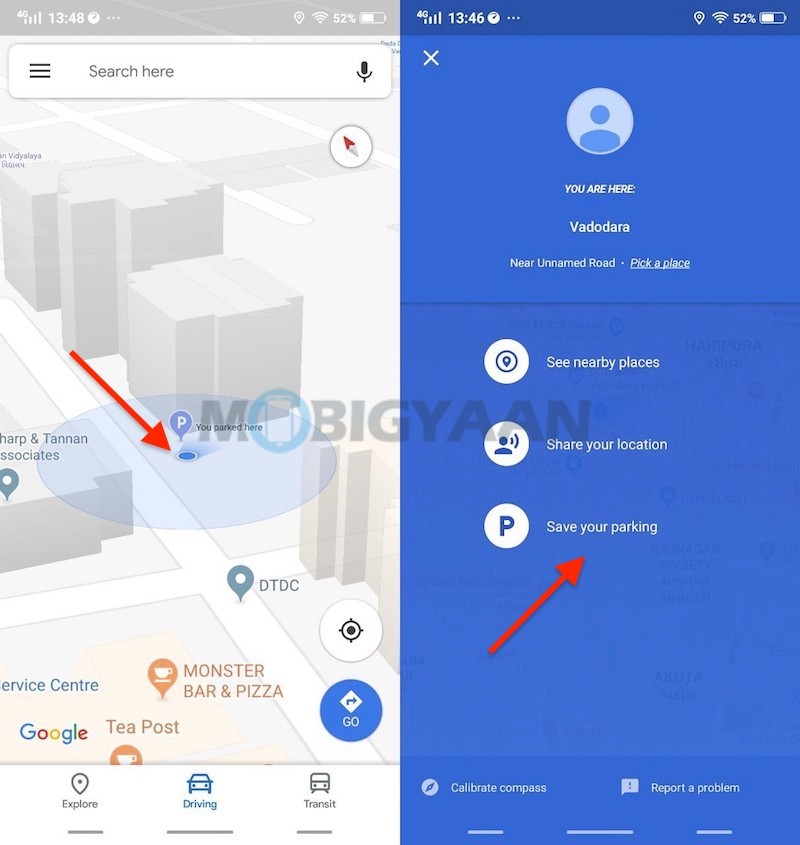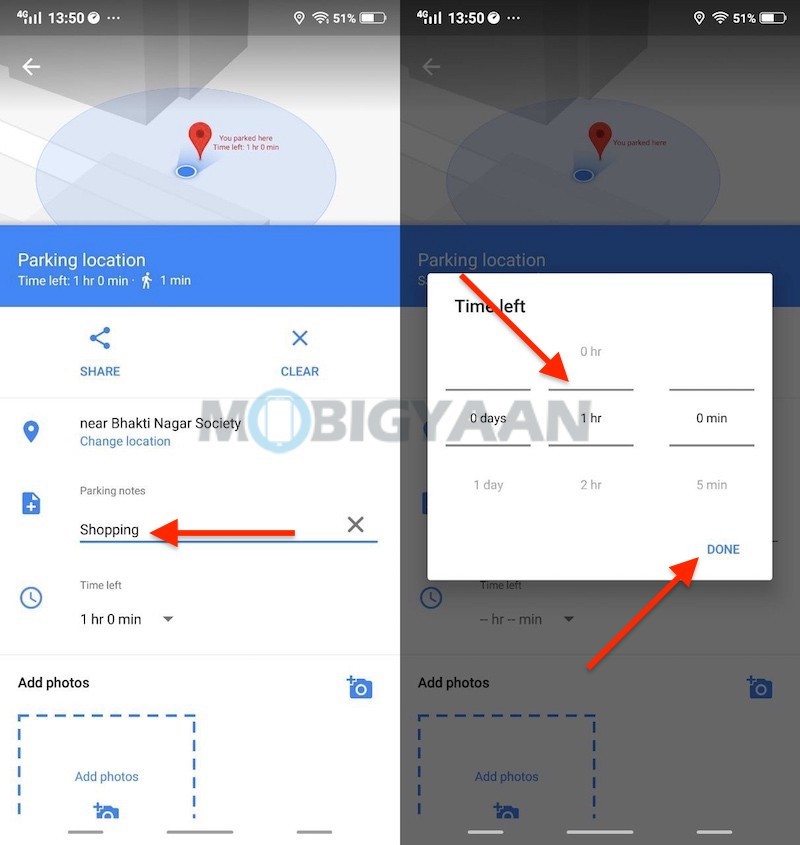 2) Navigate in Motorcycle Mode
Google has introduced Motorcycle Mode in Maps that shows you the best route to reach your destination on your two-wheeler. Until now, whenever you hit the GPS and start looking for navigational directions in Google Maps, you were provided with routes by car, bus, train, or walking. Now Google has also added Motorcycle Mode in that.
To check how you can access the Motorcycle Mode, just search for place and start navigating, you will see a bike icon along with the car, train, and walk.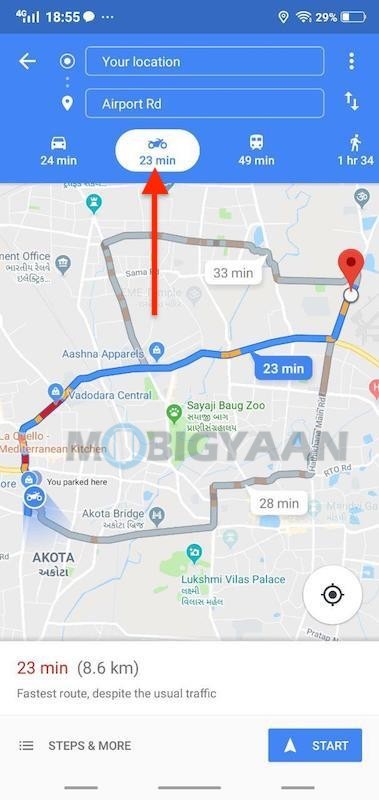 3) Get OLA and Uber cabs via Google Maps
Getting cabs is easy with the Maps, Google has added a dedicated tab that shows information about the available cabs from OLA and Uber. The tab shows the available cabs and its fares without opening the OLA and Uber apps. You can avail this feature while searching for a location and view it in the tabs.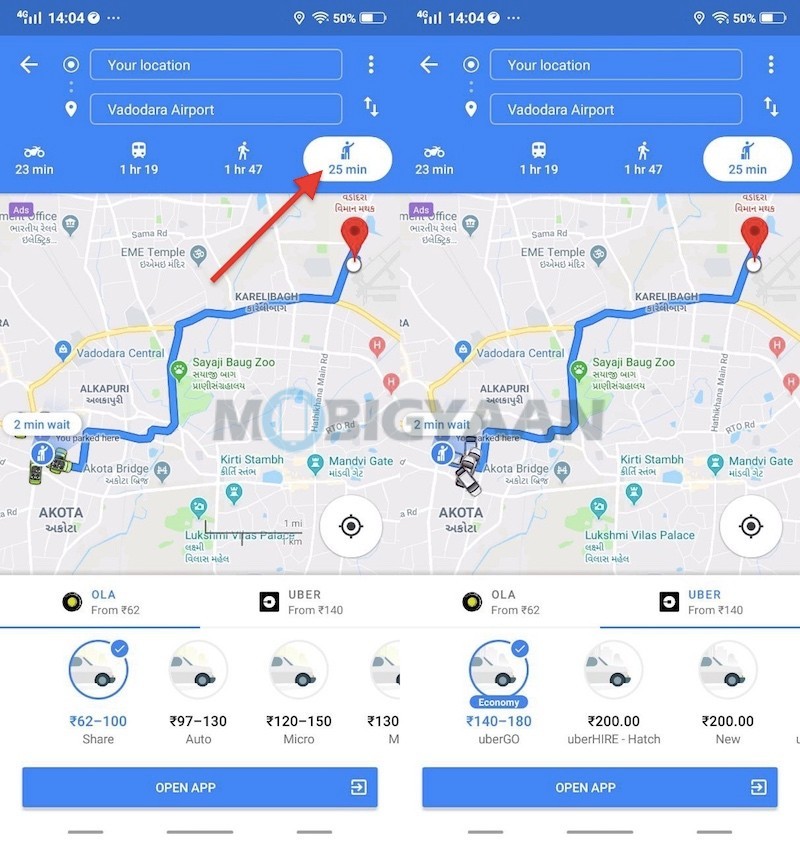 4) Navigate for multiple destinations
Google Maps also offers navigation of multiple destinations. Heading back home and you want to pick up like food or grocery from other locations? Well, add multiple stops in the Maps and drive efficiently.
Search for your final destination and tap the three dots and then 'Add stop' to add the place you are likely to going to visit before you reach the destination. You can add up to 9 stops and can rearrange them according to the route.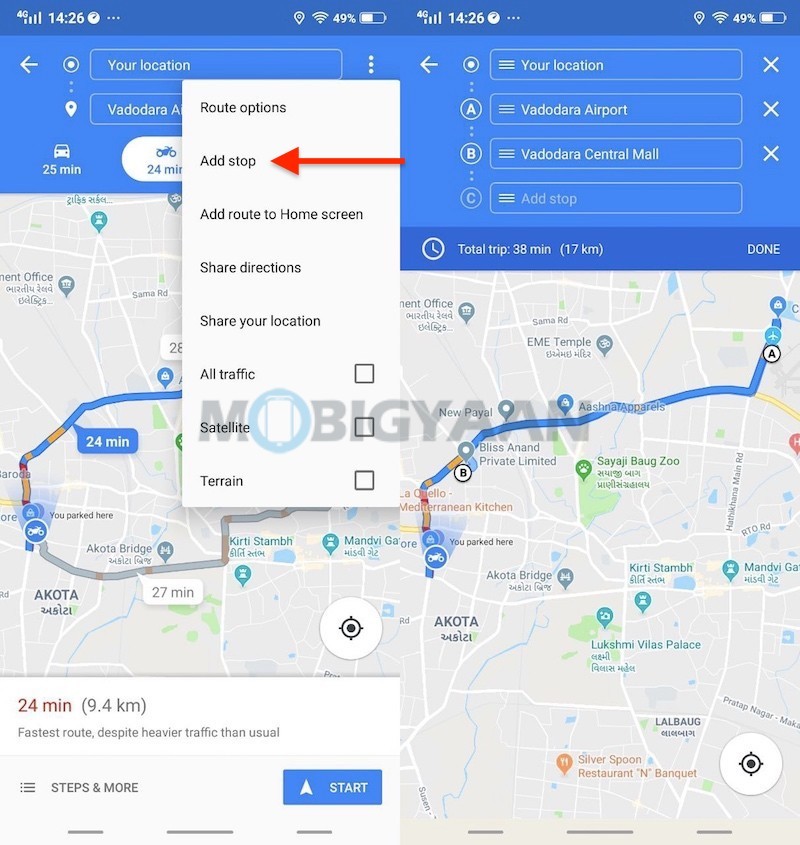 5) Find train and bus schedules
You can see public transit departures on the Google Maps while searching for a location. When getting directions of your searched location, you have the option to check the train and bus schedules for that location.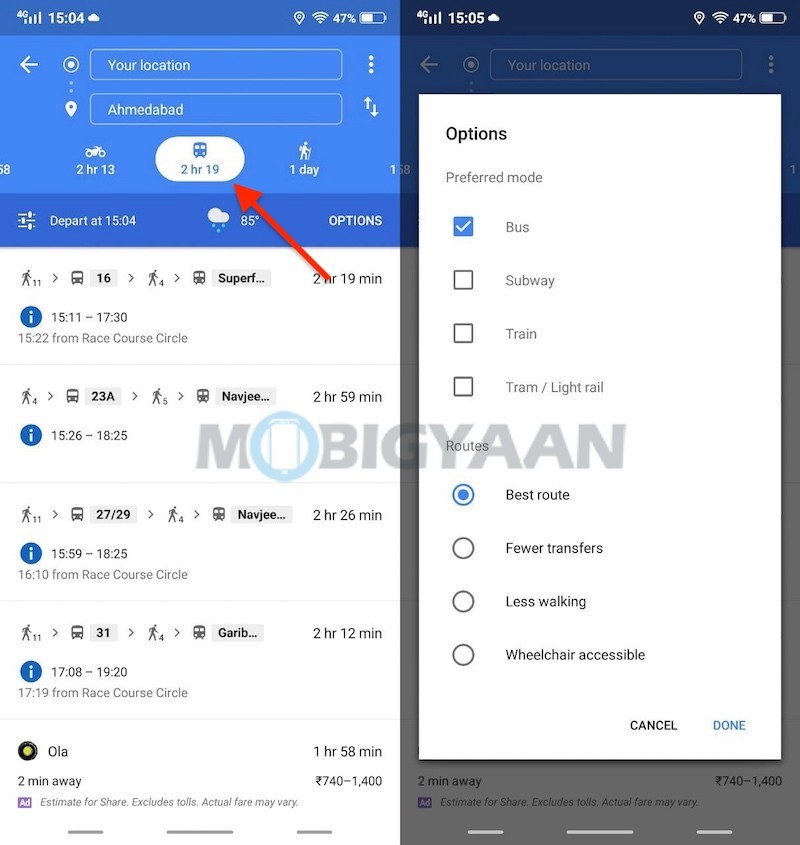 6) View your location history in a timeline
Google Maps provides a timeline of your visited places in a calendar view. You might have forgotten the place you visited a few days back, but with the help of the Google Maps timeline, you will discover it in a few taps.
Tap the three bars or swipe from the left, and tap 'Your timeline' to see all the routes using the calendar icon on top.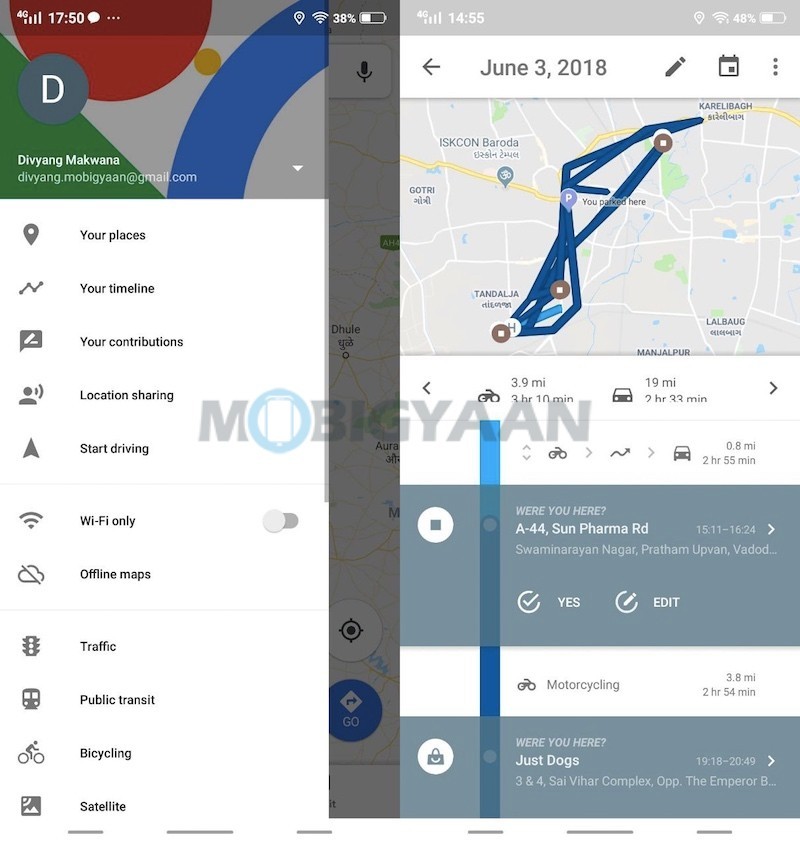 7) Use voice commands while driving
It's always easier to speak than to type, you can make use of the voice commands while driving. When navigating, tap the microphone button and talk with voice. Here are some of the voice commands that you can try.
Voice commands for Google Maps:
Mute – Mutes voice guide
Show traffic – Shows the traffic on the route
Navigate Home – Navigates to the Home address
Show my ETA – Shows the estimated time left to reach the destination
You can try your own commands and see if it works.
8) Zoom with one-hand
We usually zoom everything on the phone with two fingers, even the maps are many times zoomed either with two fingers or double tap. If you didn't know Google Maps can be zoomed with single-handed. Just double tap and hold and then swipe to zoom.
9) Travel Virtually – Explore in Street View
If you are planning to visit places, you can see photos of it in the maps and explore the area up close. Search the place you want to check out and tap the photo at the bottom left to explore.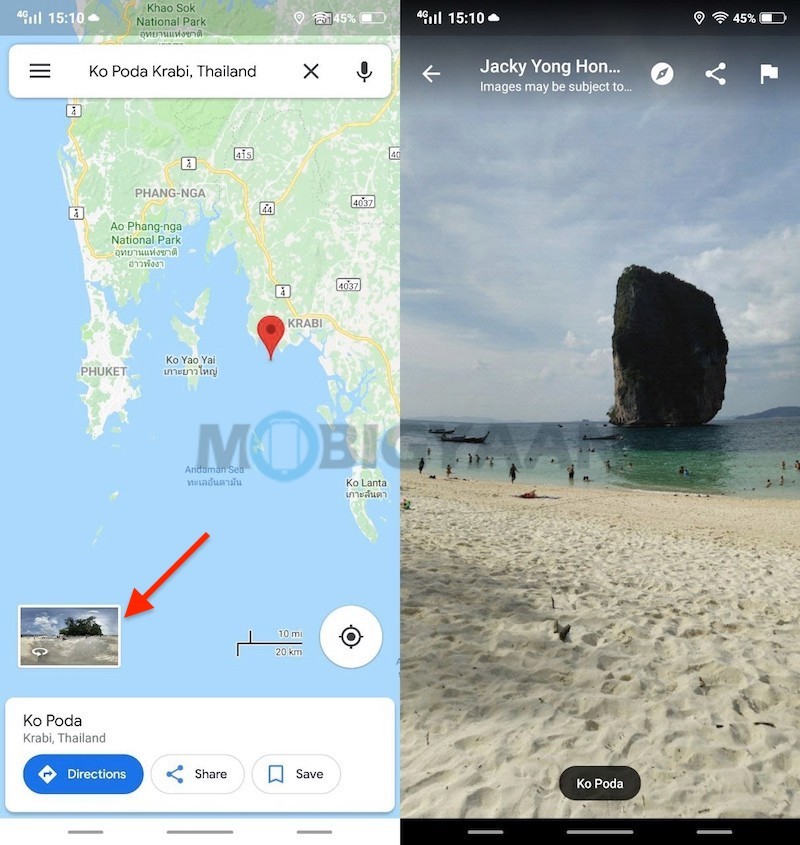 10) Use Google Maps in offline mode
Have you tried Google Maps without internet? Either you are traveling to places where there's no internet or you are on low network coverage, Maps will make things easier for you, download maps for offline use.
To download offline maps, swipe from the left or tap the three bars in the corner and tap Offline maps. Select the map area and tap download.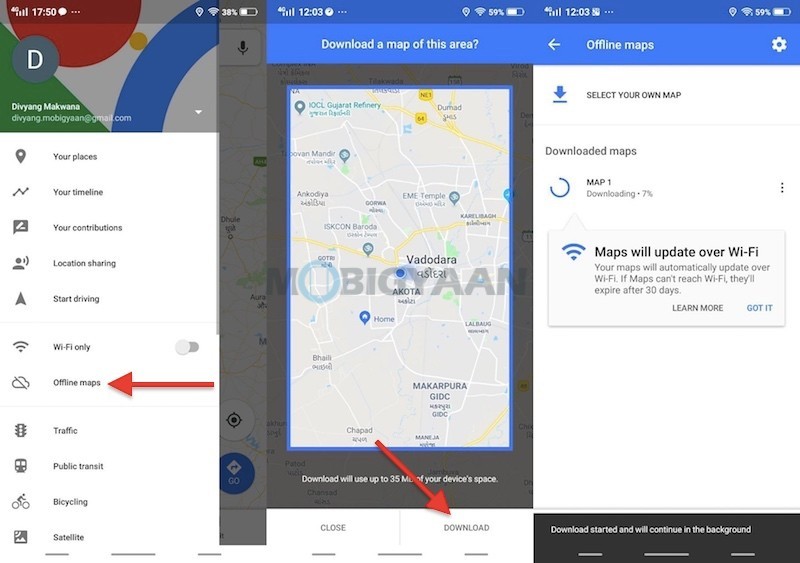 11) Try Google Maps in Hindi
Google has added the Hindi language in the Google Maps for Indian users who want to navigate in their local language. The maps will display the names of the cities, localities, important roads as well as other places of interest in Hindi. However, the same name will also be displayed in English below the Hindi one.
To enable the Hindi instructions, choose Hindi as the default language in the Settings -> Language and Input on your Android smartphone.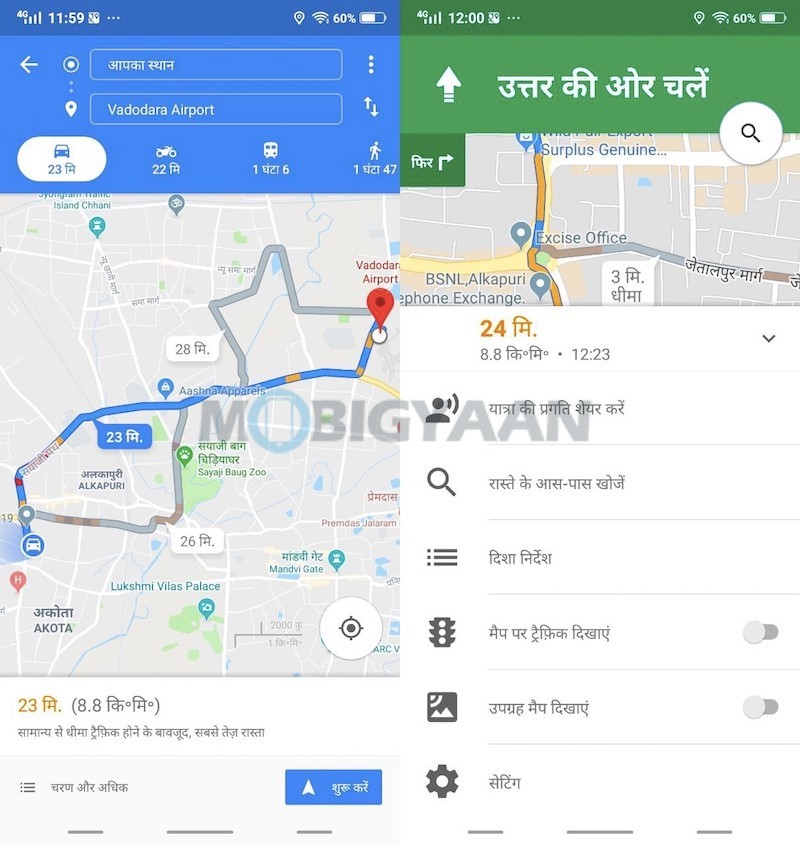 12) Find public toilets in Google Maps
Google Maps has listed thousands of public toilets in India. The listing will provide location, address and opening hours of over four thousand communal and public restrooms. Do note that, this feature is available in selected cities, try if it searches in your area.
13) Save a place and add to favorites
Google Maps allows you to save your favorite places so you can quickly find them later from any device. To save places and view them on Google Maps, make sure you're signed in to your Google Account. On searching a location, below you will see a save option, tap to save.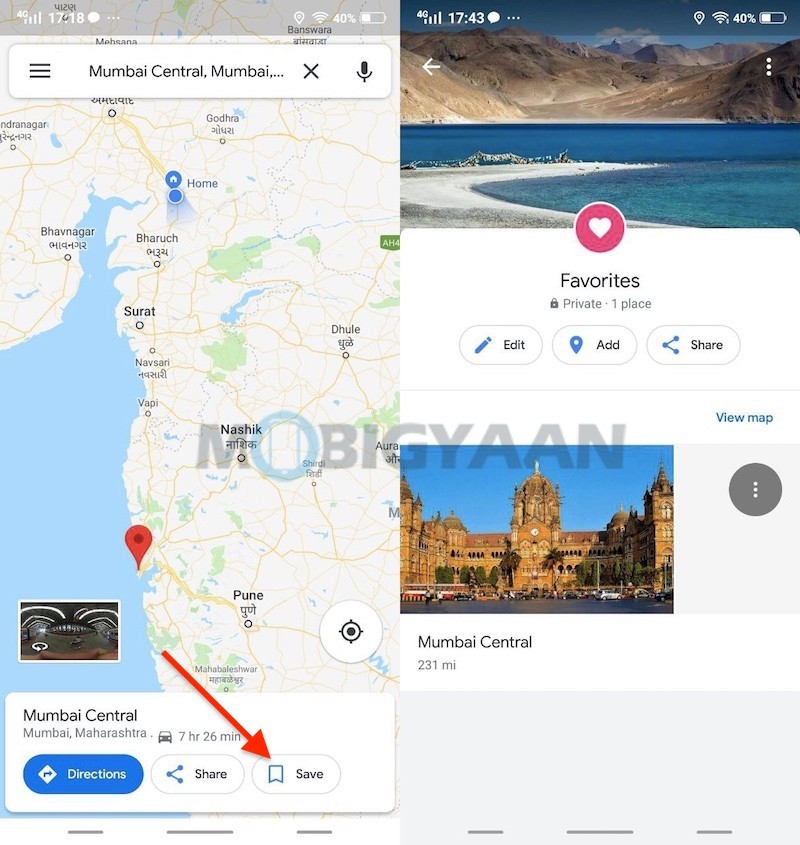 There are more features we might have missed, but you will be able to find it out if you use the Google Maps more often. If you know any more features of this app, share with us under the comments below so that we know too.
Want to know more about similar tips, tricks, hidden features and guides on smartphones and apps, we have a lot of resources available on our How-To Guides, do check them out.