Samsung sold 300 Million Mobile handsets in 2011, Galaxy S and S II played a huge role
300 MILLION! Yup, that's the number of Mobile handsets Samsung has sold in 2011. According to Samsung, 2011 is hugely successful year for the company in terms of sales across its entire handset portfolio.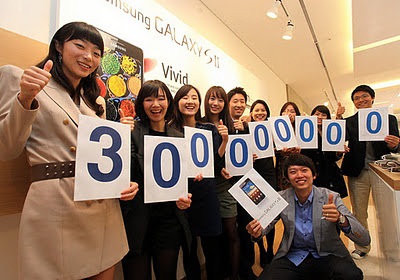 And as expected GALAXY S and GALAXY S II played a huge role in Samsung's success. The GALAXY S II, launched in 2011, set a new sales record for Samsung, generating 10 million sales quicker than any mobile device in the company's history.
JK Shin, President and Head of Samsung's Mobile Communications Business said, "We are incredibly proud of this record-breaking sales milestone and have exceeded the annual target announced early this year, which is testament to the enduring appeal of Samsung phones with consumers around the world. Our performance in the mobile industry remains unrivalled. Samsung is the only manufacturer bringing such an exceptional choice of handsets to customers across a broad range of platforms including Android, Windows Phone and Samsung's own bada platform — and on a truly global scale. We look forward to extending this success going into 2012."
Hey Sammy, congratulations! We are waiting for Galaxy S III.