A few days back we shared with you about a Nexus 7 with 32 GB on-board storage appearing in inventory listing of Carphone Warehouse.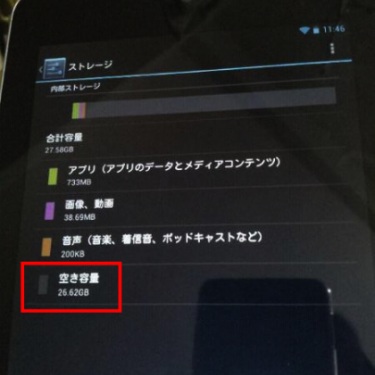 And now it seems that a lucky customer from Japan who bought the Google Nexus 7 tablet was shipped with a 32 GB version of the $199 tablet.
As you can see in the image above, the Google Nexus 7 that the consumer who goes by @oppese on Twitter was shipped has 26.62 GB of available space on the 7 inch tablet.
 
The consumer also posted a second picture of the box which shows that the box in which the tablet was shipped has the 16 GB version written all over. Indeed a lucky customer. This could have happened as someone from the production line mistook and picked up the wrong version of the Nexus 7 and packed it.
 
But this also almost confirms that there might be a 32 GB version of the tablet also getting packed and are just waiting for the official announcement and green single to roll out to prospective consumers.
 
The Google Nexus 7 is yet to officially launch in India and as per the previous official announcement by ASUS, the Nexus 7 will be launched in the India in November.