Last year, we heard about a Nexus 5 being upgraded to 64 GB of internal storage by its owner who seemed frustrated with the 16 GB of internal storage the device had. Well, after almost a year, we are looking at a Nexus 5X which has been upgraded from 2 GB RAM to 4 GB RAM.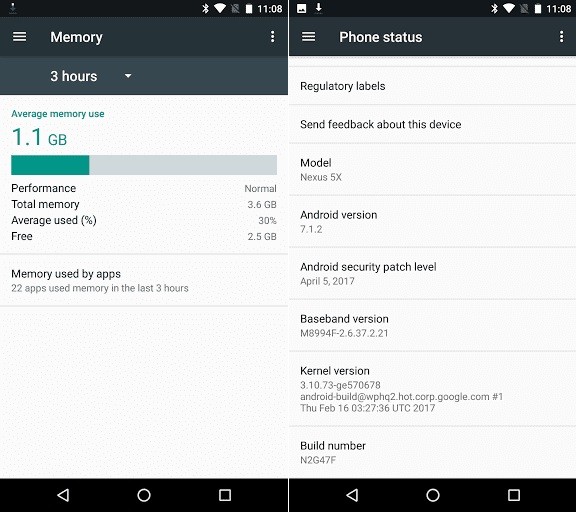 Well, this is a story of XDA Member Cathair2906 who started getting bootloop issues on his LG made Nexus 5X. This Nexus 5X was purchased by him from Hong Kong, and, as the device was out of warranty, LG's customer center in Hong Kong denied any repairs to the device to resolve the issue. Well, as the device was already out of warranty, Cathair2906 decided to send his Nexus 5X to China to get it repaired.
The repairman in China to whom this Nexus 5X was sent suggested Cathair2906 to upgrade the device from 2 GB RAM to either 3 GB or 4 GB. The reason is that to solve the bootloop issue, the CPU had to be replaced, and as the RAM was packed together with the CPU, it was possible to replace it with the one which had either 3 GB or 4 GB of RAM. Well, that's it. This is how the Nexus 5X with 4 GB RAM came into existence.
Cathair2906 also said that after the upgradation of RAM on his Nexus 5X, he updated the device from Android 6.0.1 Marshmallow to Android 7.1.1 Nougat through an OTA update, and, everything's been working fine so far.
Cathair2906 has also revealed that this upgrade cost him ¥400 (around $60/₹3750), however, what he hasn't revealed is the contact of the repairman in China who carried out this procedure. Hence, if you too are thinking of doing something similar to your device, you will to have to break some sweat and search for this guy (or similar servicemen in your area) yourself.
By the way, what do you think of this upgradation? Well, we think it's always a good idea to get the malfunctioned component replaced with a good one if you are not willing to spend on a new device.