Aircel Introduces local and STD @ 50 paise in Maharashtra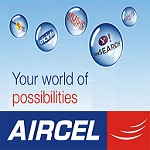 Aircel has re-launched its RC21 which used to offer all local calls @ 75 paise,50 paise & 25 paise for first,second and third minute respectively and all STD calls @ 75 paise/min with a validity of 3 months.Now RC21 offers all local and STD calls @ 50 paise/min after the first minute priced @ 1 rs and 1.50 rs/min respectively per day for both local and STD.
Local and national SMS are priced @ 50 paise/160 characters after spending 1 rs and 1.5 rs/day for local and national respectively.
This voucher has a validity of 3 months but the validity is of 5 months for subscribers taking new connection.
We Say:– There is nothing extraordinary in this scheme.Infact the previous RC21 was better as atleast the local call rates were as low as 25 paise from the 3rd minute of the call.