Airtel, the popular Indian carrier has become the first among the competition to start offering 4G services in the country. Airtel is offering its 4G services only in Bangalore as of now but we should see them bring the service to more cities soon.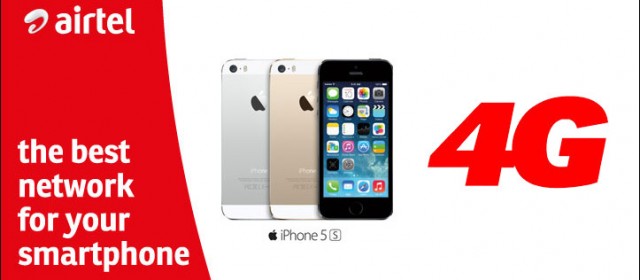 The best thing about this whole offering is that Airtel will be offering their 4G services at the same rate as its 3G plans. If you are an Airtel user with an iPhone 5s or 5c with a 3G plan, you can access the 4G speeds without any additional plan. Airtel has also announced a new plan for its 4G services offering 10 GB 4G data for Rs. 1,000.
As we aforementioned, the 4G services will work only with the iPhone 5s and 5c because only these devices support India's 2300 MHz 4G band.
Airtel hasn't detailed the 4G speeds yet but they claim you can stream a high definition video with zero buffering, download 10 movies in less than 30 minutes, upload full holiday albums in less than 5 minutes by uploading 2 high quality photos per second and you can connect multiple devices without experiencing any speed issues.
Announcing the launch, Srini Gopalan, Director – Consumer Business, Bharti Airtel India said, "Airtel has always set the technology trends in India and was the first operator to introduce 4G to the country. The Information Technology capital of India saw the advent of 4G last year and today we are proud to announce the launch of the much awaited Airtel 4G services on mobile in partnership with Apple. We will together give customers in Bengaluru the power to upgrade to cutting edge 4G LTE technology at no additional cost. As a brand we are committed to enriching lives of millions by giving them the best user experience and invite our data savvy customers in the city to enjoy this world class data experience."
Reliance too is planning to bring its 4G services to the market soon and it'll be interesting to see how they price their 4G plans. We also just reported that Idea and Vodafone too are planning to bring 4G services in many cities across India and we are excited to see their offerings as well.
Airtel has done a good thing by pricing the 4G plans on their 3G rates, considering their 3G plans were priced higher than the competition barring Vodafone. We know that Airtel has the highest number of user complaints against them in the last four years and we hope Airtel atleast satisfies its customers with consistent 4G services.