Airtel has teamed up with Value Added Services (VAS) provider Handygo Technologies Pvt. Ltd to launch 'Behtar Zindagi' which is a unique mobile based service for farming and allied communities across Rajasthan.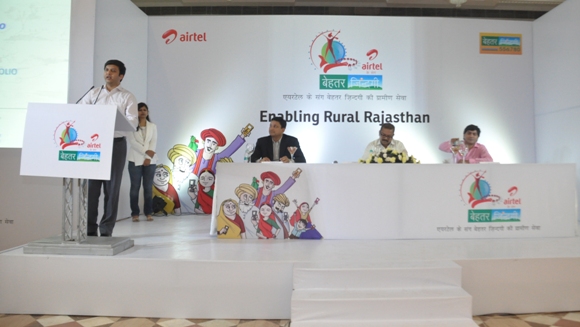 This service is aimed to empower Airtel mobile with the ability to use their mobile phones to receive comprehensive information and updates on a wide range of relevant topics including weather updates, mandi rates, live stocks, agriculture, fisheries, health, education and finance.

The 'Behtar Zindagi' service will leverage the simple and easy-to-use Interactive Voice Response (IVR) medium to communicate key information to subscribers, thus allowing them to leverage their mobile phones to plan their businesses and lead better lives.
To educate and sensitize Gram Panchayats on 'Behtar Zindagi', Airtel and Handygo experts will be conducting a mass awareness drive including mobile vans that will reach out to potential customers all across the state. These sessions will be aimed at educating potential customers on the service's usage and scope towards enhancement of their yield, production etc. The service will be promoted at various touch points including agricultural & rural fairs, farmer's exhibitions, van promotions, contests, associations with local NGOs, announcements through community radio, distribution of free physical coupons etc.
The 'Behtar Zindagi' service is available for farmers 24×7 and 365 days of the year. To use this service, Airtel mobile customers can dial 556780 (toll free) and avail the subscription pack at a charges as low as Rs 1/day. As a first-of-its-kind in the Indian telecom industry, this service supports a wide range of dialects and is available in Hindi and 17 other regional languages.