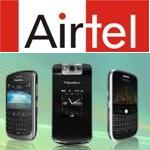 Airtel has introduced new Plans for its Prepaid BlackBerry subscribers. Earlier Vodafone and Tata DOCOMO also introduced the new Prepaid BlackBerry Plans. Airtel is giving its subscribers an option to go for either Weekly Plans or Monthly Plans. The BlackBerry service Plans which Airtel is currently offering to its Prepaid subsribers are – BlackBerry Personal Mail and BlackBerry Internet Services.
The BlackBerry Personal Mail service plan offers unlimited access to the industry-leading email and instant messaging features of BlackBerry Internet Service, allowing Airtel customers to access up to 10 supported POP3/IMAP email accounts (including most popular ISP email accounts such as Yahoo! Mail and Google Mail) as well as various instant messaging services (including Windows Live Messenger, GTalk, Yahoo! Messenger and BlackBerry Messenger) from a single device.
The BlackBerry Internet Services Plan offer all the features of the BlackBerry Personal Mail service Plan alongwith Unlimited Internet Browsing.
Details of Airtel Prepaid BlackBerry Plans
Plan Name
Rental
Duration (Days)
Benefits

Weekly Personal Mail

Rs 80

7

Unlimited emails (POP/IMAP) + Instant Messaging

Monthly Personal Mail

Rs 299

30

Weekly Internet-Mail Service

Rs 100

7

Unlimited emails (POP/IMAP) + Instant Messaging + Internet Browsing

Monthly Internet-Mail Service

Rs 399

30

Monthly Enterprise-Mail Service

Rs 899

30

Unlimited emails (POP/IMAP)+ Instant Messaging + Internet Browsing + Office emails
Also Read :