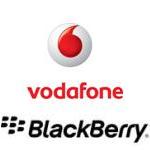 Vodafone India had updated its website with the details of New BlackBerry Prepaid Plans few days back but did not make any official announcement for the same. Today Vodafone officially announced the launch of new BlackBerry plans for its prepaid customers in India. With the new prepaid tariffs, Vodafone customers will now have the flexibility to choose from daily, three day, weekly and monthly offers. Vodafone's BlackBerry smartphone customers on the new prepaid service plans can enjoy unlimited access to email, BlackBerry Messenger, instant messaging, social networking and Internet browsing, as well as access to the BlackBerry AppWorld application store, at a price starting at Rs. 15 per day.
With new BlackBerry Prepaid plans Vodafone customers can access as many as ten supported email accounts such as Hotmail, Yahoo! Mail, Google Mail and chat on popular services including Windows Live Messenger, Google Talk and Yahoo! Messenger. As an additional customer benefit, BlackBerry smartphones can display messages from multiple mailboxes in a single inbox and support the viewing of email attachments including Microsoft Word (.doc), Microsoft PowerPoint (.ppt), Microsoft Excel (.xls), and Adobe pdf (.pdf) documents, as well as image files (.jpg, .bmp, .png, .gif, .tiff)
| | | | |
| --- | --- | --- | --- |
| Tariff plan | Validity | Activation | Deactivation |
| Rs. 15 | 1 day | sms ACT BIS15 to 111 | CAN BIS15 |
| Rs. 44 | 3 days | sms ACT BIS44 to 111 | CAN BIS44 |
| Rs. 100 | 7 days | sms ACT BIS100 to 111 | CAN BIS100 |
| Rs. 399 | 30 days | sms ACT BIS399 to 111 | CAN BIS 399 |
Kumar Ramanathan, Chief Marketing Officer, Vodafone Essar Ltd. "We are extremely pleased to announce the launch of BlackBerry service plans for our prepaid customers. This segment is highly cost conscious and through the democratization of data services, we are providing an entry threshold at an accessible price point of just Rs. 15 per day. We believe that this initiative will appeal to young professionals, students and a broad spectrum of retail customers who are looking for an exceptional experience for messaging, social networking, email, music and entertainment – on the go! RIM is known for its exceptional mobile communications and strong business reputation and we are delighted to continue our long term alliance. We are certain that our prepaid customers will benefit from the compelling functionality of the BlackBerry solution that's delivered across our reliable and extensive network in India."
Frenny Bawa, Managing Director, India, Research In Motion said. "RIM is delighted to work with Vodafone to introduce smart and flexible BlackBerry service plans for prepaid customers in India. Vodafone's prepaid customers will now be able to stay connected with friends, family and colleagues around the world."
It will be interesting to see how other telecom operators will respond to Vodafone's new BlackBerry Plans.