Airtel is sending out emails to post-paid users notifying them of a new monsoon offer to start from July 1, 2017. the new offer can be considered an extension of the Surprise Offer that was started in April.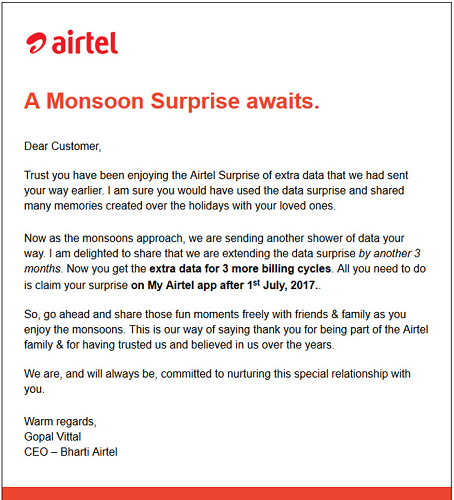 The telecom company was offering free data each month to the tune of 30 GB per month to users. That accounted for 10 GB every month. With Airtel Monsoon Offer that benefit is set to go on until September 2017.
"Now you get the extra data for 3 more billing cycles. All you need to do is claim your surprise on My Airtel app after 1st July, 2017," said the email sent from Airtel CEO Gopal Vittal.
To claim the free data all you need is My Airtel app. If you don't have it, go to the Play Store to download the app. After install, the app will notify you to claim the new offer. Tapping on the message will take you to the page of the offer. As said earlier, this is for postpaid users. New postpaid users can also get the new offer in the same way described above.
The new offer is part of Airtel's efforts to keep its customer base pleased in light of comparison to Reliance Jio.