If you are one of the customers who can't live without super high speed internet, then Airtel has some good news for you. Airtel broadband subscribers in Hyderabad can avail the new high speed internet with speed of 40 Mbps.
According to reports, Bharti Airtel today launched Broadband plans on VDSL (Very-high-speed Digital Subscriber Line) technology which would provide super high speed of 40 Mbps for their subscribers in Hyderabad. This service will enable customers to enjoy high definition videos, online multiplayer gaming, downloading rich content, uploading photos and videos instantly.
There are two plans, which the customers can choose, depending on their monthly data usage. The Ultrasonic 3999 offers 200 GB of data along with 2000 free voice calls. Similarly the Ultrasonic 3299 offers 100 GB of data along with 1000 free voice calls.
After FUP, Airtel Broadband users will get a speed of 512 Kbps.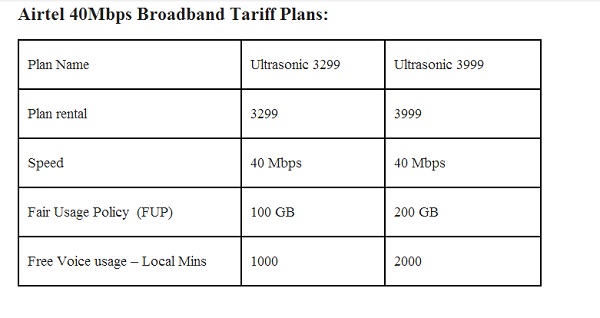 There are various Value Added Services (VAS) – Parallel Ringing, PC Secure (Anti-Virus software), Unlimited Gaming through Games on Demand, LearnNext, which the customers can opt for. To use the VDSL broadband technology customers have to purchase the Beetel's VDSL Wi-Fi modem priced at Rs. 3,099, which is Wi-Fi enable, to enjoy ultrasonic internet speed. Happy speed browsing!