Airtel Digital TV, which is the DTH division of Airtel, has today launched the Internet TV in India which is powered by Android TV.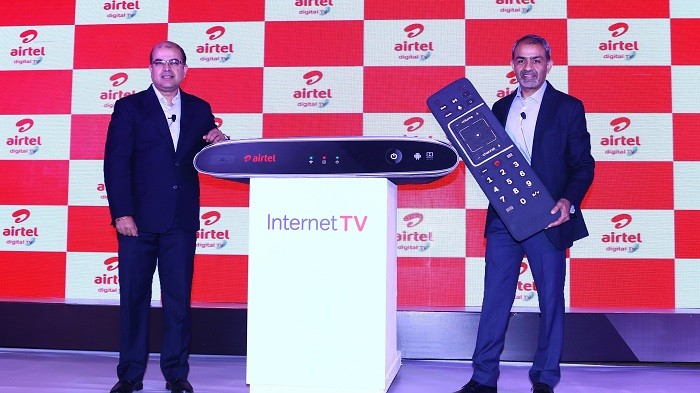 The Internet TV is India's first Hybrid DTH Set Top Box (STB). It is powered by Android TV, and, as it's a Hybrid DTH STB, you can not just watch the online content on your TV using the Airtel Internet TV, but, you can also watch the offline content which is offered through a set of 500+ satellite TV channels.
This hybrid STB also converts your TV into Smart TV by letting you switch between online content and offline TV channels easily. Besides, the STB also comes pre-loaded with Netflix, YouTube, Google Play Games, Airtel Movies as well as the Google Play Store. If you are a gamer, you can use physical controllers or use your smartphone as a game pad to play games with Internet TV.
The Internet TV also comes built-in with Chromecast which means users can mirror the content on their smartphone onto their TV screen. Apart from this, the remote that comes along supports Google Voice Search making it easier for the customers to search for their favorite content using voice commands.
The Internet TV also supports 4K content and lets you record LIVE TV shows so that you can watch them later. Besides, it also supports USB and Bluetooth connectivity. More importantly, if you want to watch online content through Airtel's Internet TV, the STB will need to be connected to a broadband or 4G hotspot connection having a minimum speed of 4 Mbps.
Airtel Internet TV is priced at ₹4999 and comes with 3 months of Digital TV subscription, however, as a part of limited offer, customers can pay ₹7999 and get the Internet TV along with 12 months of subscription. Also, if you already own Airtel Digital TV, you can get the Internet TV STB by simply upgrading your existing STB.
The Airtel Internet TV will be available online exclusively on Amazon India from April 12 and will also be available via Airtel Digital TV touch points after the online launch.