Smartphone cameras are getting better every day, and not without a reason. Smartphone is something which we carry around with us almost everywhere as it serves us not just as a mobile phone, but as a music player, a gaming device, a compass and a television as well. Not to forget that better smartphone cameras are the reason not many people buy point-and-shoot cameras these days. Apart from the rear camera, OEMs have also been focusing more on providing better front cameras because there are people who take tons of selfies in a day. This is also the reason for a rise in selfie-focused smartphones. Well, Gionee too launched a selfie-focused smartphone called Gionee A1 in India last month, however, apart from taking good photos, there's lot more a smartphone should be able to do. Is the Gionee A1 able to do all that pretty well? Well, we find that out with this Gionee A1 review.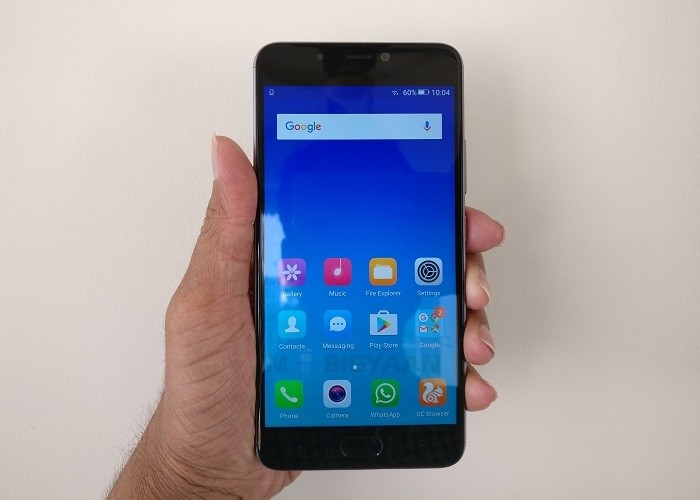 In box contents
Gionee A1
Charger
USB Cable
SIM Tray Ejector
Screen Protector
Protective Cover
Earphones
User Guide
Warranty Card
Gionee A1 specifications:
CPU: 2.0 GHz MediaTek Helio P10 octa-core processor
RAM: 4 GB
GPU: Mali-T860 MP2
Operating System: Amigo OS 4.0 based on Android 7.0 Nougat
Display: 5.5-inch Full-HD (1920 x 1080 pixels) IPS 2.5D display with Gorilla Glass 3
Rear Camera: 13 MP Sony IMX258 with f/2.0 aperture, PDAF and LED flash
Front Camera: 16 MP with f/2.0 aperture, 5P lens and Selfie flash
Internal Storage: 64 GB
External Storage: Expandable up to 128 GB via microSD card
Connectivity: 4G VoLTE, GPS, Bluetooth 4.0, Wi-Fi 802.11 a/b/g/n, USB OTG
SIM: Hybrid SIM Slot (Micro SIM card + Nano SIM card or Micro SIM card + microSD card)
Other: Fingerprint Scanner on the front (unlocks phone in 0.2 seconds)
Battery: 4010 mAh supporting 18 W Fast Charging
Warranty: 2 years (for those who pre-book)
Design
The Gionee A1 flaunts metal uni-body construction, a design language incorporated by many OEMs into their smartphones. While some smartphones with metal finish tend to be slippery, the metal finish of this device makes sure that it doesn't slip out from your hands.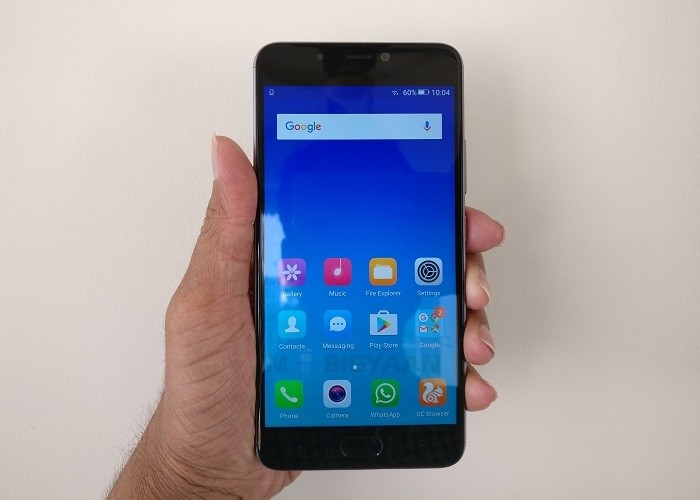 At the front, the device has a 5.5-inch Full-HD IPS 2.5D display which comes with the protection of Gorilla Glass 3. Above the display is the earpiece which is flanked by the 16 MP secondary camera, Selfie Flash and sensors like the Ambient Light Sensor and Proximity Sensor.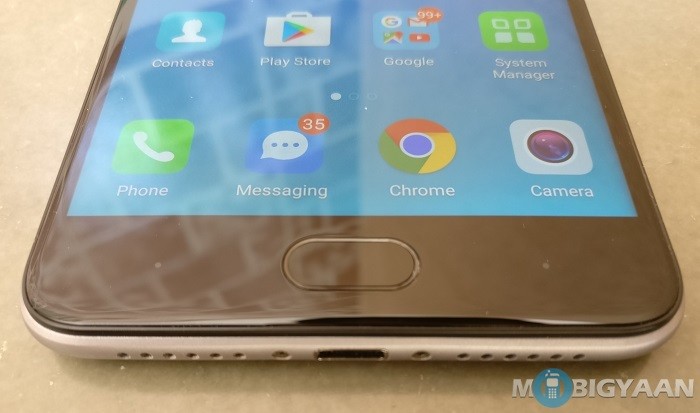 Below the display is the fingerprint scanner which is housed on the physical home button. The home button is flanked by capacitive navigation keys which aren't back-lit. Well, this turned out to be quite annoying in low-light conditions as the keys were not easily visible, and, as a result, we ended up tapping multiple times around the key area for going back or switching apps. For its price, we would have loved to see Gionee throwing in back-lit navigation keys on the A1.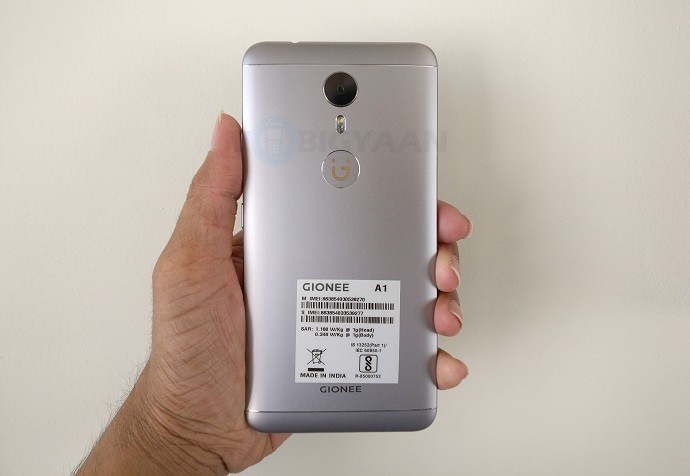 At the back of the device is the 13 MP primary camera below which is the LED flash. You can also see the Gionee moniker below the flash which is embossed in a circle. Well, at first glance, we thought it was a rear-mounted fingerprint scanner, but it wasn't.  There's another Gionee logo at the bottom and you can also see the antenna lines which expand all the way up to the edges of the display. The device also has rounded corners, and, it also has a bit of a heft, however, that doesn't mean the device is heavier as we felt pretty comfortable to hold it with one hand for longer periods of time.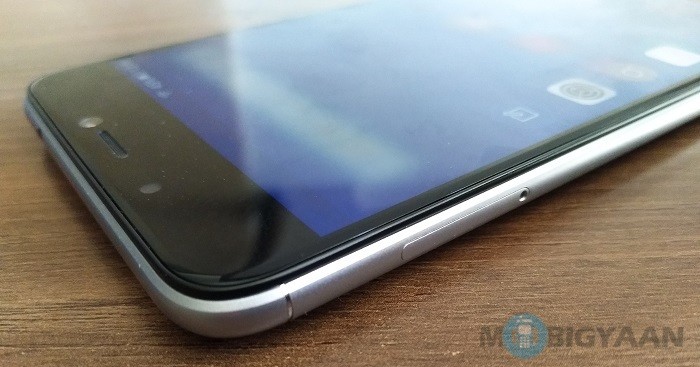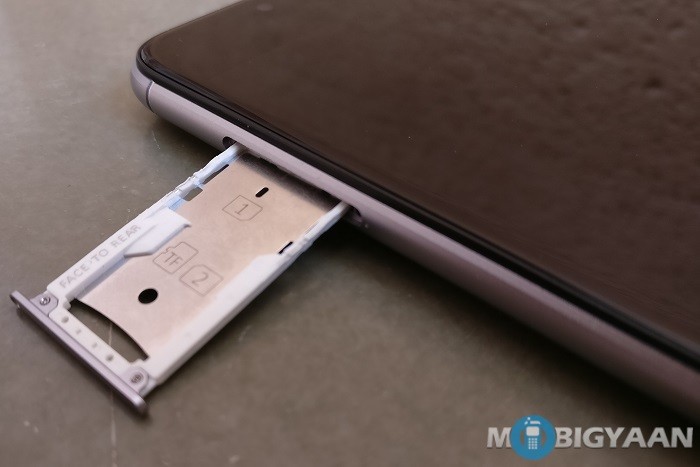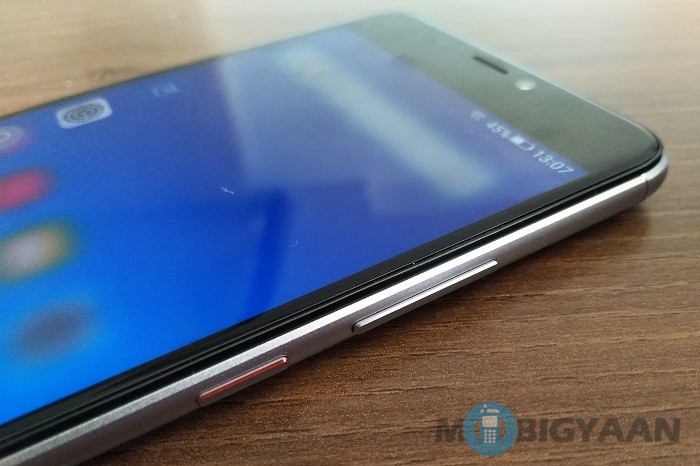 The Gionee A1 has a Hybrid Slot at its left whereas the volume rocker and power button reside on its right. These buttons are built pretty well and provided good feedback. Speaking of the Hybrid Slot, you can either use one Micro SIM card and one Nano SIM card at a time, or, you can insert one Micro SIM and put the microSD card in the other for storage expansion. However, as the device comes with 64 GB of internal storage, we assume not many users will have to opt in for a microSD card for storage expansion.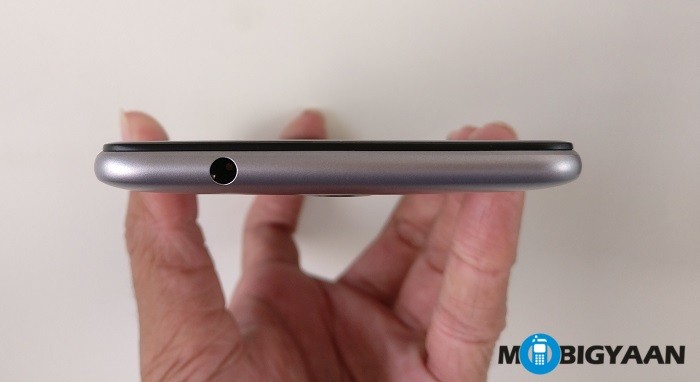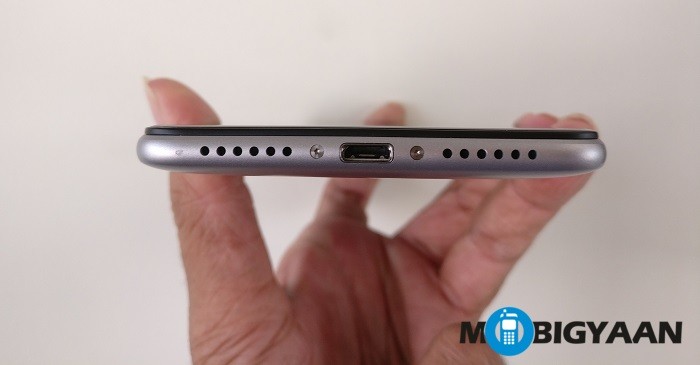 Moving on, the Gionee A1 has the standard 3.5 mm audio jack on the top while the microUSB port rests at the bottom. You can see there are two grilles flanking the microUSB port and might think that they are speakers. Well, that's not the case. Only of of them is the speaker while the other is the primary microphone.
Display
The Gionee A1 sports a 5.5-inch IPS 2.5D display which comes with Gorilla Glass 3 protection. The display has a resolution of 1920 x 1080 pixels along with a pixel density of 403 ppi.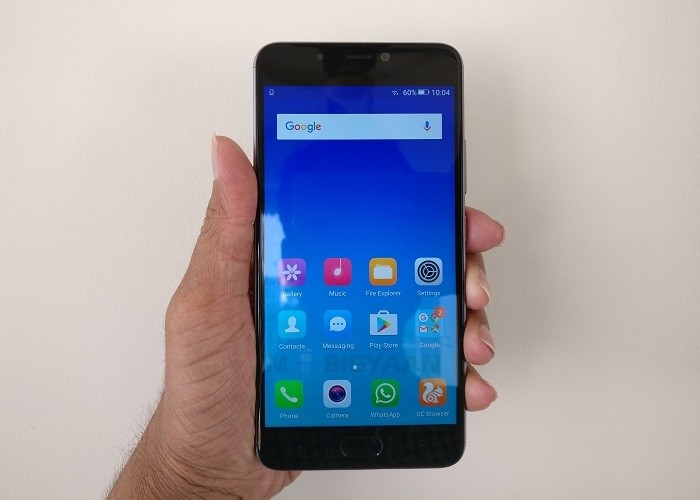 The display on the Gionee A1 is good and it's very bright. Rather, very much bright. It has good sunlight visibility and we were able to use it pretty easily because of its higher brightness levels. We didn't face any issues while using it under sunlight. However, this same bright display turned out to be quite annoying during night time as even at the lowest brightness, the display was bright enough to cause strain to our eyes. Well, a built-in night mode could have come in very handy.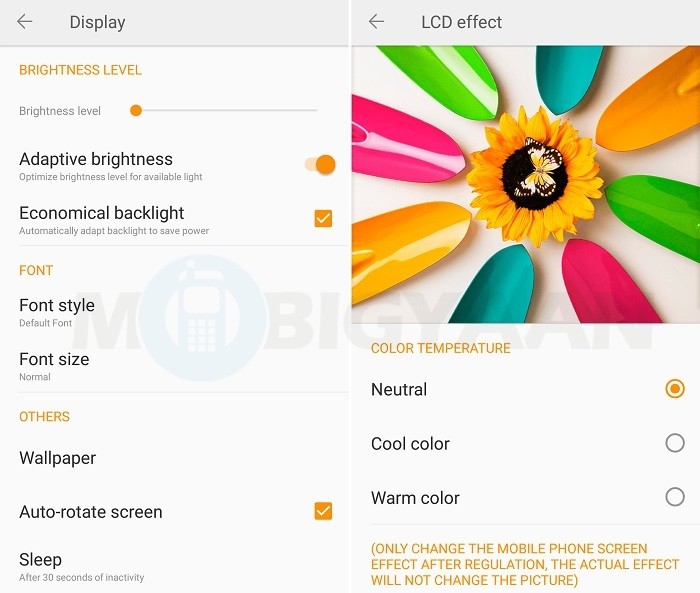 However, having said all that, we had a pretty good experience with the display, be it playing games, watching videos or reading text. The viewing angles were pretty decent as well. Also, as there's no option for night mode, the best way to reduce strain on your eyes during night time would be to change the color temperature of the display to Warm from the Settings menu.
Fingerprint Scanner
As we have already mentioned, the Gionee A1 comes with a fingerprint scanner at the front which is housed on the physical home button. Apart from using it to unlock the A1, you can use the fingerprint scanner to secure other features like the Child Mode.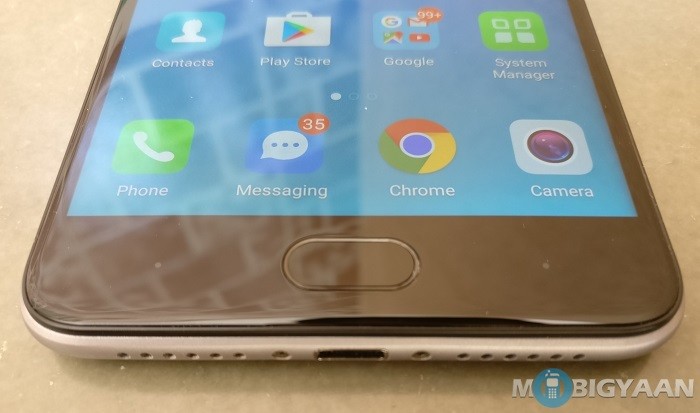 The fingerprint scanner is pretty fast and accurate. We didn't have much issues trying to unlock the phone using the fingerprint scanner.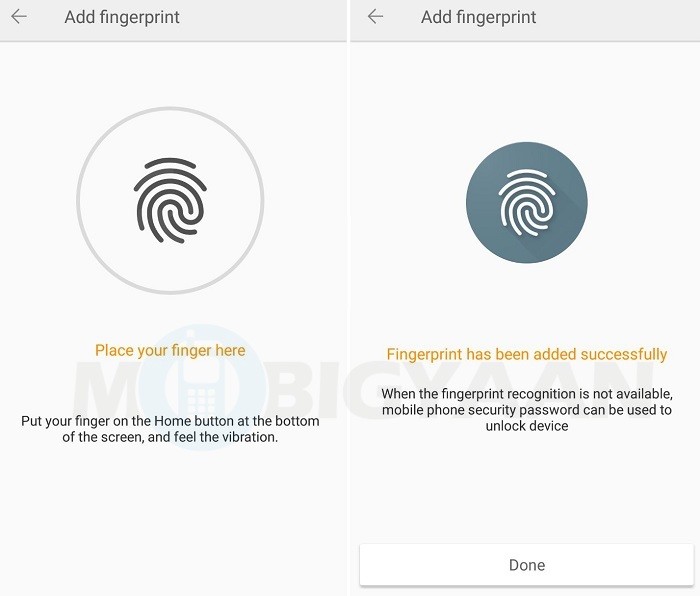 In order to be able to use your fingerprint to unlock the Gionee A1, you need to first add your fingerprint in to the device. You can do so by going to the Settings > Security > Fingerprint menu. You can add up to five fingerprints to the device. Besides, do make sure to add a backup PIN/Password/Pattern so that you don't get locked out of your device if the fingerprint scanner is somehow not able to detect your fingerprint.
Performance
The Gionee A1 is powered by MediaTek's Helio P10 SoC which is paired with 4 GB RAM and Mali-T860 MP2 GPU. The Helio P10 SoC is based on eight ARM Cortex A53 processors which are clocked at 2.0 GHz.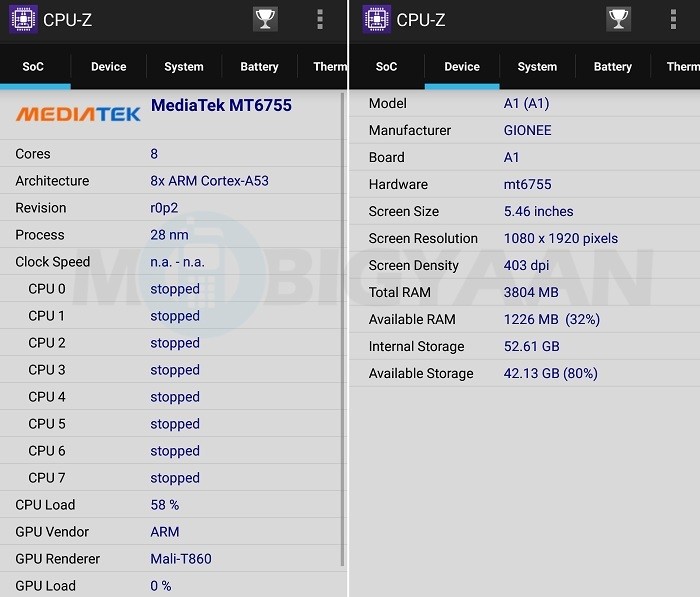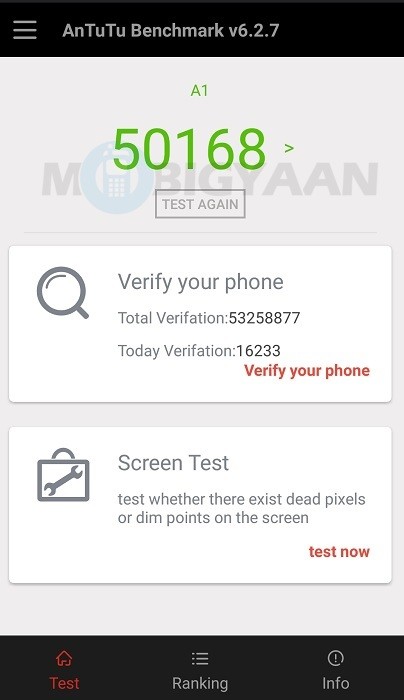 The Gionee A1 scored 50,168 points in our AnTuTu test.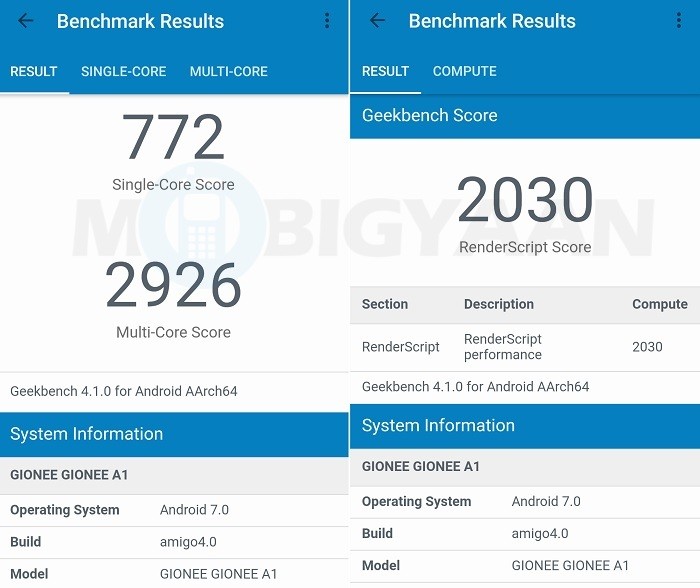 Speaking of Geekbench 4, the device scored 772 and 2926 points in single and multi-core test, whereas, in the GPU compute test, the device scored 2030 points. Here are the full stats of Geekbench 4 CPU and GPU test of Gionee A1.
Well, synthetic benchmarks aside, speaking of the real-world performance, the Gionee A1 did pretty well. Switching between apps and navigating across the UI was pretty smooth. The A1 also handled the heavy games that we threw at it pretty well. However, there were times when the Facebook app stuttered. Besides, there were times when we couldn't switch between apps quickly, but, that was due to the capacitive keys not being back-lit as we ended up tapping around the keys instead of tapping the keys for quick switch between the apps.
Games we tested on Gionee A1
N.O.V.A. 3: Freedom Edition
Asphalt 8
NFS No Limits
Traffic Rider
Gaming on Gionee A1
Prev
1 of 6
Next
All these games ran pretty well and the graphics rendered were also quite decent. We played these games back to back for 20 minutes each with at least 10 apps in the background including Facebook, Twitter and Instagram. In this scenario, the gaming performance on the device was quite decent with the phone stuttering only a few times while playing NFS No Limits. Besides, with constant gaming for over an hour, the temperature of the Gionee A1 never crossed the 42-degree Celsius mark which is quite impressive.
Software
The Gionee A1 runs on Amigo OS 4.0 out of the box which is based on Android 7.0 Nougat. The device comes with Google's February 5, 2017 security patch for Android, however, a recent update bumped up the patch level to April 5, 2017 security string.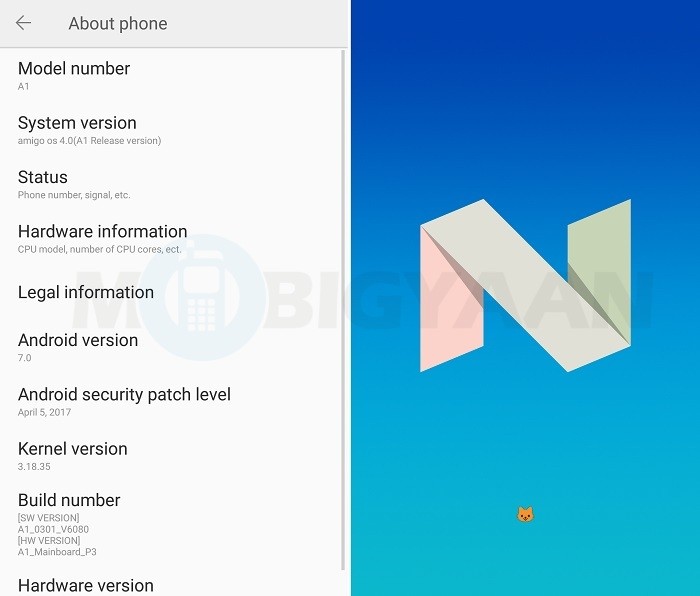 The UI on the Gionee A1 is similar to what you would find on most of the Chinese smartphones. All the apps are on the homescreen and there's no app drawer. While I personally don't prefer this kind of UI, it's strictly a matter of personal choice. If you don't like this UI, you can always change it by installing a third-party launcher like Nova Launcher or maybe the Google Now Launcher. Besides, the Gionee A1 also comes with bloatware like Facebook, Instagram, Facebook Messenger, Amazon Shopping app, Saavn, Truecaller and more. Well, less bloatware would have been appreciated, Gionee.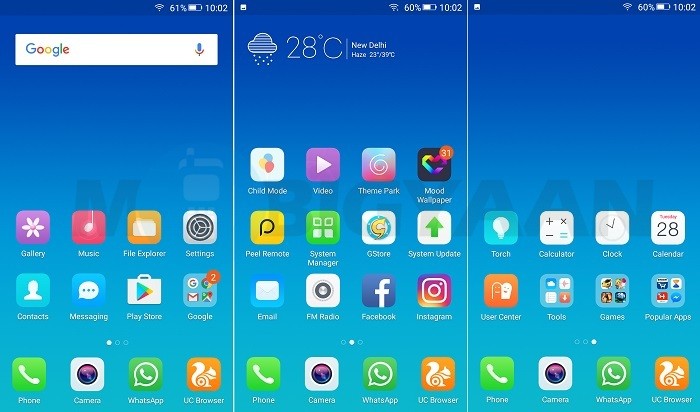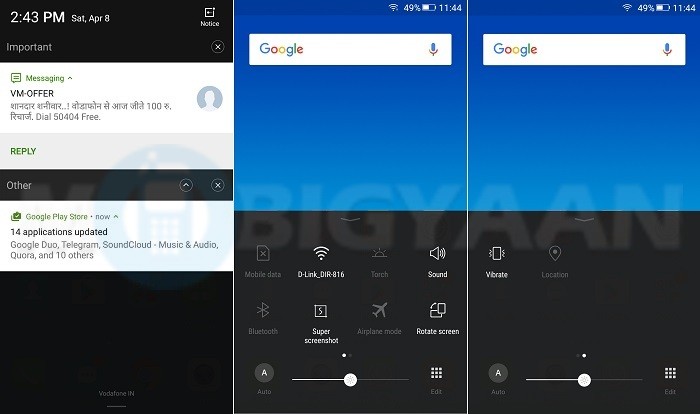 Moving on, while the quick settings on most smartphones can be accessed by pulling down the notification bar, the settings on the Gionee A1 can be quickly accessed by swiping up from the bottom of the screen. This is something which might take some time getting used to.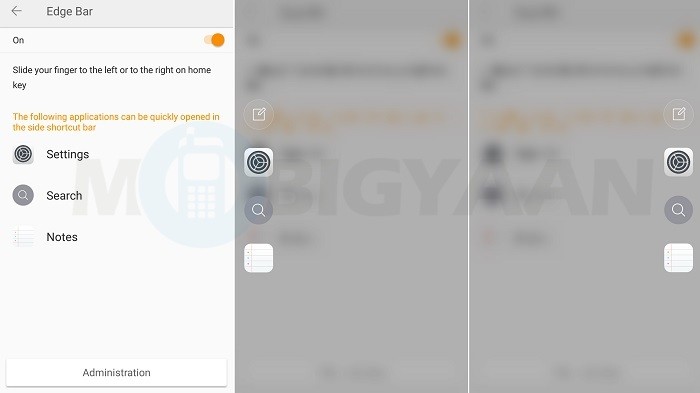 The Gionee A1 also comes with some useful features like Edge Bar, Smart Gestures and the Suspend Button. The device also comes with its own app store called GStore. Well, talking about the Edge Bar first, once this feature is enabled, a quick shortcut bar appears along the left or right side of the screen upon swiping your finger to the left or right on the home button. The shortcuts are customizable which means you can put your favorite apps there for quick access.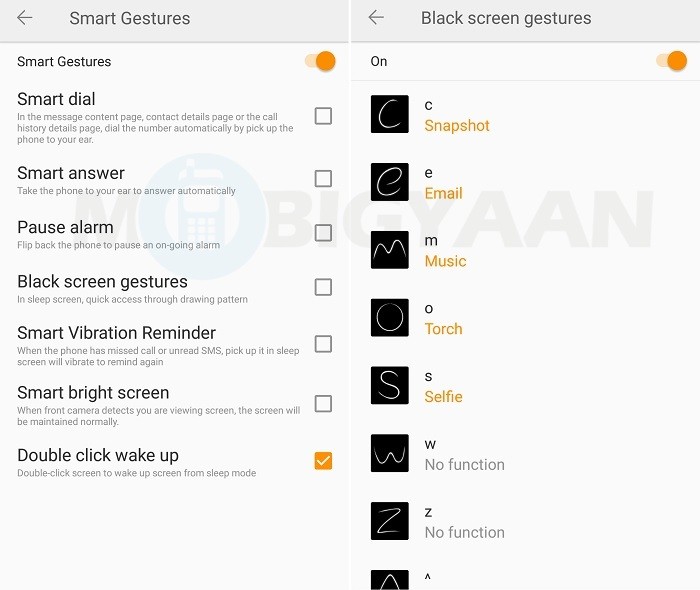 Moving on to Smart Gestures, it lets you perform different functions and open different apps with the help of gestures on the screen when it is turned off. Besides, you also get the double-tap to wake gesture. Speaking of Suspend Button, this isn't anything new and many custom ROMs of Android like MIUI come with this, albeit with a different name.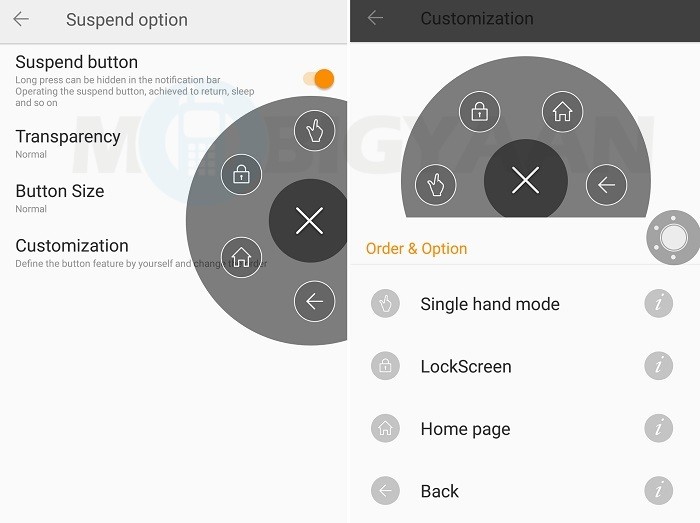 The Suspend Button can turn out to be useful though for those who have smaller hands and find it difficult to navigate across the phone with one hand. The Suspend Button provides you option to go back, go to home, lock the screen or turn on the one-handed mode. However, you can also customize these shortcuts on the Suspend Button to open the apps you want.
The Gionee A1 also comes with Child Mode which lets you decide which apps are accessible to your kids when you handover your smartphone to them. Apart from that, the Gionee A1 also comes with Panic Button to send SOS. The SOS is triggered when you press the power button thrice. Once the SOS is triggered, the GPS on your smartphone is turned on and an emergency number is dialed.
Besides, the Gionee A1 also comes with a System Manager app along with what's called Mood Wallpaper and Theme Park. The System Manager app offers various options related to cleaning cache, virus detection, network restrictions and power management. Speaking of Mood Wallpaper, as the name suggests, it provides a wide variety of static and live wallpapers across different categories to choose from. As for the Theme Park, you can download different themes, clocks and fonts from there for your device.
Well, having said that, overall, the UI experience was smooth, however, we think that there's some room for improvement in the software department. The notifications could have been handled in a better way. There were times when we only saw the name of an app in notifications on the lockscreen and not the message. Also, we feel that Gionee could have provided a separate option for DND in the quick settings menu instead of providing it into the Settings menu only. This would have allowed users to quickly switch to DND mode straight from the lockscreen.
Camera
The photography department on the Gionee A1 is handled by a 13 MP camera at the back along with a 16 MP camera on the front.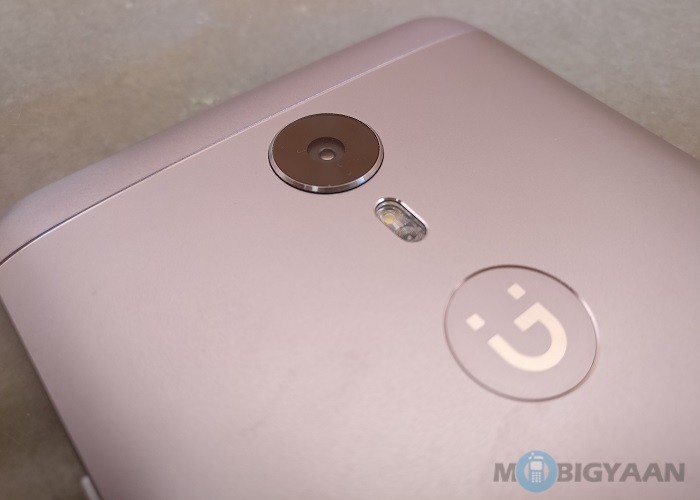 The 13 MP primary camera on the Gionee A1 can take photos at a maximum resolution of 4160 x 3120 pixels while being able to record videos in Full-HD resolution of 1920 x 1080 pixels. Speaking of the 16 MP secondary camera, it can take pictures at a maximum resolution of 4608 x 4608 pixels while being capable of recording videos in 1280 x 720 pixel resolution.
Camera App UI
Prev
1 of 5
Next
Well that was the UI of the camera app of the Gionee A1 showing off various options for taking photos and videos from the rear and front camera of the device. Now let's take a look at the daylight shots taken from the Gionee A1.
Daylight Shots
Prev
1 of 17
Next
Now let's take a look at night shots taken from this device.
Night Shots
Prev
1 of 10
Next
The 13 MP rear camera on the Gionee A1 did take some good photos in daylight, however, there were times when the dark areas in the photos lost details and sharpness. While most of the photos taken during the daylight were of decent quality, many times the photos turned out to be either too dull or too bright. HDR mode did take some good shots though and maintained the balance, however, the colors looked faded and out of the place even with the slightest movement of hand. The Panorama shots were also stitched together pretty well.
Speaking of the night shots, the noise was visible and certain areas were soft. However, the photos taken with the Night Mode had relatively more amount of sharpness to them with the dark areas being brightened up for visibility.
Talking about the 16 MP front camera, it did take some good selfies during the day time. However, as is with the rear camera, noise and softness crept in during the night time. But, Gionee has provided LED flash on the front as well which can be used to take brighter selfies in low-light conditions.
Also, selfies taken with Face Beauty mode on did turn out to be great. There are four different options under the Face Beauty mode like Smoother, Whitening, Slimming and Eye Enlarger with which you can "beautify" your face to your liking. We personally liked the Smoother mode which made the skin look more smooth than it already is.
So, to conclude, the camera performance wasn't anything to drool over, however, it wasn't bad either. The images were decent and usable.
Call Quality and Audio
The call quality on the Gionee A1 was good, the earpiece is pretty clear and voices were audible at both the ends during a call. Speaking of latching on to a network, the device kept switching between 2G and 3G networks which isn't much appreciated especially when a user is relying heavily on mobile data to use the Internet.
We have already told you that the speaker on the Gionee A1 is located at its bottom to the right of the microUSB port. The speaker is loud enough for normal usage, however, the audio coming out at higher volumes can get distorted. Having said that, with the MaxxAudio enabled, the audio did sound relatively better, both through the speaker and through the bundled earphones.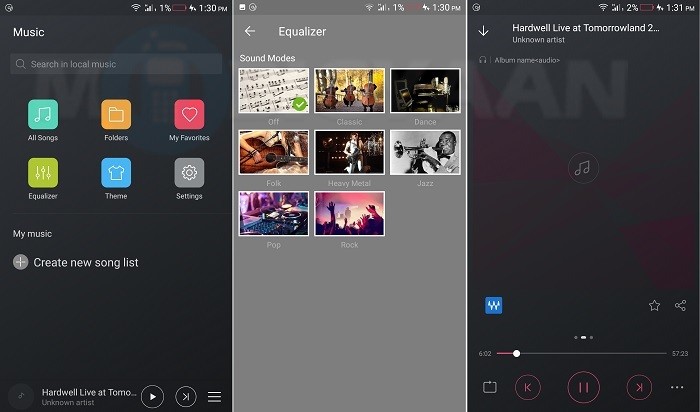 Speaking of the Music app on the Gionee A1, it's pretty much bare-bones, however, you do get an option to change the audio output from the Equalizer settings while also being able to change the app theme.
Storage
The Gionee A1 comes with 64 GB of internal storage out of which around 52.6 GB is available to the user. However, if you ever run out of that much storage, you can expand the storage up to 128 GB by using a microSD card. But, do remember that you will be trading off the ability to use two SIM cards while expanding storage as the Gionee A1 comes with Hybrid Slot where the second SIM slot can also be used to insert the microSD card.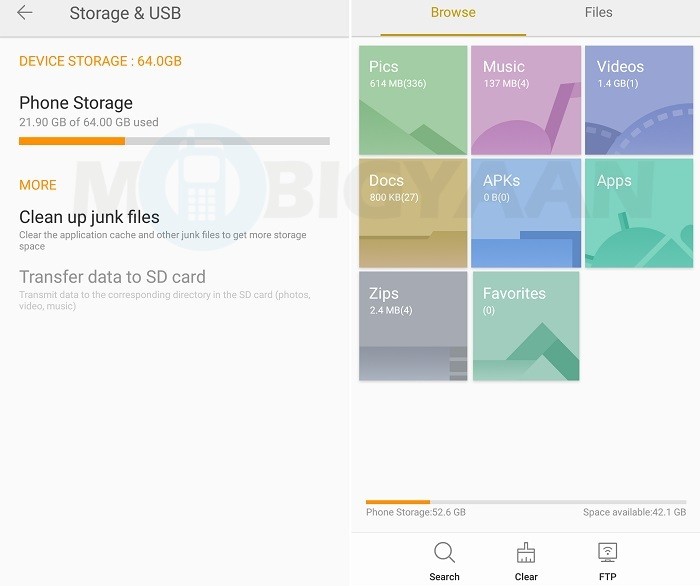 The Gionee A1 also comes pre-installed with a file manager app called File Explorer. The app has a pretty clean UI and it also categorizes the files according to their types.
Battery
The Gionee A1 ships with a massive 4010 mAh non-removable battery.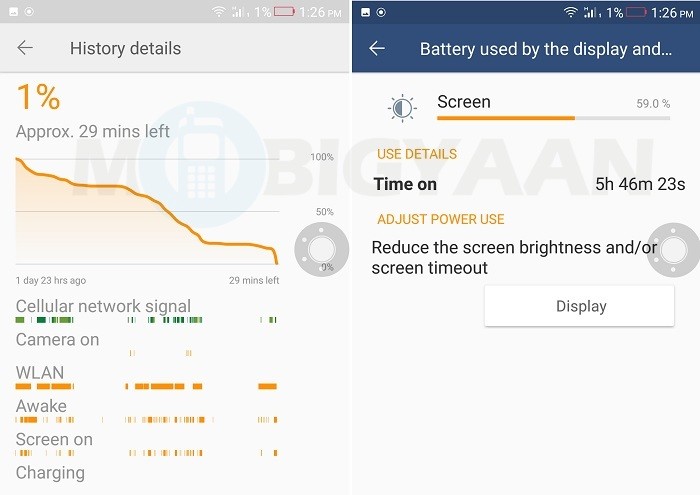 The battery life on the Gionee A1 is pretty good. On normal usage usage, it lasted us over a day and a half with a screen on time of 5 hour 46 minutes. However, on moderate to heavy usage, you should be able to get through the day with this 4010 mAh battery. You can take a look at the table below to get an idea of Gionee A1's battery performance.
| Apps/Games | Runtime | Battery Consumed | Brightness | Wi-Fi | Screen |
| --- | --- | --- | --- | --- | --- |
| 1080p YouTube Video | 20 minutes | 5% | Auto | On | On |
| Offline 1080p Video | 20 minutes | 3% | Auto | Off | On |
| Online Music via SoundCloud | 30 minutes | 1% | Auto | On | Off |
| Offline Music | 1 hour | 2% | Auto | Off | Off |
| Facebook | 20 minutes | 3% | Auto | On | On |
| Instagram | 20 minutes | 3% | Auto | On | On |
| N.O.V.A. 3: Freedom Editon | 20 minutes | 7% | Auto | On | On |
| Asphalt 8 | 20 minutes | 8% | Auto | On | On |
| Traffic Rider | 20 minutes | 7% | Auto | On | On |
| NFS No Limits | 20 minutes | 5% | Auto | On | On |
The Gionee A1 also comes with support for 18 W Fast Charging, and, with the adapter and cable that came along, the Gionee A1 charged from 0 to 100% in around 1 hour 55 minutes on an average. However, to be more precise, the device went from 0 to 80% in just 60 minutes, but, it took around 55 more minutes to reach 100%. Well this kind of mechanism is employed in almost all types of fast charging technologies which charge the device up to 70-80% pretty much quickly and then slow down the charge so as to avoid any damages to the battery.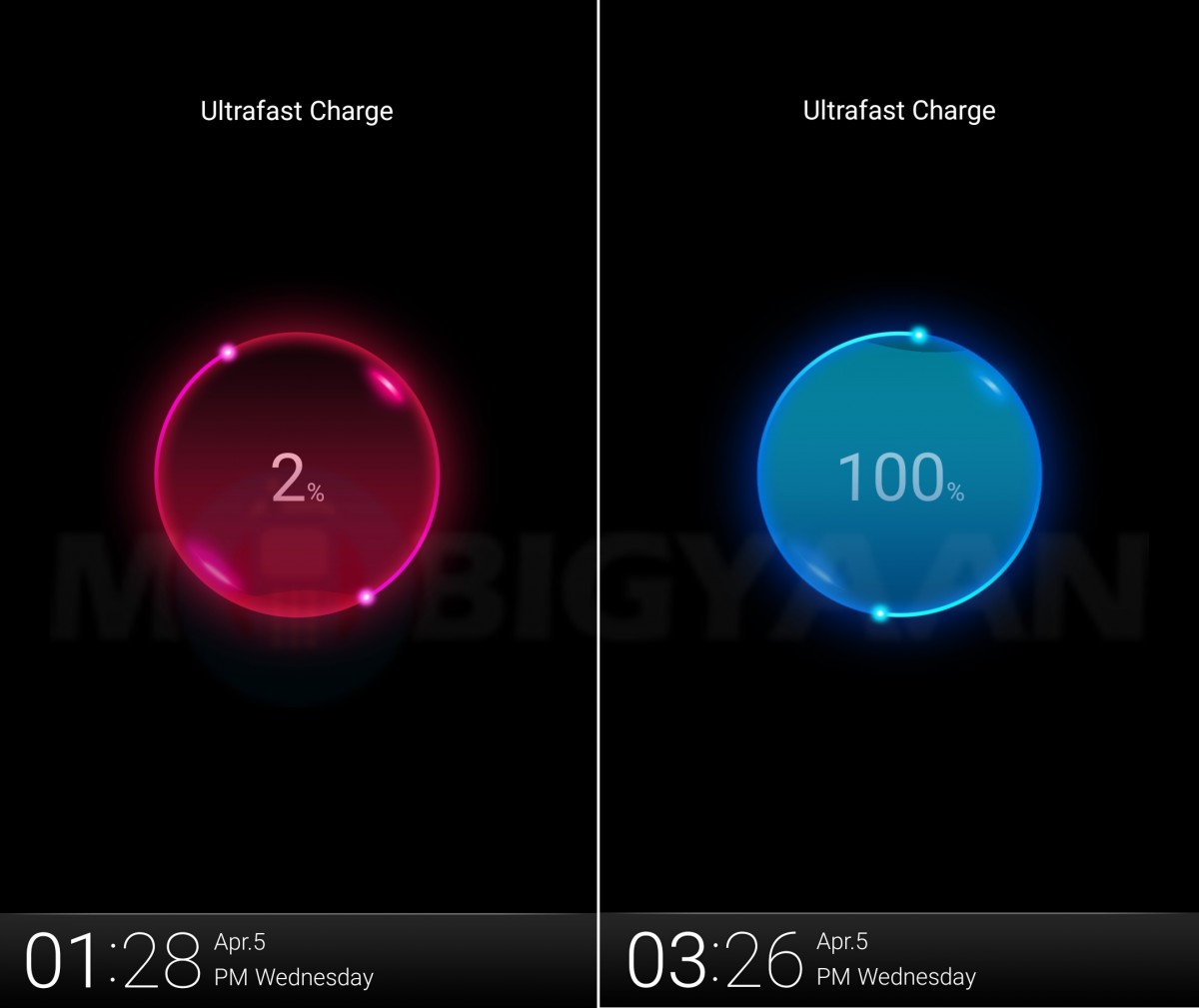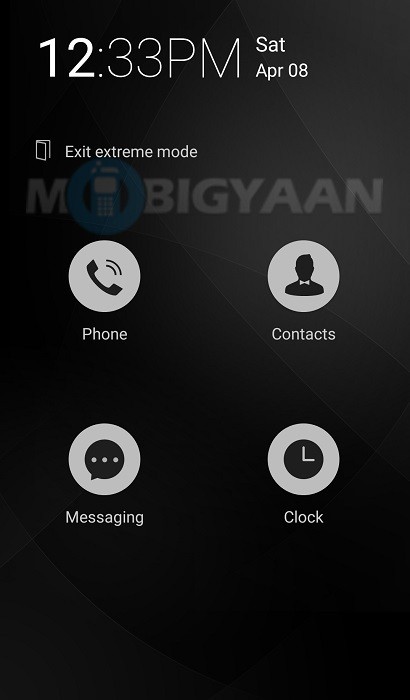 The Gionee A1 also comes with a power saving mode called Extreme Mode which turns the phone screen into gray and black and only lets you perform the basic functions like making a phone call and sending an SMS.
Pricing
The Gionee A1 is offered in three colors:
The review unit we received is Gray in color, and, the device is available for ₹19,999 online exclusively on Amazon India.
Verdict
Well, it's time to wrap up our Gionee A1 review with a verdict. The Gionee A1 is a well built smartphone boasting metal construction. The device is sturdy, and, even though it has a bit of a heft, it feels comfortable to hold in hand.
The display on the device is good too. We literally had no issues using it under sunlight because of its high brightness. The viewing angles were good and playing games, reading text and watching videos was also a great experience.
Even though the Gionee A1 comes with the Helio P10 SoC, thanks to the 4 GB RAM, we didn't face much issues while playing games with around 10 apps in the background. Of course, there were some occasional stutters while playing games like NFS No Limits and using the Facebook app, but that's it. We didn't face any issues while switching between apps as well, however, as we have already said, Gionee could have made those capacitive navigation keys back-lit. As they aren't back-lit, we were never able to tap on them at first try.
Speaking of the camera, the performance in daylight was decent, be it the front camera or the rear camera. However, photos taken in low-light conditions from the cameras were marred with noise and lack of details. Also, talking about the 16 MP front camera which is the main highlight of this device, it took some good selfies. We liked the Face Beauty mode, and, if you are someone who takes a lot of selfies and posts them on social media, you won't be complaining much if they are taken in well-lit conditions. That said, the device also has flash on the front which can aid in taking brighter selfies at night.
So, should you buy this phone? Well, if you are someone who takes a lot of selfies, then you wouldn't go wrong with the purchase decision. Gionee has also packed the device with a massive 4010 mAh battery which juices up pretty quickly. However, if you aren't much into taking selfies, then we suggest you skip this one and buy something like the Honor 6X or the Xiaomi Redmi Note 4. Besides, if you like taking a lot of selfies and are willing to spend more, then we suggest you check out the Vivo V5 Plus.
Pros
Well built
Good display
Decent battery life
Fast fingerprint scanner
Decent camera
Decent performance
Cons
Software needs improvement