With the last year's Redmi Note 3 success, Xiaomi came up with its 4th generation Redmi Note 4 with new downgrades, ahem… ahem…! Upgrades. The newly launched device now offers a better camera and longer battery life. It also comes in new storage variants and a polished design. We did Xiaomi Redmi Note 4 review to show if it's worth upgrading from the Redmi Note 3, as well as if you carrying a ₹10K budget for a smartphone, here are our views.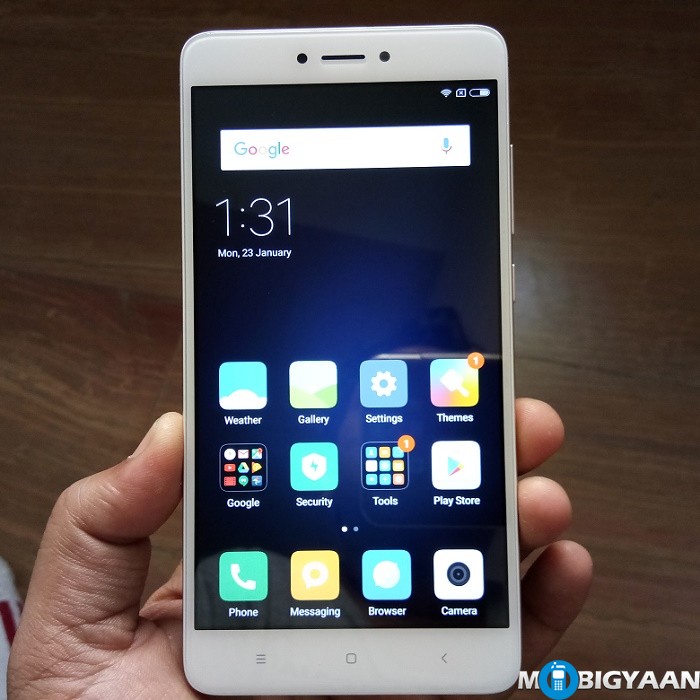 What's in the Box?
Xiaomi Redmi Note 4 with built-in battery
Micro USB Cable
Charger (5V, 2A)
SIM Ejector
User Manual and Warranty Card
Xiaomi Redmi Note 4 Specifications
Display: 5.5-inch Full HD IPS Display (1920 x 1080 pixels resolution)
Software: MIUI Global 8.1 based on Android 6.0.1 Marshmallow
Fingerprint Scanner: Yes, at the back
CPU: Up to 2.0 GHz octa-core Cortex-A53 processor, Qualcomm Snapdragon 625 (MSM8953), 14nm FinFET
GPU: Adreno 506
Memory: 2/3/4 GB LPDDR3 RAM
Storage: 64 GB internal storage (32 GB with 2 or 3 GB RAM), MicroSD on SIM2 (up to 128 GB)
Main Camera: 13 MP f/2.0, PDAF, 77-degree wide-angle lens, dual-tone LED flash, 1080p video @30fps. SlowMo 720p @120fps
Front Camera: 5 MP f/2.0, fixed focus, 720p video
Connectivity: Micro USB, 3.5 mm audio jack, Wi-Fi 802.11 a/b/g/n, Bluetooth 4.1, A-GPS, GLONASS, BDS
Cellular: 4G LTE support, Hybrid SIM Slot, 2x SIM (Micro + Nano both GSM) OR 1x nano SIM and 1x MicroSD card, VoLTE-enabled
Battery: 4,100 mAh Li-Po (non-removable)
Power Supply: Output 5V, 2A
Dimensions: 151 mm x 76 mm x 8.3 mm
Weight: 165 grams
Colors: Matte Black, Dark Grey, Gold
Price: ₹9,999 onwards
Warranty: 1 Year Warranty
Design and Build
The front 5.5-inch screen is covered with a 2.5D curved glass and this is the first Redmi smartphone to feature a 2.5D design. Initially, the design didn't look it has changed from its predecessor, but when I looked closely it has been evolved. Though, I liked the previous Redmi Note 3 design, the latter has better finishing.
Now with anodized glossy aluminum separation lines, the phone itself boasts a premium view. I somehow, don't excited about its design, but well for Xiaomi fans, it is.
Talking more about the design, the edges are tapered, rounded off removing sharp edges. It isn't too heavy but it feels like it has some weight in it. The handset is 8.3 mm thin and weighs 165 grams.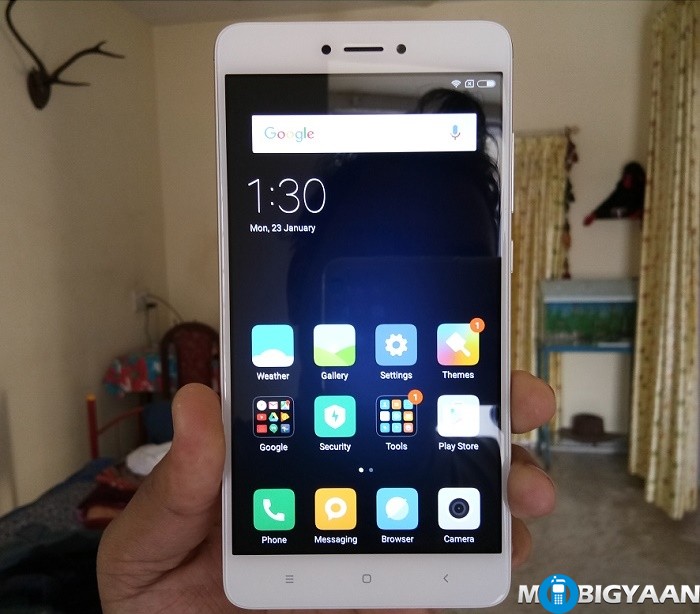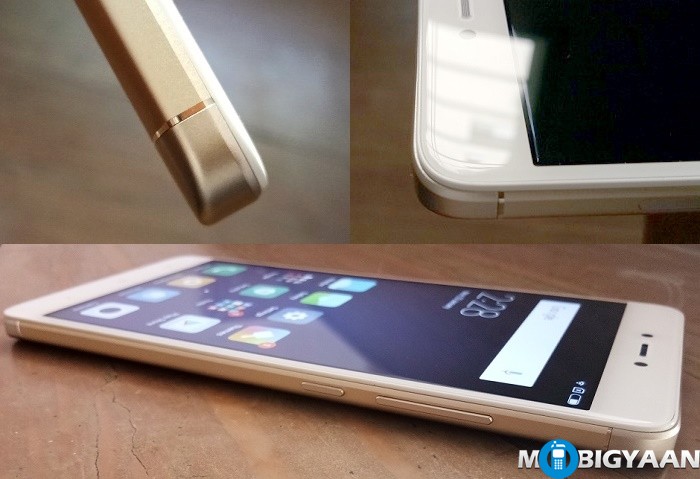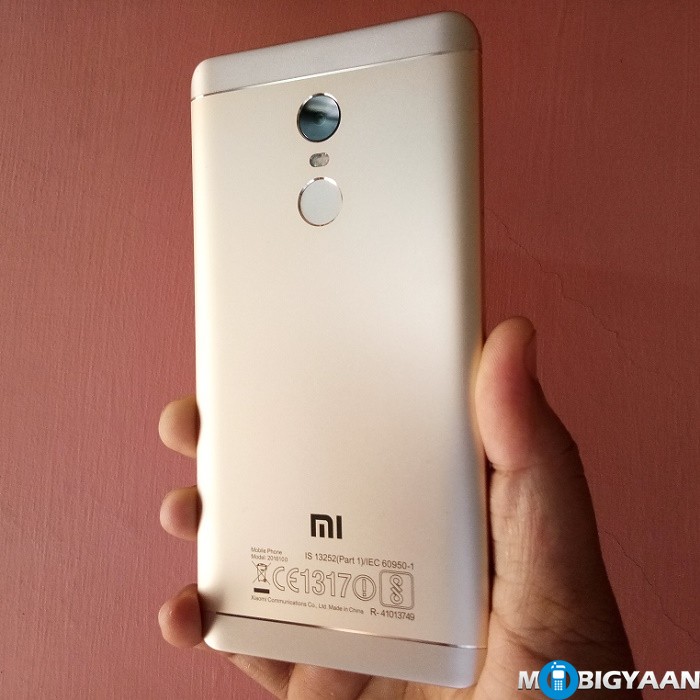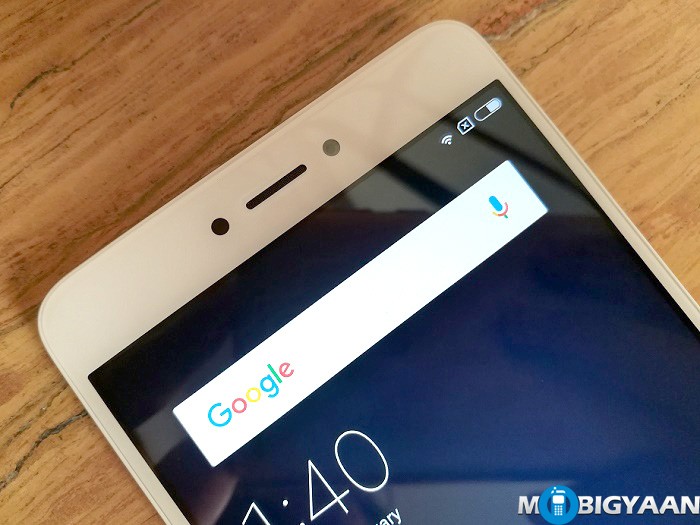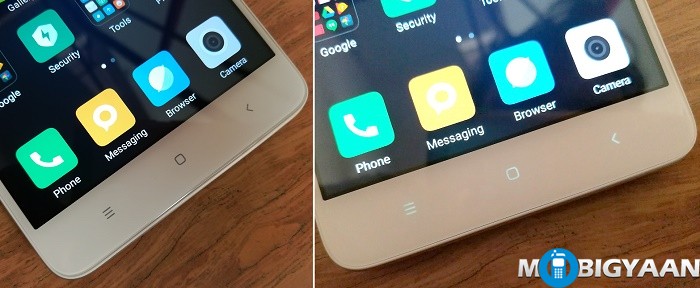 On the back, it sports a 13 MP camera which may sound like it is degraded. The Redmi Note 3 came with a 16 MP camera instead. The rear camera supports PDAF and dual-tine LED flash. On the front, it has a 5 MP camera with no LED flash.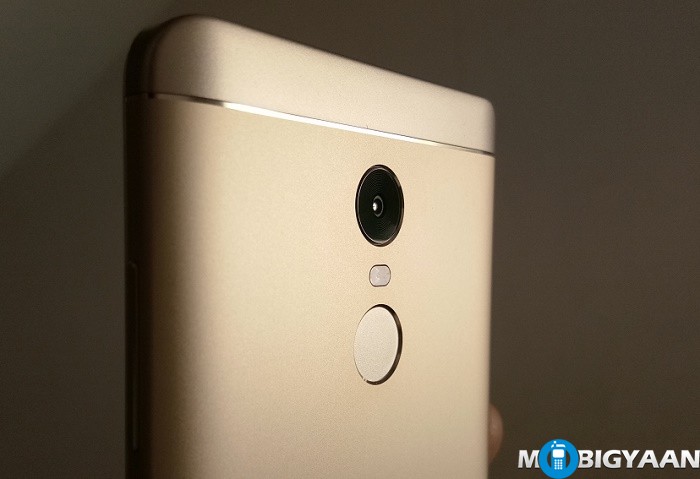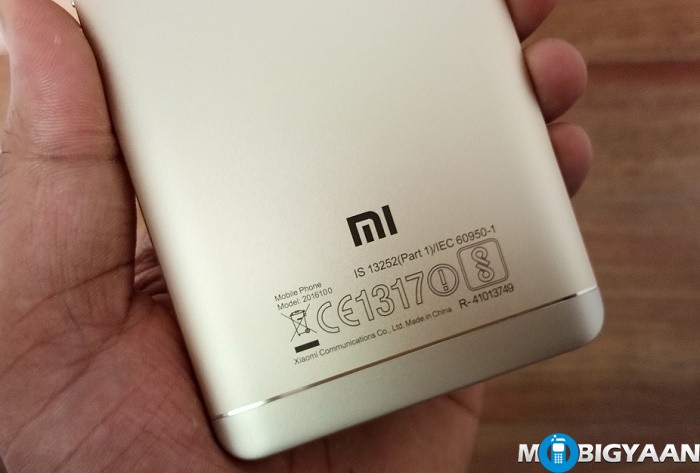 Redmi Note 4 is 4G enabled and supports VoLTE calls. So, you can make HD phone calls. The Hybrid SIM tray can hold two SIM cards or one SIM and one MicroSD. MicroSD can be expanded up to 128 GB.
No change in the buttons placement. It is same as most Xiaomi devices offer. The buttons and camera placement are intact, just a major change is the speaker which is now at the bottom. Generally, the bottom loudspeaker solves the sound blockage issue.
Xiaomi could have adopted a USB Type-C port, but it seems like it's only reserved for its premium devices like Xiaomi Mi 5. LeEco and Coolpad are the two competitors that offer a new USB port.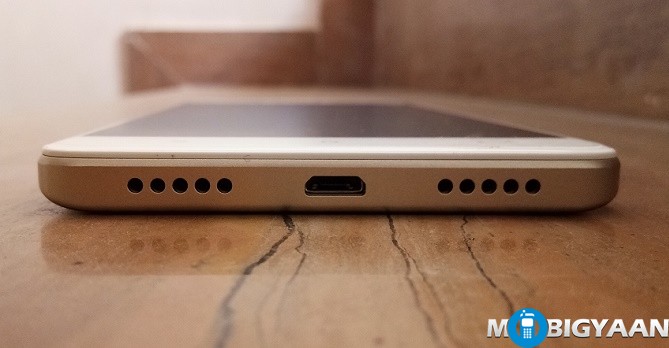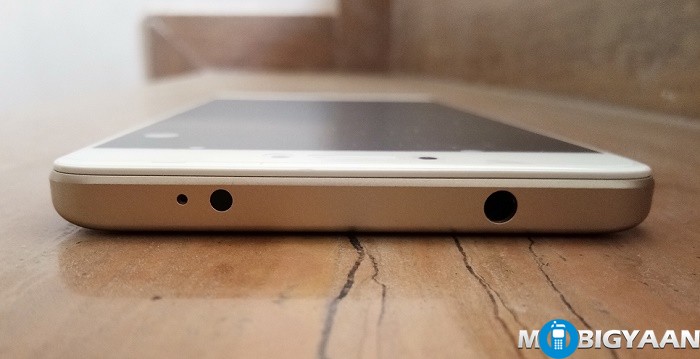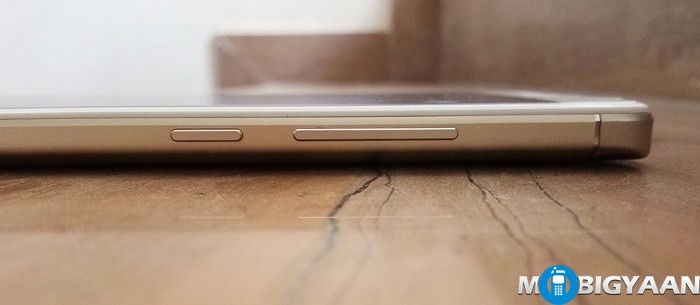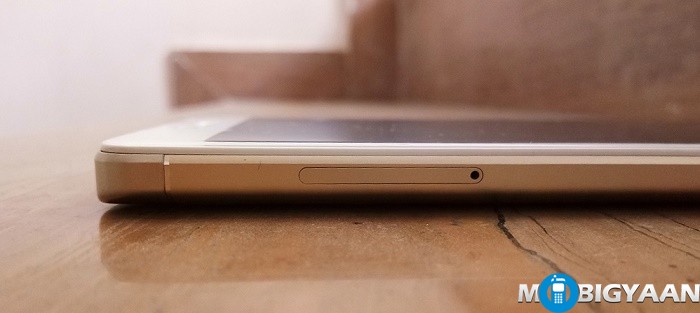 Display
Redmi Note 4 uses the same 5.5-inch display and most people are comfortable with this screen size. The display boasts a full HD IPS panel with decent brightness. Viewing angles are good.
The most notable thing on the display is its 2.5D curved glass design and it is the first Xiaomi device to boast a 2.5D glass, not even their flagship but midrange device.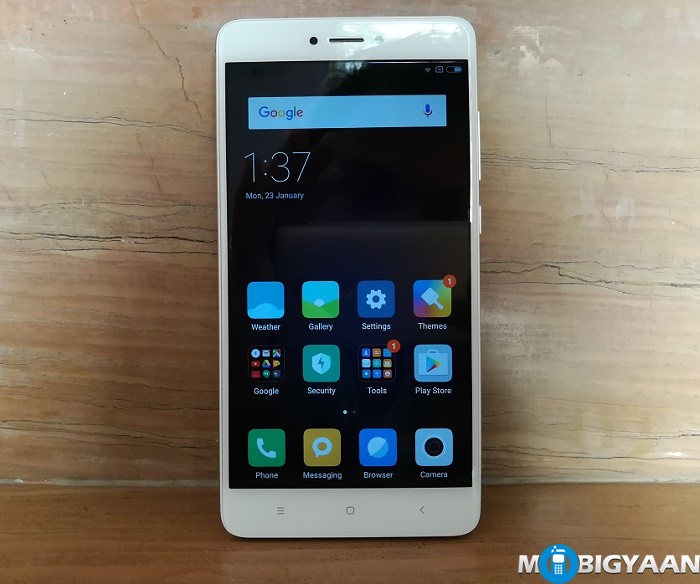 The display offers various enhancements like color and contrast adjustment, reading mode, and LED light color.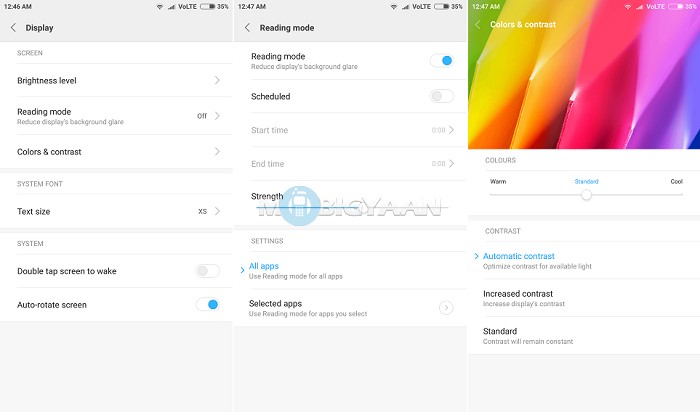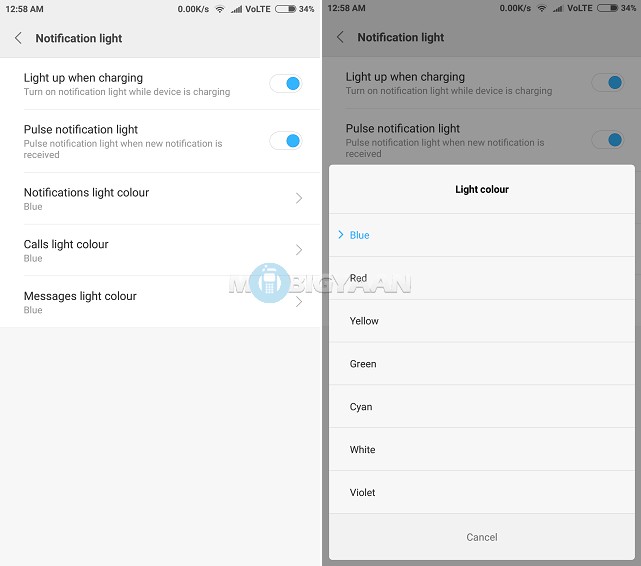 Software and User Interface
The Xiaomi Redmi Note 4 comes with 6.0.1 Android Marshmallow from its customized software called MIUI 8. The MIUI 8 is the latest Xiaomi software and it is capable of upgrading to the new Android 7 Nougat. Here we got some updates while using the phone. The Redmi Note 4 uses a MIUI Global 8.1 software.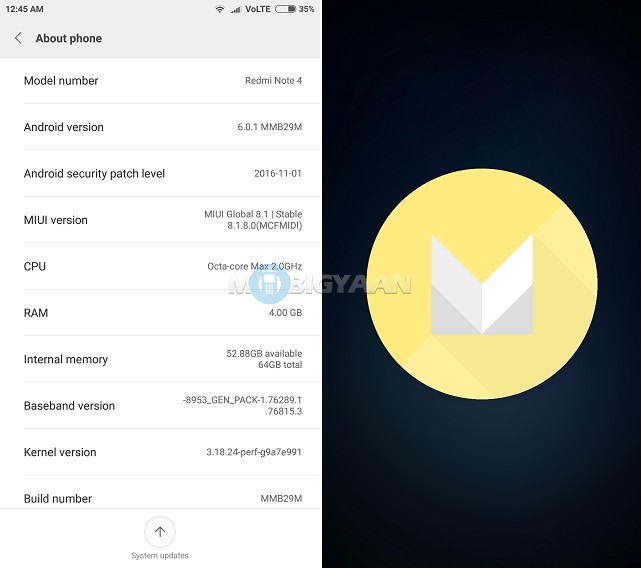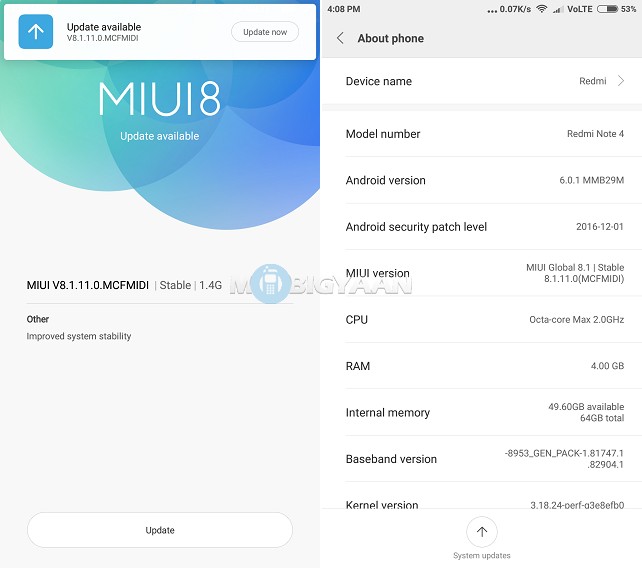 Like other Xiaomi's, the MIUI offers pretty much the same software perks. It has no app drawer, you can customize the themes and homescreen. MIUI offers many built-in apps including Xiaomi's app ecosystem. A feature you may not have used is the second space which lets you use two different spaces on a single device. A similar trait Dual Space by Coolpad. MIUI also has dual apps feature that lets you use two different accounts on the same app like WhatsApp or Facebook. You can refer more about MIUI on other existing Xiaomi devices reviews.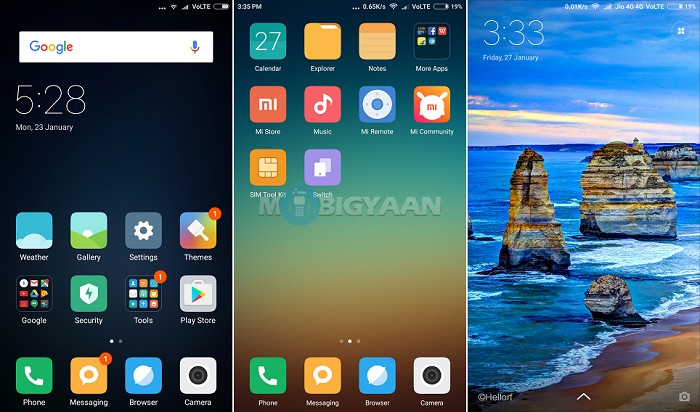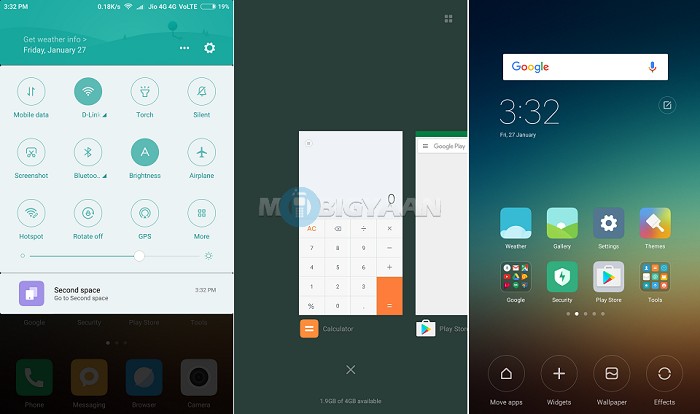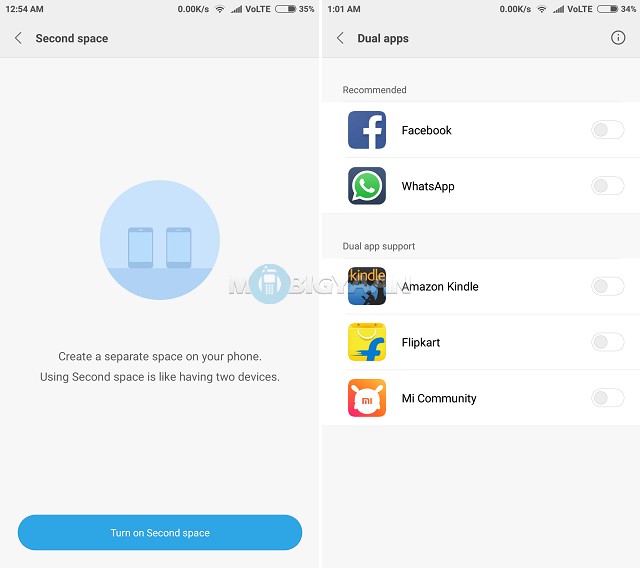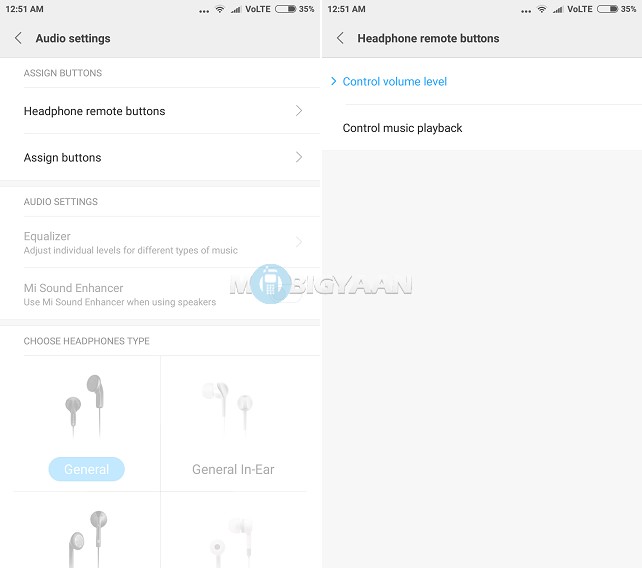 Fingerprint Scanner
The fingerprint scanner is fast and works good, though not as good as we saw in Honor and Coolpad phones. Wet fingers don't work with the scanner. It has a few features like to lock apps using your fingerprint and taking photos. The scanner has no other gestures-based features to offered.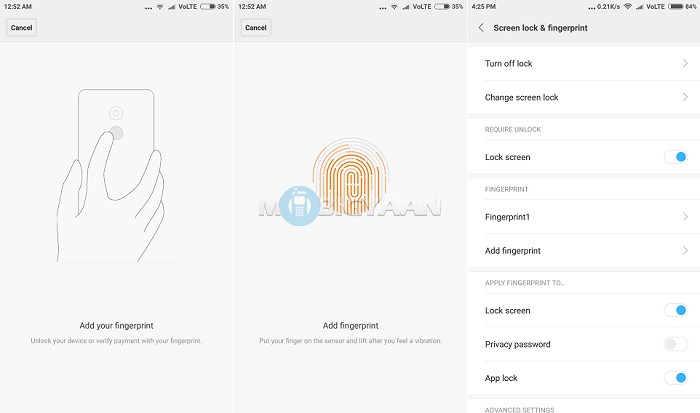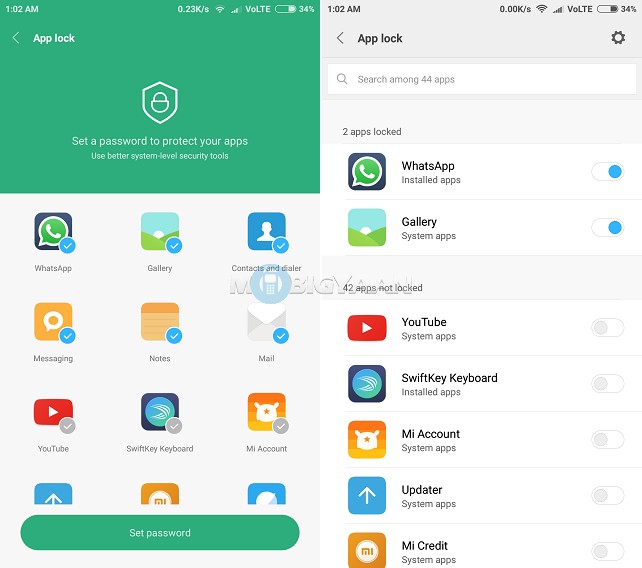 Hardware, Performance and Gaming
Xiaomi this time has chosen to go with a power-efficient hardware instead. It is powered by a Qualcomm Snapdragon 625 SoC (octa-core) coupled with 4 GB RAM and 64 GB storage as its highest offering. Some people may believe that the CPU is a clear downgrade along with the 13 MP camera. The predecessor, Redmi Note 3 used a powerful Snapdragon 650 (hexa-core), but the real-world app performance won't be noticeable when you actually use it.
The Qualcomm Snapdragon 625 (octa-core) utilizes the 14nm FinFET tech in contrast to the old 28nm HPm found in Qualcomm Snapdragon 650 (hexa-core). The 14nm FinFET draws less power resulting in a longer battery life. Additionally, it ensures less heat emissions on load which fulfills a major smartphone requirement.
Still, the performance might be better on Redmi Note 3 due to its CPU using the high-performance Cortex-A72 cores. This may also negatively impact the gaming performance if the game requirements are high enough. Redmi Note 4 may compromise on the graphics-intensive gaming comparatively. This is only when you are upgrading from a Redmi Note 3, otherwise, has a very good hardware for the given price.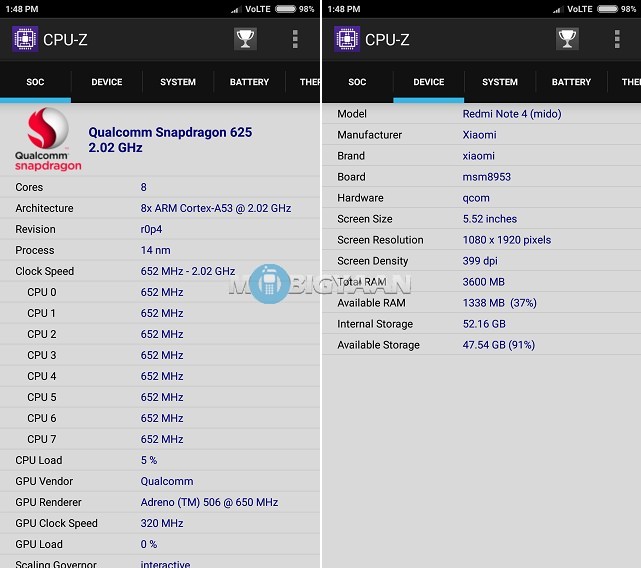 AnTuTu benchmark scored a decent 61,803 points. We also carried more performance tests such as Geekbench 4 and Quadrant Standard Edition. Redmi Note 4 scored 829 points (single-core CPU) and 2,857 points (multi-core CPU) on Geekbench 4. The Adreno 506 GPU got 2,478 points. Quadrant Standard Edition shows 41,497 points. These benchmarks are similar to Honor 6X and ASUS ZenFone 3 but can't even exceed its predecessor Redmi Note 3.
AnTuTu Benchmark
Geekbench 4
829 points (single-core CPU)
2,857 points (multi-core CPU)
2,857 points (GPU)
Quadrant Standard Edition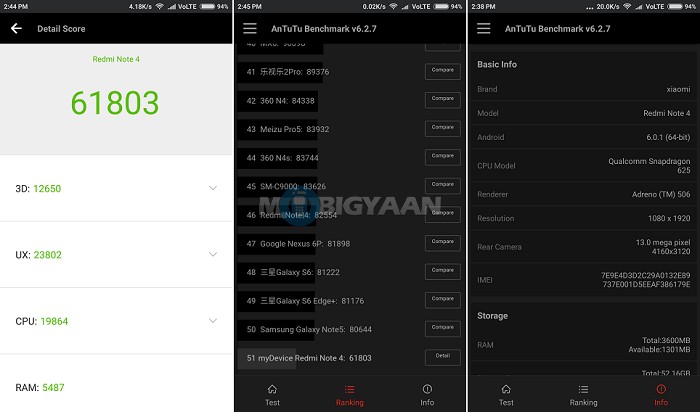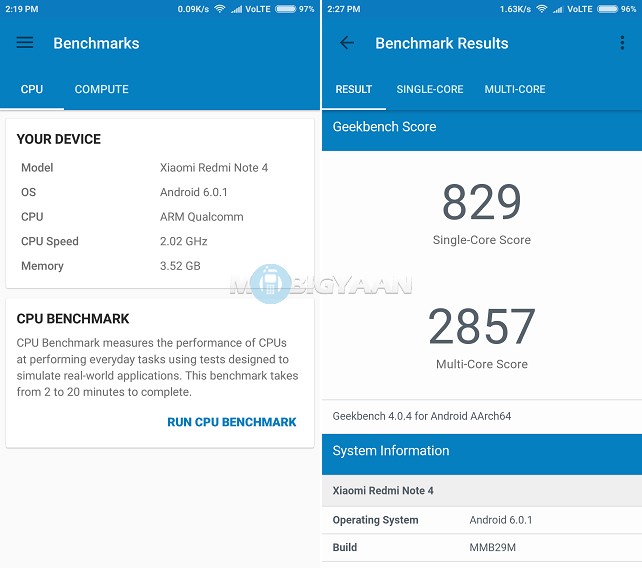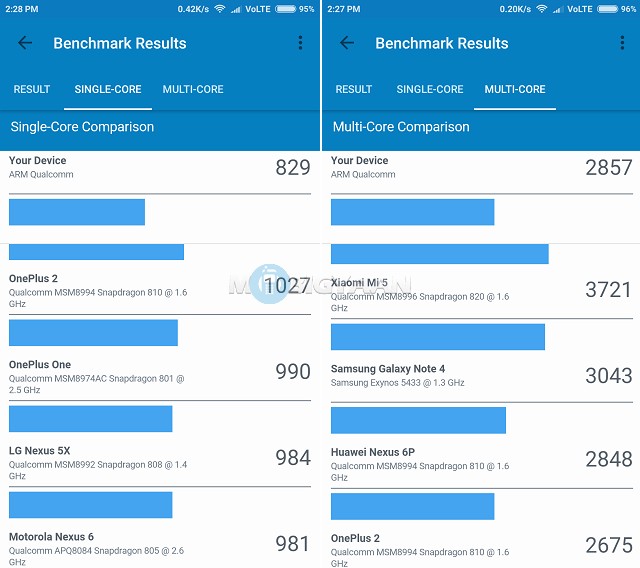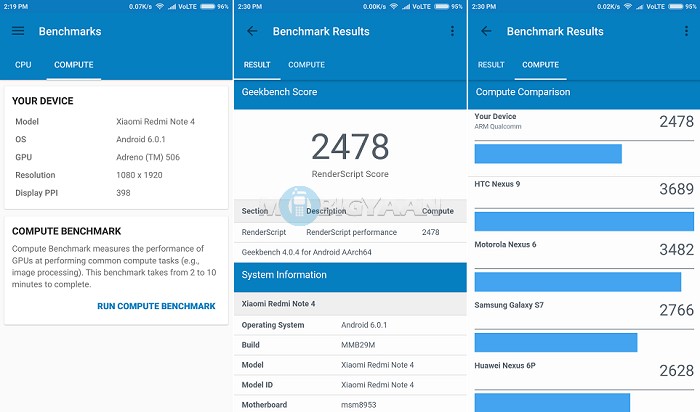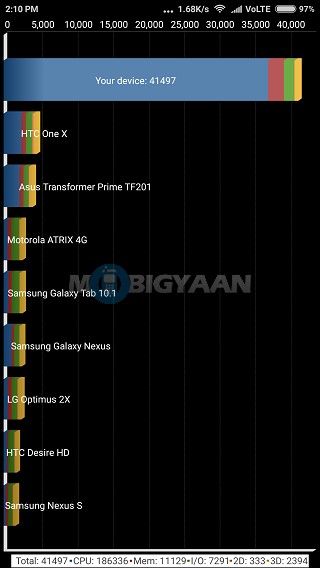 Redmi Note 4 can run most mainstream games pretty well, but some graphic intensive games, which particularly run fine on Redmi Note 3, will show occasional lags. If you have upgraded from Redmi Note 3, it certainly makes you want to go back to your previous phone. We played games like Modern Combat 5: Blackout, Dead Trigger 2, Diggy's Adventure, Angry Birds and they all ran just fine with no lags.
Games Tested on Xiaomi Redmi Note 4:
Modern Combat 5: Blackout
Dead Trigger 2
Diggy's Adventure
Angry Birds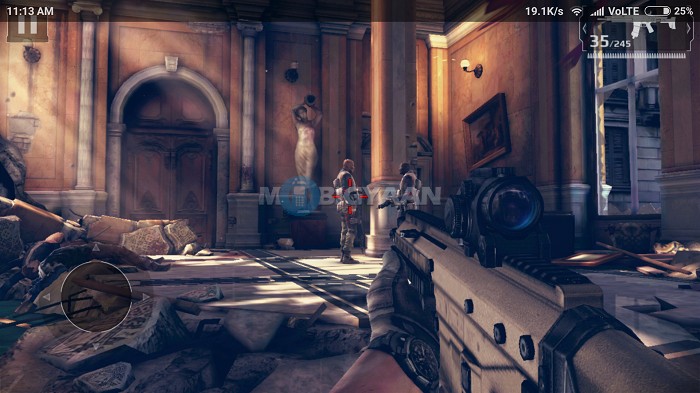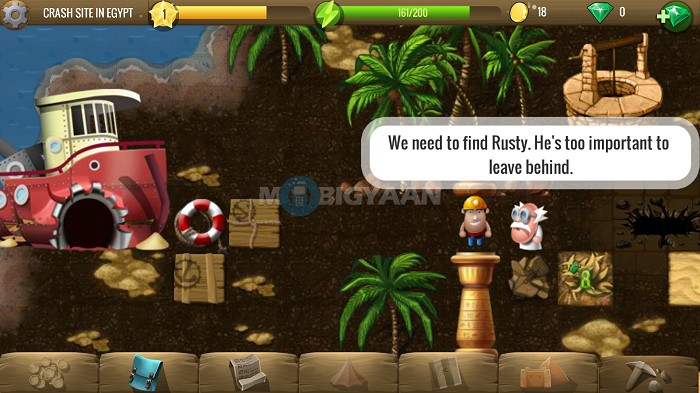 With its new 14nm CPU, the phone runs even cooler while playing games. We recorded a maximum temperature of 38 degrees on load and the minimum temperature of 30 degrees idle.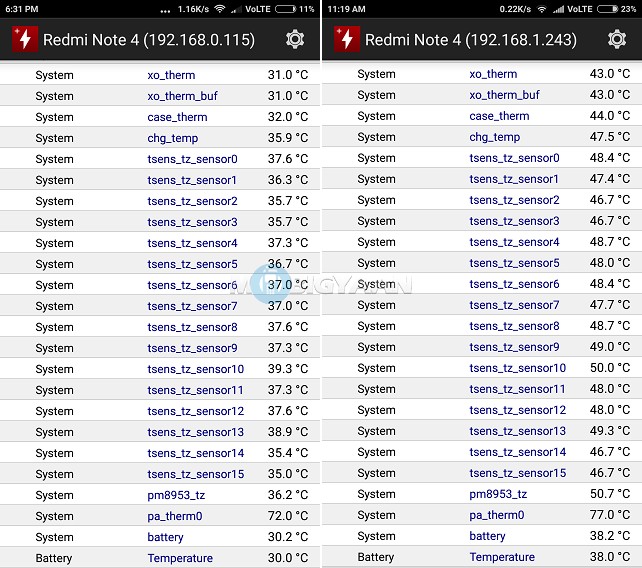 Storage and Connectivity
For the storage, it now comes in with 32 GB and 64 GB variant. The 64 GB is the highest model with 4 GB RAM. It supports USB OTG. Since the budget smartphones are also moving to the new Type-C port, Redmi Note 4 stays with the standard Micro USB port.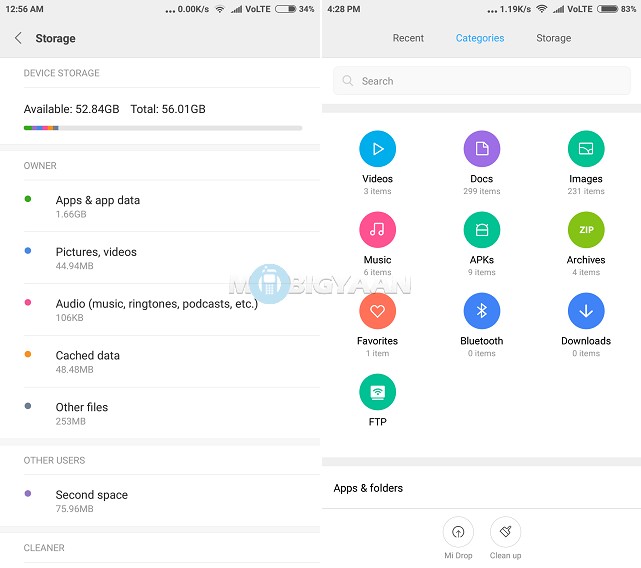 The storage benchmark we did was average like most devices in this price category. The result was a little higher than Coolpad's Cool 1 Dual. The A1 SD Bench and AndroBench tests reported us the following speeds.
A1 SD Bench
216.41 MB/s (Read)
147.12 MB/s (Write)
AndroBench
270.48 MB/s (Sequential Read)
137.41 MB/s (Sequential Write)
38.89 MB/s (Random Read)
12.75 MB/s (Random Write)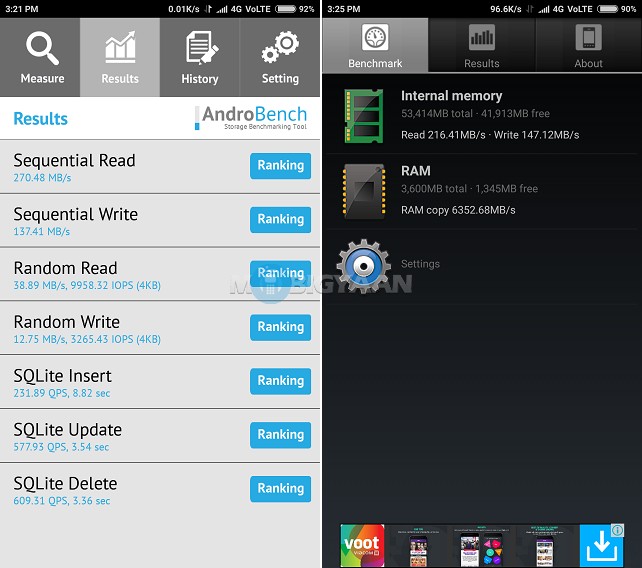 We did a GPS test to check how accurate the GPS module in the phone is. To my surprise, it is very accurate. Xiaomi Redmi Note 4 supports GPS, GLONASS, and BeiDou. See the screenshot below.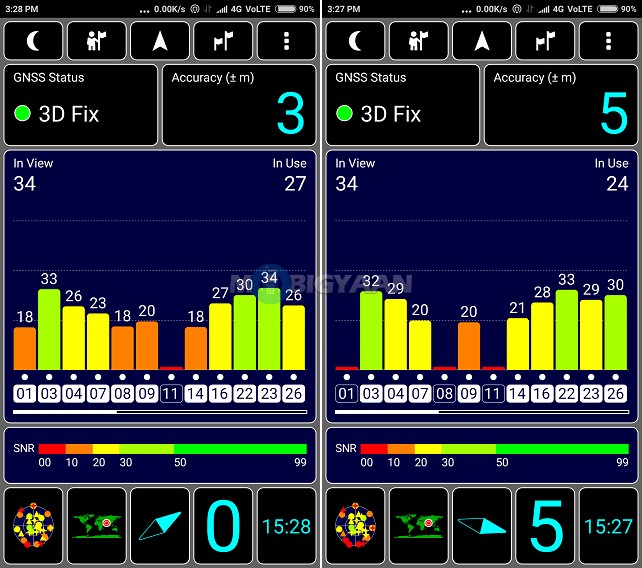 Cameras
The 13 MP camera on the back may sound weak but it actually performs better, at least better than its predecessor. The rear camera uses a 77-degree wide-angle lens with PDAF support and dual-tone LED flash.
Unfortunately, it has no Optical Image Stabilization (OIS) support which may sound fair for its category. The front has a 5 MP f/2.0 camera with no flash. The front camera is mediocre and records up to 720p videos.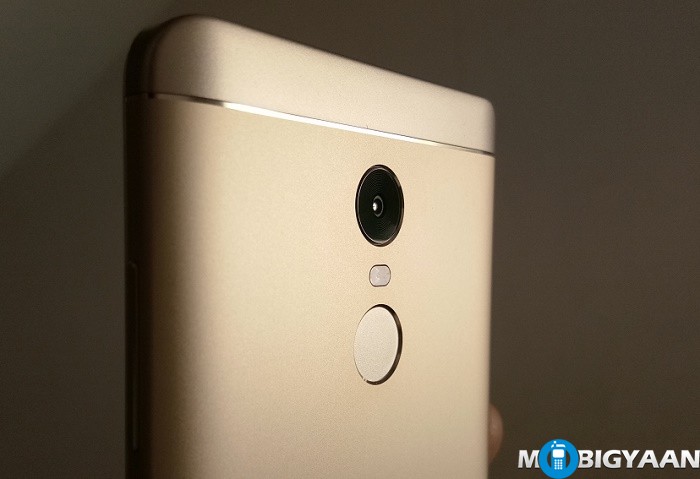 Xiaomi Redmi Note 4 Camera Specifications
Camera: 13 MP f/2.0, PDAF support, 77-degree wide-angle lens, dual-tone LED flash
Optical Image Stabilization (OIS): N/A
Features: Geo-tagging, Tap to Focus, HDR, Panorama, Manual, Straighten, Beautify, HTT (Night Mode), Scene, Tilt-shift, Audio, Color Filters, Burst Shot
Video Recording: Up to 1080p video @30fps, SlowMo 720p @120fps
Front Camera: 5 MP f/2.0
Video Recording: Up to 720p video @30fps
Front Flash: N/A
The camera has not much to offer when it comes to features. It comes with a Night mode, Panorama, Slow Motion, HDR, Manual, Beautify, Tilt-shift, Audio, and few others. The camera records up to 1080p video @30fps and slow motion at 720p @120fps
Xiaomi Redmi Note 4 Camera Samples
The only major update that could be visible is the camera quality. Although the camera is a little above average quality, it is better than Redmi Note 3. For this price, there may be other smartphones performing better at the camera and offers more camera features. If we take a look at the last year's Honor 5C, it has many camera features and much better picture clarity than Redmi Note 4.
The camera takes pictures quite fast and shutter speed is fairly good. The low light image quality is average leaving amount of blurriness. Though Xiaomi has improved the camera, but in the race of camera quality and technology, it is lagging behind as smartphones are emerging with dual cameras. We didn't like the front camera quality, it is average, if you are a selfie lover, consider a better camera phone.
Battery Runtime
Xiaomi Redmi Note 4 provides the best battery backup. According to Xiaomi, the 4,100 mAh battery runs 25% longer as compared to the Redmi Note 3. Since the battery on both models is almost the same, the battery runtime has received a hike. It is significantly improved from its predecessor, the 14nm magic from Qualcomm Snapdragon 625 works.
We got a 2-day battery life on medium usage including playing YouTube videos, Music, Surfing the web, using Facebook and Instagram, some Games, Voice calls, Wi-Fi Hotspot (4G) with 4G Mobile Data always on. The battery also lasts 3 days (30+ hours) if you use the phone occasionally. Xiaomi did an excellent job improving the battery life.
There are battery management traits that also lets you kill power hungry apps and smartly optimize the battery.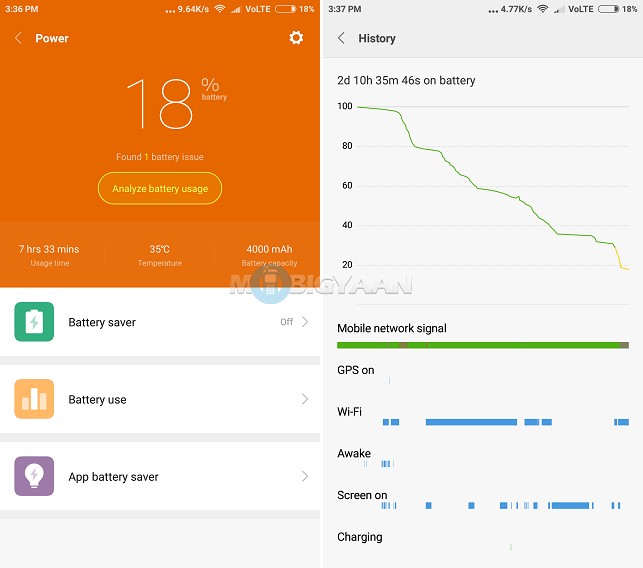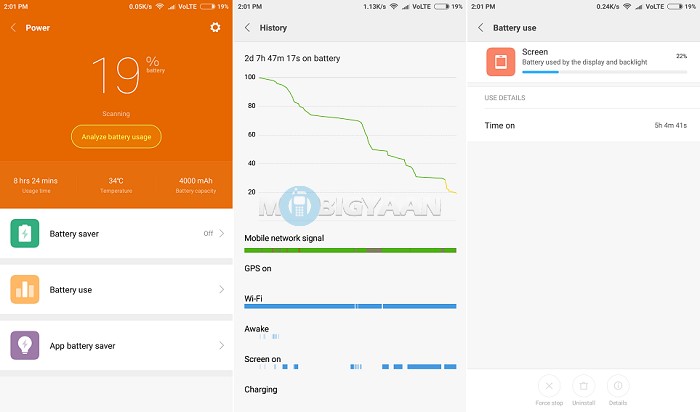 The battery charging takes a while, 2 hours and 45 minutes. The 5V and 2A charger aren't enough for a 4,100 mAh battery.
Pricing, Variants and Availability
The Xiaomi Redmi Note 4 now has 3 variants.
₹9,999 (2 GB RAM, 32 GB Storage)
₹10,999 (3 GB RAM, 32 GB Storage)
₹12,999 (4 GB RAM, 64 GB Storage)
You can get Redmi Note 4 at Mi official store and Flipkart store. It is available in Matte Black, Dark Grey, and Gold.
Verdict
There are probably less reasons to upgrade if you are using Redmi Note 3. Assuming that the camera needs an improvement and the battery life is inadequate, these are the only reasons to upgrade to Redmi Note 4 according to me.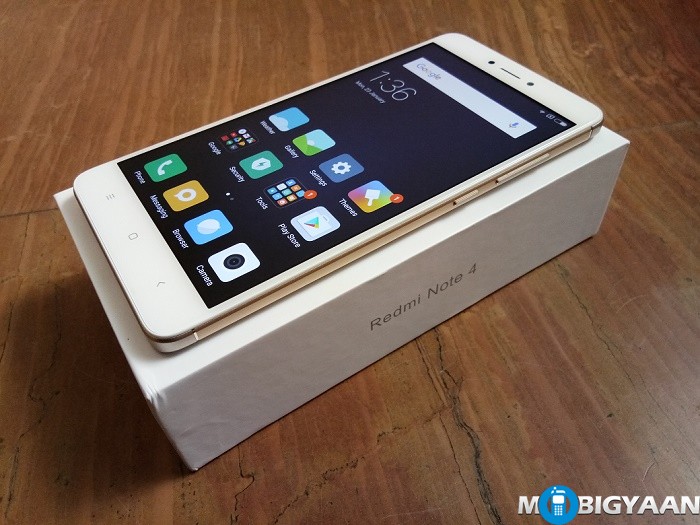 Other than that, if you have a budget of ₹10,000 to buy a phone, do not hesitate to buy one. If you can work out with the budget and spend a little more, Redmi Note 4's 64 GB version is available.
With that budget, now smartphones are emerging with dual cameras where Redmi Note 4 is lagging behind. Consider these two phones Honor 6X and Coolpad Cool 1 Dual if you want better camera picture. Else, 64 GB storage is bang for the buck and solves your storage problems. Other cheaper alternative would be to go with the base model and spend on an external memory card.
Competitors:
Strength
Decent Performance
Excellent Battery Life
64 GB variant is a steal
Value For Money
Weakness