Airtel launches m-Commerce service on Voice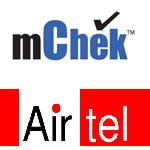 Airtel has announced the launch of its m-Commerce service – 'mChek on Airtel' on the voice platform. This service ensures seamless and secure use of voice (IVR) for m-Commerce transactions for all Airtel mobile customers. The customer has to call 543219 to access the service which is toll free.  The mChek on Airtel service on voice will enable the 100-million-plus Airtel customers to pay Airtel mobile and fixed-line bills, recharge Airtel pre-paid and digitalTV accounts, recharge Delhi-Gurgaon expressway toll tags, pay insurance premiums, buy gifts, tickets and shop using their mobile phones.
To avail this service, Airtel customers have to call 543219, create their own 6 digit mChekPIN and link their VISA / Mastercard credit card. The one-time registration links the user's credit card automatically to the mChek on Airtel service. For all future transactions the user is required to only enter a six-digit mChekPIN on their registered mobile number to authorize the transaction.

mChek on Airtel provides an on-demand solution for mobile payments with a unique two-step authentication process, the mChekPIN and the Mobile Number.  mChek on Airtel is already available on various access mediums like SMS, USSD , J2ME and SIM application and WAP.

Airtel Claims that its Postpaid and Prepaid subscribers  will now enjoy benefits like :

For Post-paid customers:
Pay any Airtel landline Bill

Pay their own postpaid bill

Pay for others postpaid bill

Make full or partial bill payment (customer driven)

Recharge for other prepaid customers


Recharge Delhi-Gurgaon Expressway toll tag ( for Delhi/NCR users )

Recharge his Digital TV account

All other merchant payments
For Pre-paid customers:
Recharge for self

Pay Landline Bill

Recharge Digital TV account

Recharge Delhi-Gurgaon Expressway toll tag ( for Delhi/NCR users)

All other merchant payments