As part of its rollout efforts, Airtel has now launched the Airtel V-Fiber high-speed broadband network in Indore.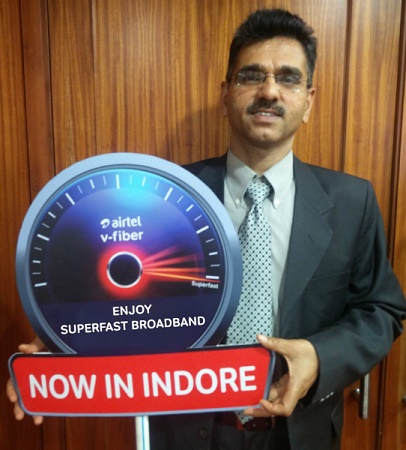 Airtel has announced the launch of the V-Fiber service in Indore. The service, which is based on Vectorization, which is Europe's No.1 fixed broadband technology, makes Airtel the first operator in India to use the technology. The company has also upgraded local exchanges with equipment to handle fiber speeds.
Airtel has also revealed that there is no need for wiring or drilling in customer's premises, just a new modem upgrade is required to experience 'V-Fiber'. Airtel is offering the service to all its existing customers at no extra monthly cost. New customers can choose plans starting from Rs. 999 and get unlimited three months' trial offer.
To register, customers need to file a request on airtel.in/vfiber or 18001030121. Further if the customer is not happy with the service within one month, Airtel will refund the modem charges and the amount will be adjusted in the next bill cycle.
Speaking about the launch, Dharmender Khajuria, CEO – Madhya Pradesh & Chhattisgarh, Bharti Airtel, said, "We are delighted to bring 'V-Fiber' to our customers in Bhopal, as part of our endeavour to deliver best-in-class broadband experience to users. With 'V-Fiber', we are all set to offer an altogether transformed experience on our future ready network to the digitally savvy homes. This solution offers a very quick and convenient upgrade to the customer. Our innovative myHome Rewards program and free voice calling facility will certainly add to the delight of Bhopal's Digital Homes. We invite all our customers in the city to experience our superfast broadband speeds."