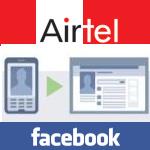 Airtel entered into a partnership with Facebook to provide its 130+ million subscribers Free access to m.facebook.com for a period of 2 months.announced that it will offer the full mobile site of Facebook, The partnership enables Airtel subscribers to access Facebook's full mobile site at no data cost from their Airtel mobiles via m.facebook.com.  Free access to Facebook Mobile on Airtel is available for the entire months of July and August, 2010.
For existing mobile internet customers on Airtel, there is no need to do anything – they can immediately start connecting with their friends by visiting the Facebook mobile site. Customers are accessing the mobile internet for the first time need to SMS 'FACEBOOK' to 54321 to take avail this offer.
Facebook's mobile site will be initially available in English and Hindi, with five other languages – Punjabi, Bengali, Telugu, Tamil, and Malayalam – soon to follow by July 15, 2010.
Also Read
Access Facebook without any data charge on Reliance Mobile
Access Facebook without any data charge on Videocon Mobile Services.