Yahoo! recently announced 2 apps and a search widget for Android.  At MobiGyaan, we downloaded and installed the app in Motorola Milestone. Here is a quick review.
Hits
+ The applications have a slick and attractive User Interface.
+ The interface is fast and responsive on our device.
+ New feature: Smart Folders and Flag a message are very useful.
+ Yahoo Mail app integrates with phone contacts
+ The mail composer has a rich interface and supports attachments (multiple format support)
+ In Milestone, the indicator LED glows lavender, to match the App UI, when there is a notification.
Misses
–  No support for multiple accounts.
–  No integration with other chat clients like gtalk or msn.
–  No thumbnail for image attachments, in the mail view.
–  No indication in the mail preview, for type of attachment
–  Notifications are not spontaneous. The notification does not stay in the bar for a long time.
–  Yahoo Mail for android is ad supported
–  Yahoo Messenger log out every time you close the application without warning. It does run in the background seamlessly like the google talk.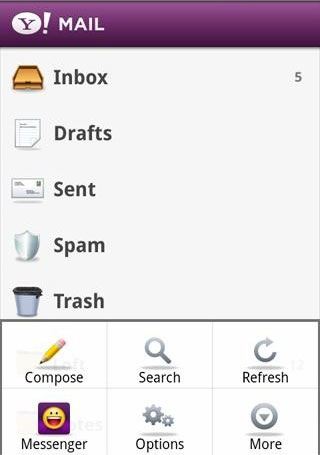 It's been a while since the supremacy in Mail and Chat has been taken over by Gmail. Yahoo is trying its best to grab that spot. They want to prove a point and tell the world that they still have what it needs to be a market leader. With the new Android apps, Yahoo hits certain sweet spots and misses a few by miles. But it's a very good step that's been put forward. The apps are already available for iPhone, but the iPhones versions have also been updated to support HTML5. Go ahead, try it out and tell us what you feel.