Airtel has announced its Open Network initiative in India under Project Leap. Under this initiative, all the network coverage information will be available publicly.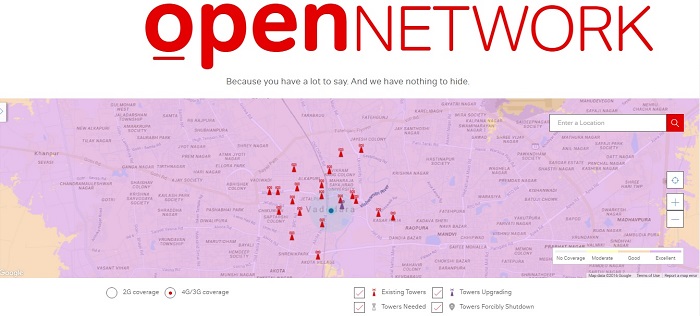 Customers will now be able to see the network coverage and signal strength in any location across India. The coverage will be shown in a color coded interface and will be categorized as No Coverage, Moderate, Good and Excellent. Airtel will be deploying state-of-the-art technology solutions for network optimization and better coverage. It has also reduced call drop benchmark compliance voluntarily by 25% to 1.5% from 2% prescribed by TRAI.
"Open Network is a paradigm shift in the way we engage with our customers. With this initiative, we are establishing complete transparency with regards to our mobile network and opening ourselves to customer scrutiny and feedback. For us, the network experience is paramount and Airtel customers can now take charge of network issues and be a part of the solution, rather than waiting for it to happen. Today, getting permissions to put up a network site is perhaps the biggest challenge in delivering a seamless experience to customers. We hope customers will actively come forward and help us make our network better." said Gopal Vittal, MD & CEO (India and South Asia), Bharti Airtel.
"Airtel is fully committed to investing whatever it takes to deliver a world-class experience to its customers. I also want to thank the Hon'ble Telecom Minister for his proactive approach towards addressing the misplaced concerns around mobile radiation and supporting the industry's requirement for site locations." Mr. Vittal further added.
Upon clicking on a particular point in the map, you will be able to see existing towers in that area along with the towers that are upgrading, areas where towers are needed, and, the towers which are shut down.
If you are a non-Airtel user thinking of switching to Airtel, the Open Network initiative will be very useful to you in deciding whether to switch to Airtel or not. This is so because you can now actually see whether the area you live in has proper 2G/3G/4G coverage or not. You can see this through a map on Open Network's website. You can also use the myAirtel app to make use of this facility on the go.
As a part of Project Leap, Airtel is deploying solutions like small cells, indoor solutions, Wi-Fi hotspots and carrier aggregation technologies to improve network experience inside buildings. It also has plans to deploy 1,00,000 similar solutions over the course of next three years.
Airtel aims to improve its network quality and customer experience with an investment of ₹60,000 crores in Project Leap over the next three years. The company will start rolling out a 360-degree advertising campaign around the Open Network initiative starting from tomorrow.