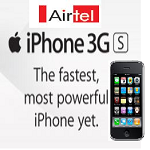 Airtel is all set to launch the iphone 3GS which is a power packed handset with features such as widescreen ipod and an internet device with html and full internet browsing.This phone is expected to launch on 24th March in three different models namely:

1.iphone 3G-8 GB in black colour
2.iphone 3GS-16 GB in black and white colour
3.iphone 3GS-32 GB in black and white colour.

These handsets will be available at all Airtel authorised centres very soon.Some of the path breaking features include video recording through which you can shoot video,edit and share it,3 MP camera which takes great still photos thanks to built-in autofocus and a handy new feature that lets you tap the display to focus on anything (or anyone) you want.It also recognizes the names in your Contacts and knows the music on your iPod.So if you want to place a call or play a song,all you have to do is ask.With a built-in digital compass,iPhone 3GS can point the way.Use the new Compass app,or watch as it automatically reorients maps to match the direction you're facing.You can also cut,copy and paste words and photos,even between applications.

There is no exchange offer available on this handset so all you need to do is walk in to the Airtel authorised centre with your existing simcard and take home this new generation mobile.New subscribers can walk in with identity proof,photograph and address proof.This phone is locked to Airtel network so you cannot use any other network card in this handset,however you can you any Airtel card in this phone.
This phone comes with a 1 year standard warranty from Apple

.