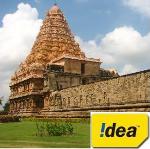 Few days back Idea had launched FRC 37 and FRC 95 which allows its subscribers to make calls at 50 paise/minute. Today Idea has announced that now it will allow its subscribers of Chennai and Tamil Nadu to make calls at 2 paise less i.e.  48 paise/min. Idea claims that these tariff rates are lowest rates provided by any mobile operator in Chennai and Tamil Nadu Circle. Both new and existing IDEA subscribers can avail the benefits of these special tariffs.

To avail the special tariff benefits, new prepaid subscribers of IDEA can purchase any of the two new tariff vouchers priced at Rs. 37 and Rs. 95 offering a talk time of Rs. 15 and 70, respectively.Both these vouchers come with lifetime validity and offer local and STD rate of just 48 paisa per minute for calls made on all mobile and fixed line networks in the country. This special tariff benefit is applicable for a period of six months from the activation date.

Further, IDEA subscribers availing the Rs. 95 voucher will get an additional benefit of 100 free local SMS per day. The first two local SMS of the day will be charged at 48 paisa per SMS, for the subscriber to avail 100 free SMS of the day. Beyond the daily quota of free SMS, subscriber will be charged 48 paisa for every local SMS. National SMS will be charged at Re. 1.50 and international SMS at Rs. 5 on the new tariff vouchers.

Existing customers can upgrade to 48p tariff by recharging with Rs.12 value voucher and get the new tariff for 6 months.