Alleged renders of HTC U surface online sans the power button
Last week, we were served with some details of HTC U by Evan Blass. He also said that the device is expected to be unveiled later this month. While Blass did give us some specifications of the HTC U, he didn't share any image of the device at that time. However, alleged renders of HTC U have surfaced online which give us a look at the device from multiple angles.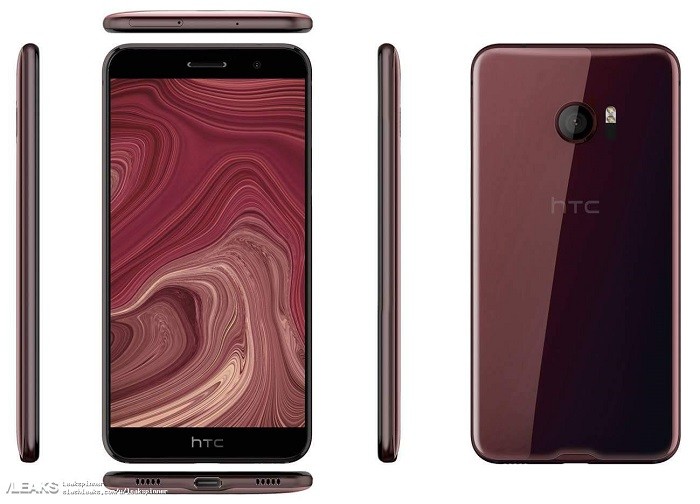 The render shows off the HTC U in what appears to be a red or brown color. If you take a proper look at these renders, you will notice that some important stuff like the power button, volume rocker and fingerprint scanner is missing. There's just the HTC moniker at the front below the display and above it is the earpiece and secondary camera.
At the back of the device is the primary camera and dual-LED flash below which is the HTC logo. There's a SIM card slot at the top of the device, and, going by what Blass said last week, we assume the SIM tray would have a slot for microSD card as well. Moving on to the bottom of the device, you can see a USB Type-C port which is flanked by speaker grilles. Well, only one of them might actually house a speaker, the other one would be the primary microphone hiding underneath the speaker grille.
As there's no power button, volume rocker and fingerprint scanner in these renders, chances are these are not legit. However, given the fact that the HTC U is said to be coming with touch-sensitive metal frame, we assume different gestures at the left and right side of the device would mimic the functionality of the power button as well as the volume rocker. Speaking of fingerprint scanner, maybe HTC will embed it under the glass.
The renders also don't show the standard 3.5 mm audio jack, hence, you might have to rely on USB Type-C not only for charging the device, but also for listening to music through wired earphones. However, this shouldn't be much surprising as the HTC U Ultra and U Play also don't have it.
Speaking of the specifications, the HTC U is said to come with Snapdragon 835 SoC, 4 GB RAM, 5.5-inch QHD display, 12 MP rear camera, 16 MP front camera, 64/128 GB internal storage, Sense UI 9 based on Android 7.1.1 Nougat and 3000 mAh battery.
We expect to hear more about the HTC U in the coming days as we move closer to the expected launch of the device.