Good news for comic lovers. The Amar Chitra Katha has moved to digital mode with the launch of the new mobile apps for Android and iOS platforms.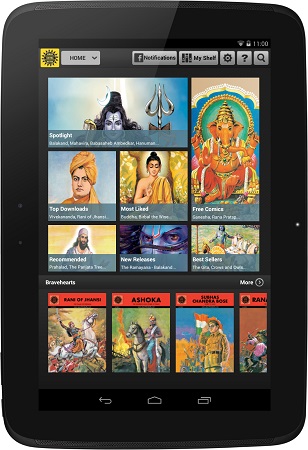 Amar Chitra Katha Pvt. Ltd. has announced the launch of the ACK Comics app for Android and iOS. The free app is the official digital comic store app for Amar Chitra Kathaa and would offer access to the entire range of Amar Chitra Katha titles, which includes the new titles.
The app will service all digital customers of Amar Chitra Katha by providing the entire range of Amar Chitra Katha comics in digital format to be viewed from a smartphone or tablet. The user can download and read their comics on multiple devices using a single user account. There is also the flipbook mode which allows users to read page-by-page. You can download the app from the Google Play store or the Apple App Store.
Speaking about the launch of mobile apps, Manas Mohan, COO, Amar Chitra Katha, said, "Amar Chitra Katha is known to be one of the biggest storytellers and is one of the most popular comic book series amongst Indians and NRIs. We are very excited about the launch of ACK Comics, Amar Chitra Katha's first digital comic store app on Free Comic Book Day. Digitalization of Amar Chitra Katha was the next step towards making our comics available to the net savvy Gen Z. With the launch of the ACK Comics App, we can now reach out to millions of readers who can access the vast treasure of Indian storytelling on their fingertips. Every title has been painstakingly renewed to provide a superb digital reading experience"