When it comes to Android, a customer has a lot of options to choose from. You can buy a smartphone that costs as low as ₹4000 (or even less), or go on and purchase one that's priced more than ₹60,000. But, needless to say, this difference in price also brings along differences in hardware, with the higher priced ones boasting top-notch specifications, and, the lower priced ones featuring weak hardware. This is the reason why developers have been releasing Lite versions of their apps. There already are Lite versions of popular apps available on the Play Store, and, the latest one to join this group now is Amazon Kindle Lite.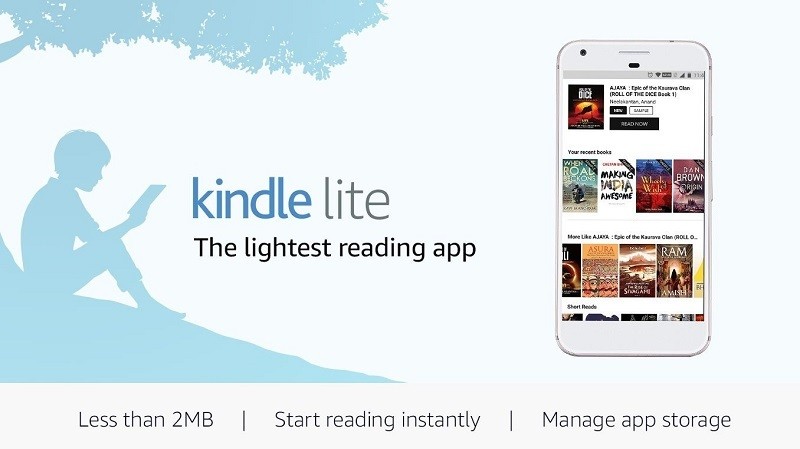 The Amazon Kindle Lite app was in beta on Play Store since last year, but now, it has been finally launched for all the users. The Amazon Kindle Lite app, as the name suggests, is a lightweight version of the main Amazon Kindle app that's been around for years now.
The Amazon Kindle Lite app weighs just 2 MB in size, and hence, takes up less storage on your device. Moreover, as this is a Lite app, it also consumes less processing power on a smartphone which makes it ideal for use on entry-level devices like the ones that have a measly 512 MB of RAM.
Having said that, just because the Amazon Kindle Lite app is a lightweight version of the Amazon Kindle app doesn't mean it doesn't come with any useful features. This app lets you read eBooks on your smartphone instantly, even before the download is complete. Moreover, the app comes with a feature called Whispersync that lets you sync your eBooks across all devices.
Furthermore, the app also shows you how much data and storage is consumed on your device. That said, apart from English, users can also read their eBooks in Hindi, Tamil, Marathi, Gujarati and Malayalam languages. Besides, the app also offers personalized shopping experience, and, also comes with night mode that helps reduce strain to your eyes at night. Moreover, the app also lets you zoom into images while also letting you navigate through the table of contents quickly.
The Amazon Kindle Lite app is also designed to work on slower networks like 2G networks. This is certainly useful if you live in a country like India where Internet connectivity is still unreliable and spotty.
That said, to attract more users, Amazon India is offering 80% cashback to customers on their first eBook purchase from within the Kindle Lite app, but, the payment needs to be using Amazon Pay.
Commenting on the launch of Amazon Kindle Lite app in India, Rajiv Mehta, Country Manager, Kindle, said, "As part of our continued focus on India, we are always working to improve the reading experience for our customers. Apps constantly compete for space on a mobile phone and Kindle Lite solves this problem for our readers. Kindle Lite is less than 2MB and built to provide a great reading experience even on 2G/3G networks."
The Amazon Kindle Lite app is available as a free download on Google Play Store. It's currently only available in India, but, Amazon may launch this app in other developing countries in the future where Internet connectivity is still an issue.
Download Link: Amazon Kindle Lite for Android