Amazon introduced its Prime Membership program in India last year. Once you pay for the membership, you get benefits like free fast delivery, unlimited video streaming and more. Earlier this week, Amazon started shipping its Echo series speakers in India, and, the company has also announced the inclusion of its Prime Music service in Prime subscription for customers in India.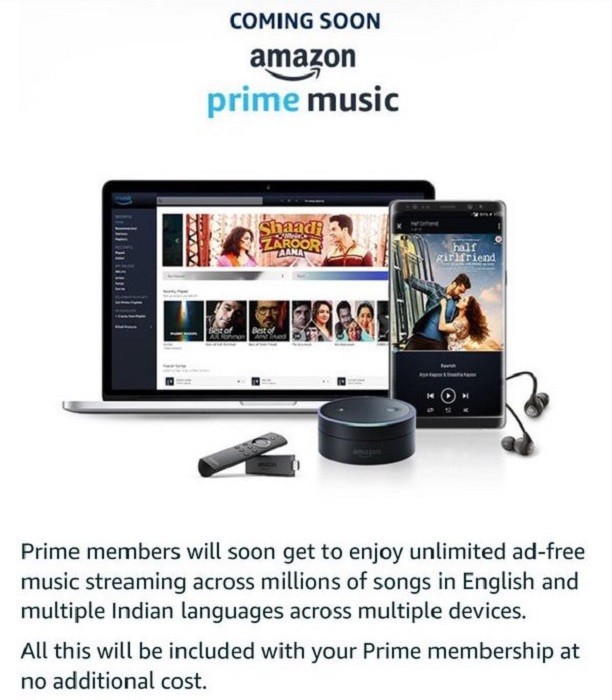 Until October 30, 2017, the Amazon Prime Membership in India was priced at ₹499/year. However, the Prime Membership now costs ₹999/year. Those who already have the Prime Membership will soon be able to enjoy unlimited ad-free music streaming across multiple devices in English as well as in other Indian languages.
As the Prime Music will be included in the Prime subscription, Prime members won't be required to pay anything extra to be able to stream unlimited music.
Apart from this, like we already said, Prime members also get unlimited video streaming (Prime Video) across different devices. They can stream Hollywood, Bollywood and regional movies across different genres, and, can also watch TV shows while also getting access to Amazon Prime exclusive content.
We think getting a Prime membership, even at ₹999/year, isn't a bad deal at all, because you are not only getting access to unlimited video streaming, fast delivery, exclusive access to top deals and coupons, but, you will also get unlimited ad-free music streaming once the Prime Music is available.
So, are you going to get a Prime Membership? Which other service do you use for music streaming?