Amazon pushes Samsung down to third spot for Tablet sales, Apple still rules
Okay this may come as a surprise but it is true. Amazon has managed to push Samsung down to the third spot and has raced ahead to the second in the race in terms of the number of tablet units sold in the last quarter.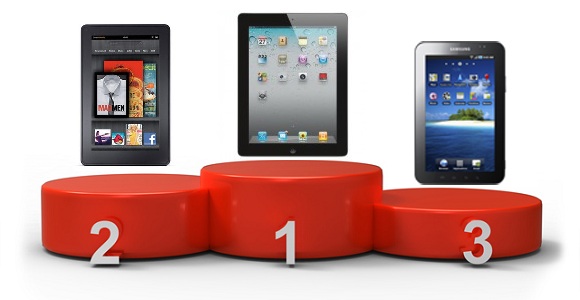 According to research firm HIS iSuppli, Amazon has sold about 3.89 million Tablets in the fourth quarter while Samsung only managed to sell some 2.14 million Tabs. This brings Kindle Fire ahead of the Tabs but it still lags behind from the iPad which is ruling the market with about a whooping 15.4 million devices sold in the same quarter.

Not that's around 62 percent of market share of Apple which is still great but has fallen drastically from 2010's 87 percent. Samsung now has only 8 percent of market share as compared to previous year's 11 percent while Amazon now hols about 14 percent of the market.
A very impressive move by Amazon by grabbing nice market but the company has recorded a loss because even though the units sold are more, but the company has priced it very less eating up into the profit. Amazon is even not able to procure the manufacturing and other costs incurred in selling the Kindle. But maybe it is happy this way around. Recently we saw how Amazon has started targeting Apple with ads and it seems that the iPad is indeed going to see the Kindle eat up more of its share in the coming few months.