We are back with the monthly Android OS share which shows us which OS is running on how many percent of devices worldwide and it indicates that Android 2.3 Gingerbread is still the king!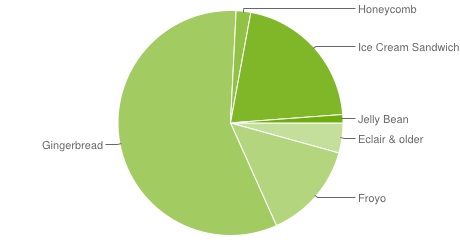 According to the latest data released by Google Android 2.3 is now running on 57.5% of all Android devices out there which is down from last month's 60.4% of the share.

While the share of Android 2.3 Gingerbread is decreasing every month, Android 4.0 Ice Cream Sandwich is catching up steadily and now runs on about 20.9% of all Android devices out there.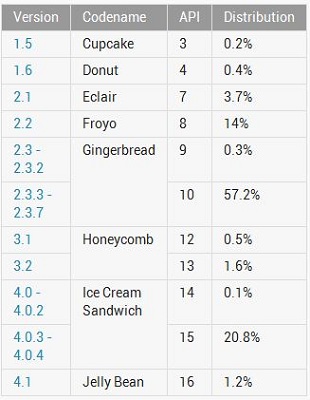 This figure is up from the 15.9% which we saw last month and this is thanks to the ICS roll out which manufacturers have lately started for older device and newer device launching with the OS out-of-the-box.
 
Next up is the Android 4.1 Jelly Bean whose share has also increased from 0.8% last month to 1.2% recorded this month. This increase has to be credited with the sale of Google's Nexus 7 tablet increasing and a few more other manufacturers launching their

smartphones

and tablets on the OS.
 
Other versions of Android OS have been consistent decline in their share as Android 3

.

x Honeycomb now runs only about 2.1% of devices, Android 2.2 on 14%, Android Éclair on 3.7% of all devices out there.