Nexus 6 owners have had a tough time since Google upgraded this 2014 Nexus device with Android 7.0 Nougat. Firstly, the Nexus 6 owners had to wait to get their hands on the 7.1.1 Nougat update which was delayed due to last minute bugs, and now, these 7.1.1 Nougat powered Nexus 6 units are being downgraded to 7.0 by Google.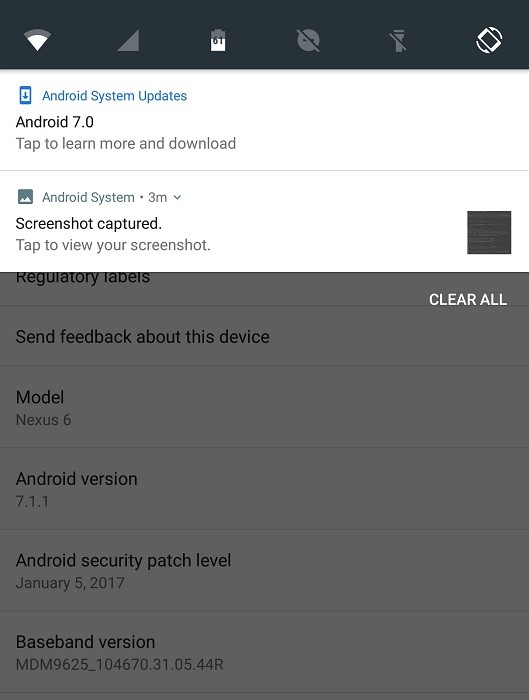 Google has started sending out an OTA update to the Nexus 6 units which are running Android 7.1.1 Nougat. This OTA update comes with Android 7.0 Nougat which downgrades this Motorola built Nexus 6. The 7.1.1 Nougat update was already delayed due to some last minute bugs, and, even after the update was rolled out, there were some bugs present.
Well, the bugs that came with the 7.1.1 update were fixed through the March security patch, however, the Nexus 6 started having problems with the Android Pay after it was patched with the March security update. Well, it seems Google has now given up with the bugs on Nexus 6 and has decided to bring it back to the 7.0 Nougat which had relatively lesser issues.
What's surprising is that this OTA update doesn't require the users to wipe out their Nexus 6 before downgrading it to 7.0 Nougat. Well, to the best of our knowledge, this is the first time Google is downgrading a smartphone by sending an OTA update which doesn't require the device to be wiped up. As a result, many users on Reddit are reporting that the installed apps keep closing after they downgrade their Nexus 6 to 7.0 without wiping it clear.
To clear confusions, a Google Community Manager responded on Reddit saying "There was a recent OTA update for Android 7.0 that is causing confusion for some Nexus 6 users. For those of you that want to guarantee future OTA updates, you will need to get back on the 7.0 supported track. If you are experiencing issues after accepting the 7.0 update, please factory reset your device to help resolve any problems. For any Nexus 6 users that want to continue flashing/sideloading future builds, you can stay on 7.1.1 and continue to do so."
Are you a Nexus 6 owner ? What's your opinion about Google's decision of downgrading the Nexus 6 to Android 7.0 Nougat ?