It's that time of the month when Google not only releases monthly security patch for Android, but, also shares details regarding the distribution of different versions of Android. And, sticking to its monthly routine, Google has now shared Android distribution numbers for this month.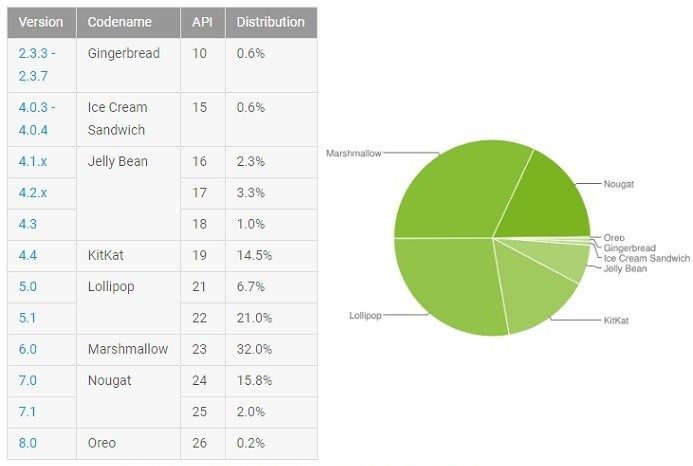 According to the numbers shared by Google, Android 8.0 Oreo, which was released in late August, is now running on 0.2% of devices which consist of Nexus 5X, Nexus 6P, Pixel, Pixel XL, Pixel C, Nexus Player, Sony Xperia XZ1 and Xperia XZ1 Compact.
Speaking of Nougat which was released last August, it has seen a total of increase of 2.0% from 15.8% last month to 17.8% this month. Well, even after more than a year from its release, Android Nougat should have been running on much more devices than just 17.8%. However, we hope that the adoption of Android Oreo with the help of Google's Project Treble will be much more faster as compared to other versions of Android.
Having said that, Android Marshmallow still retains the number 1 spot with its share of 32% which is a decrease of 0.2% from last month's total of 32.2%. Following Marshmallow is Lollipop with 27.7%, Nougat with 17.8%, KitKat with 14.5%, JellyBean with 6%, and, Ice Cream Sandwich and Gingerbread at 0.6% each.
Other versions of Android, which are running on less than 0.1% of devices, are not accounted for in this distribution table.