Well, it's that time of the month when we see the beautifully fragmented world of Android. I'm just kidding. Nobody likes a fragmented Android ecosystem. But nonetheless, until Google gets its act together, let's just take a look at the numbers.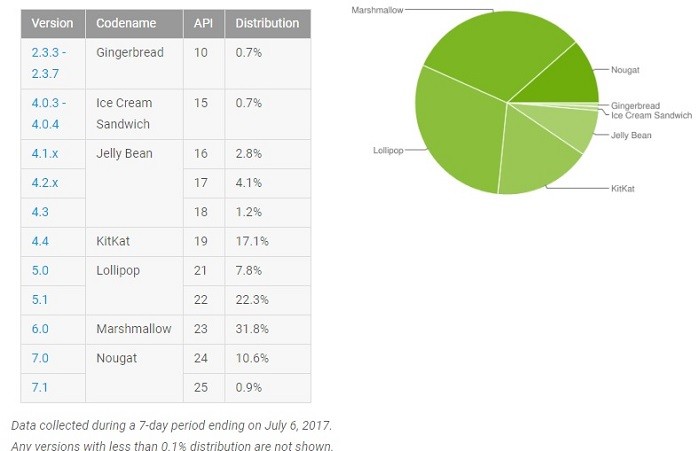 We saw last month that Android 7.0 & 7.1 combined graced a staggering 9.5% of devices last month. That was very close to the 10% mark. The good news is, almost at the brink of the Android O release, last year's version is now at 11.5%. Most of it is under Android 7.0 which is 10%. That means a 2% improvement from May in devices using the version worldwide in July 2017.
Android Marshmallow makes up the biggest number still at 31.8%. Just a 0.6% increase in about a month. It does look like the 2015 version is now reaching its full potential and will not grow much further.
Android Lollipop continues to be the runner-up in terms of adoption standing at 30.1%. Together with Android Marshmallow, they make at least 60% of the Android pie. Android Kitkat has 17.1% share. It comes third amongst the most used versions. And at fourth finally is Android Nougat.