Google released the first developer preview of Android P over a month ago, and, the second developer preview of Android P is scheduled for release next month. Well, the first developer preview of Android P did reveal some interesting things – such as support for notch. And, the second developer preview of Android P might come with gesture-based navigation bar.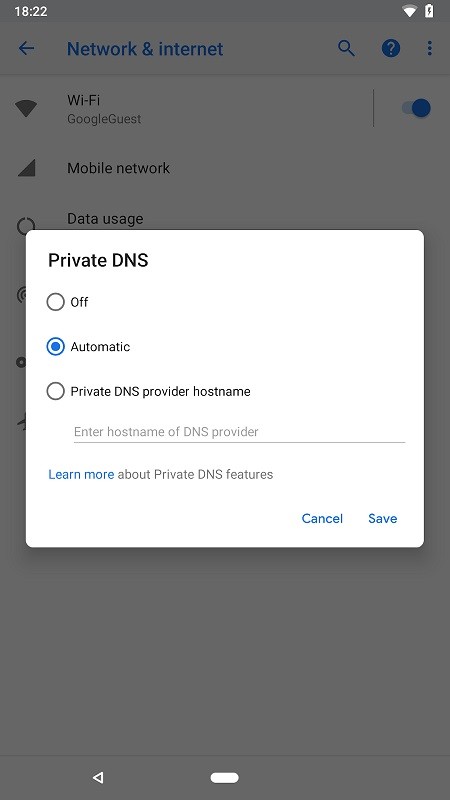 Google in a blog post about network security shared a screenshot (pictured above) that showed-off the new navigation bar on Android. As you can see, the home button is now elongated instead of circle, and, the back button is now transparent instead of opaque that we saw on first developer preview.
Moreover, you can also see that the recents/multi-tasking button – which is square in shape and resides on the right side of the home button – is absent. Well, this hints at the navigation bar supporting gestures – like swiping up to go to home screen.
Well, while Google has now cropped out the screenshot in its blog post, thanks to the clock that resides on the left and the dialogue box with rounded corners, it seems that this screenshot was taken on a phone running the yet-to-be-released second developer preview of Android P.
With that being said, according to the information received by Stephen Hall over at 9to5Google, that back button you are seeing will only show up when it has a purpose. For example, if you are on the home screen, the back button won't be displayed. After all, where would you go back from a home screen?
The release of second developer preview of Android P isn't too far, hence, when it comes out, we will know if Android P will bring in support for iPhone X-like navigation gestures. And, we actually won't be surprised if it does, considering how Android phone manufacturers are pushing for "full-screen" displays with their smartphones.