Google has released the latest numbers showing Android's distribution for this month. Out of all the Android versions, Android Marshmallow and Nougat have increased this month, however, other versions have seen a decline.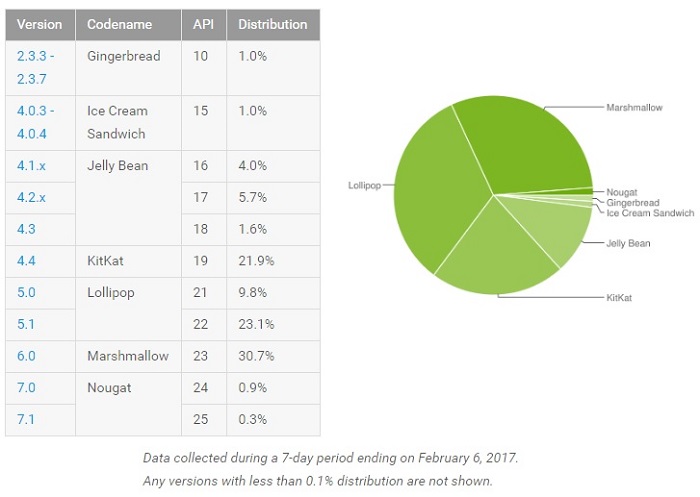 Android Marshmallow, which was running on 29.6% of devices last month is now running on 30.7% of devices. Talking about Nougat, it has finally crossed the 1 percent mark. It now is running on 1.2% of devices if we consider version 7.0 and 7.1 both.
Even if Android Marshmallow is running on 30.7% of devices, Lollipop is still on the first spot with 32.9%. Following Android Lollipop and Android Marshmallow is Android Kitkat with 21.9%, Android JellyBean with 11.3%, Android Nougat with 1.2%, and at last, Android Gingerbread and Ice Cream Sandwich with 1.0% each. Android Froyo was kicked out of the charts last month and we guess that Android Gingerbread and Ice Cream Sandwich will too take an exit in a month.
Within a month or two, we might see Android Marshmallow replacing Lollipop to take the first spot. Some manufacturers are still launching their devices with Android Marshmallow, however, as more and more devices start launching with Android Nougat out of the box, that number would should go down.