It's that day of the month when Google releases distribution numbers for the Android operating system. Google updates these numbers every month, and, according to these latest numbers, Android Marshmallow and Nougat have seen a rise while other versions drop further.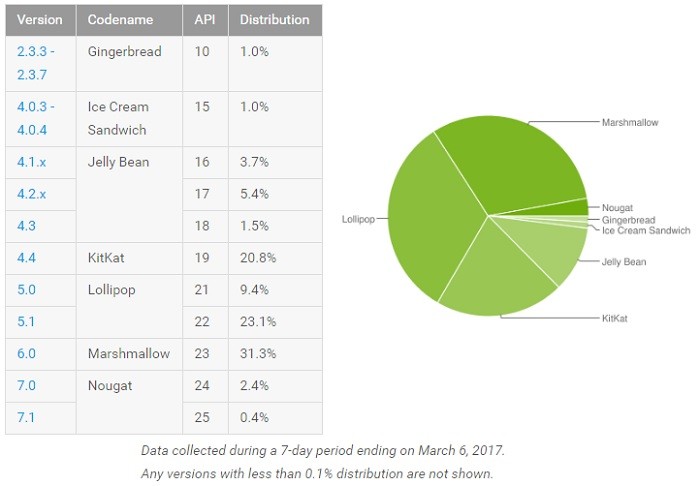 Android Nougat, which was running on 1.2% of devices last month, is now running on 2.8% of devices. Well, that's an impressive increase within a month we must say. However, the reason for such an increase is definitely the recent roll out of the Nougat update to devices like the Samsung Galaxy S7, Galaxy S7 edge and the Moto G4 duo.
Apart from Nougat, even Marshmallow has increased to 31.3% as compared to last month's 30.7%. However, other versions like Jelly Bean, KitKat and Lollipop have seen a decrease with Gingerbread and Ice Cream Sandwich still managing to make it to the chart with a share of 1% each.
Having said that, Android Lollipop is still on the first spot with 32.5% of share which is followed by Android Marshmallow at 31.3%, Android KitKat at 20.8%, Android Jelly Bean at 10.6%, Android Nougat at 2.8%, and lastly, Android Gingerbread and Ice Cream Sandwich at 1% each.
By April, we will hopefully see Marshmallow replacing Lollipop to take the top spot. As for Nougat, it should keep increasing steadily in the coming days as manufacturers start rolling out the Nougat update for their smartphones.
By the way, which version of Android is your smartphone running on?