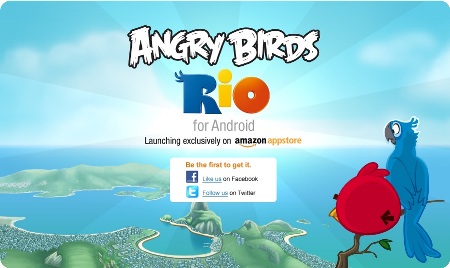 Game developer Rovio announced the newest addition to their Angry Birds saga. Angry Birds Rio will be launched and debuted on Amazon App store for Android platform. The developers confirm that the game will be available for purchase and it will be an ad-free version as well as for Angry Birds Seasons. The game has been developed with a collaboration of Twentieth Century Fox and will feature the star character of the upcoming movie 'Rio'.
Mikael Hed, CEO of Rovio had this to say, "The Android platform has seen phenomenal growth, and it's great that new avenues for app distribution are opening up. The openness of the Android platform works for the benefit of consumers and developers alike. It has been delightful to team up with Amazon to bring the Angry Birds franchise to this great new application marketplace."
"Amazon is thrilled to work with a leading developer like Rovio in offering our customers Angry Birds Rio for Android exclusively in the Amazon Appstore," said Aaron Rubenson, category leader for Amazon Appstore. "We think Angry Birds Rio is sure to be an instant customer favorite."
The game revolves around the original Angry Birds who are kidnapped and taken to the magical city of Rio, where they eventually escape their captors and set out to save their friends, Blu and Jewel – two rare macaws and the stars of the upcoming Fox motion picture, RIO.