Whoa!!! It's been quite a week for BlackBerry as two of it's phones BlackBerry Curve codenamed "Apollo" as well as BlackBerry Dakota have been leaked. Now adding to this tally is the BlackBerry Storm 3.
The Storm 3 will showcase the highest ever display resolution (800×480 pixels) on a BlackBerry smartphone. What's more interesting is that the phone is expected to have a combination of the features of the both the Bold and the Curve and rumours suggests a possible RIM-Verizon tie up concerning the shipment of the Storm 3.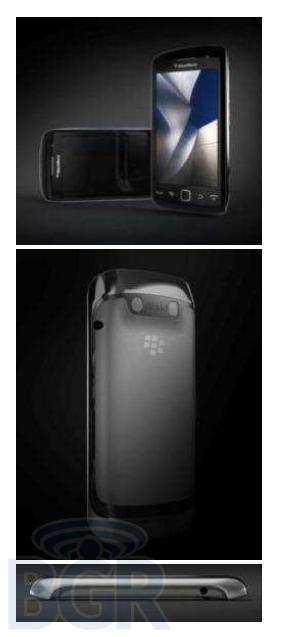 The phone will be comparatively much thinner and will have an optical trackpad with highly responsive touch. The phone is expected to be released around September this year possibly in two or three versions.
So finally here is what the specs have to say
Processor: 1.2 GHz Processor
Display: 3.7 inch 800×480 capacitive display
Camera: 5 MP camera with 720p video recording
Operating System: BlackBerry OS 6.1
Bluetooth: yes version 2.1+EDR
Memory: up to 8 GB storage , 512 MB RAM
Wi fi: 2.4 GHz b/g/n ; 5 GHz UMA
Battery: 1230 mAh battery
Frequency: Quad Band GSM/GPRS/EDGE
Tri Band UMTS/HSPA
Other key features include 3G mobile hotspot, accelerometer, magnetometer, proximity sensor,OpenGL ES 2.0.