Apple iPad Air 2 and iPad mini 3 leaked ahead of launch
In what may be considered a sheer attempt to steal the thunder of the Google announcement of the new Android version and the Nexus devices, Apple 'accidentally' revealed its upcoming iPad devices.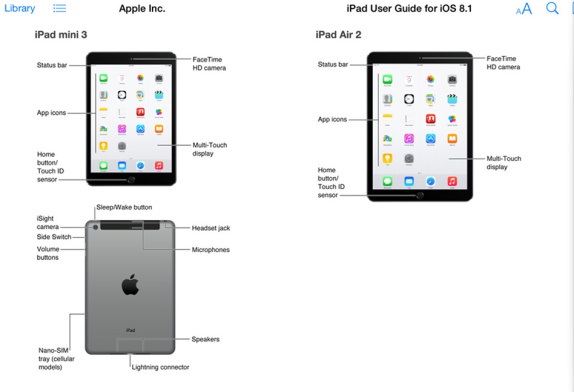 The soon-to-be official iPad Air 2 and the iPad mini 3 tablets were accidentally revealed on an official user guide for iOS 8 in the iTunes store. Interestingly, the listing contains screenshots along with detailed info about both the tablets, killing all the fun of the upcoming launch. The devices seem to have the same old design with no refresh whatsoever.
The leaked user guide reveals that both the iPad Air 2 and the iPad mini 3 would sport a Touch ID fingerprint scanner. While there seems to be no change in the design, the device are said to have a slightly faster A8 processor. Obviously, the new iPads will run on the latest iOS 8.1 out of the box. We shall still wait for the official announcement.