Apple unveiled two new iPad models, the 10.5 inch iPad Pro as well as the bigger 12.9 inch iPad Pro yesterday at WWDC 2017. This year's new models include some interesting changes to the deign as well as to the display itself and then some under the hood changes. Let's take a look at all of them
New Display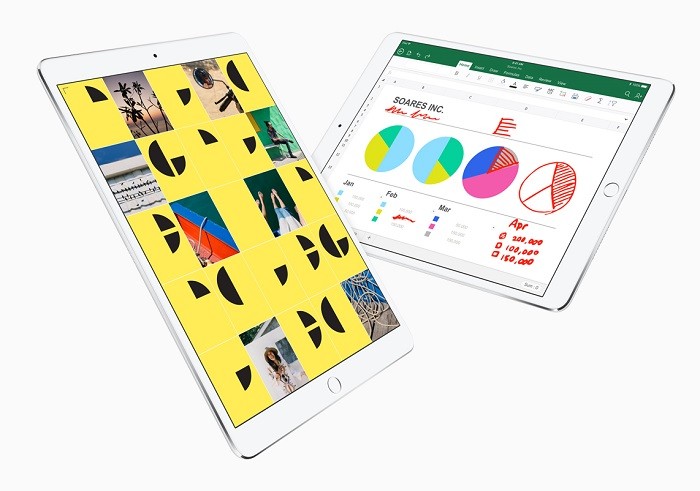 First of all, let's talk about the display, Apple says this year's iPad Pro models include a ProMotion technology that doubles the refresh rate to 120 Hz. This ultimately results in better scrolling, more responsiveness and an overall smoother UI. Apple also mentioned that the displays in the iPad Pro this year are the brightest displays ever with brightness going as high as 600 nits. The displays are coated with an antireflective coating for a better outdoor viewing experience. Also, the display on the 10.5 inch model is bigger by 20% and shrinks the bezels by 40% and still weighs 1 pound.
New A10x Fusion Chip
Now for the change under the hood, the new iPad Pro models are fitted with the new A10X Fusion chips which not only bring more horsepower but also improve gaming performance. The CPU has three low-power cores and three High power cores which one-ups last year's model by 30% and the GPU now promises 40% faster gaming performance. This year's iPad Pro now integrates the same camera sensors as on the iPhone 7, a 12MP sensor at the back with OIS and a 7MP HD camera at the front.
New Software (iOS 11) 
Now let's talk about the software. The new models will have iOS 10 on board but are slated to receive the iOS 11 update when it is released. The most noticeable thing here will be the new dock which will be customizable by the user. Multi-tasking is also set to improve with Apple including a redesigned app switcher which now remembers the duo of apps you opened last. Apple now also brings multi-touch drag and drop to the iOS system. Now you can simply drag and drop images between apps from one window to another.
The Apple Pencil which now supports 20ms latency is more deeply integrated as now you can do inline drawing alongside texts as well as a new Instant Notes feature which makes notes taking easy by simply a tap on the screen with the Pencil. Apart from these, there are many more changes with the software like the new improved Siri and various changes to apps like Camera, iMessages and much more.
Pricing and Availability
The smaller iPad Pro will cost $649 and its bigger sibling will set you back by $799. While the cellular variants will cost $779 and $929 at a minimum. The two models can be ordered today with shipping in the next week. The Apple Pencil costing $99 and Smart Keyboard costing $159 for the 10.5-inch model will have to be purchased separately. Apple also released a host of other accessories like the Leather Sleeve, USB-C to Lightning cable, an SD card reader, and a USB camera adapter.