We always had a doubt that the tablet market was stealthily overtaking the smartphone markets and reports from IDC prove us right. According to major Research firm, IDC, the last quarter of 2012 was very productive for the tablet companies.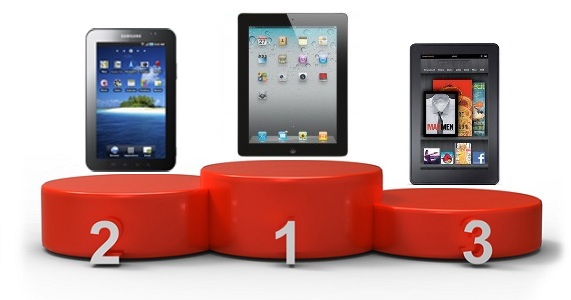 As per reports, 52.5 million units were sold globally which is much higher than previously predicted. The recently introduced budget tablets helped the tablet markets catapult to 75.3 percent growth in the quarter.

The Q4 of 2012, which saw launches from the top companies including Microsoft, managed to attract interest thus increasing the sales by 29.9 million units. While the shipment records of the smartphone industry are steady, the tablet shipments have risen exponentially.

As expected, tablet giant, Apple topped the charts with their famous iPads. The company shipped a total of 22.9 million units. As if the iPad itself wasn't good enough to drive sales, the iPad mini helped increase shipments by 48.1 percent.
 
Rival Samsung, on the hand shipped nearly 8 million tablets thus increasing its growth by 15.1 percent. Also Microsoft, which entered the tablet race a little late with their Surface tablet managed to sell just 900000 units this quarter, thus not even figuring in the top five.
 
The other vendors like Amazon and Barnes & Noble took full advantage of consumer interest. Amazon increased its market share to 11.5 percent by shipping more than 6 million tablets the last quarter. Similarly Barnes & Noble shipped close to a million units in Q4 of 2012.

Shockingly, Asus saw a heavy decrease in share despite the Nexus 7 tablet. The tablet sales of Asus decreased from 7.8 percent to 5.8 percent. With such numbers, one can only wonder how conducive the market would be for new entrants in the tablet industry this year.