Apple's new iPhone patent shows how to make sharing media easy as anything
Apple is out to change the way we share, at least according to their new patent filing. They have filed a new patent, which reveals that they are working on a technology that will let you share songs, videos and images – while you are on a call or sending a voicemail message and the receiver can receive media like they receive a call. In case this patent becomes a reality, we think it will suit our networking needs – whether it be sharing photos on Facebook for example or sharing an official document.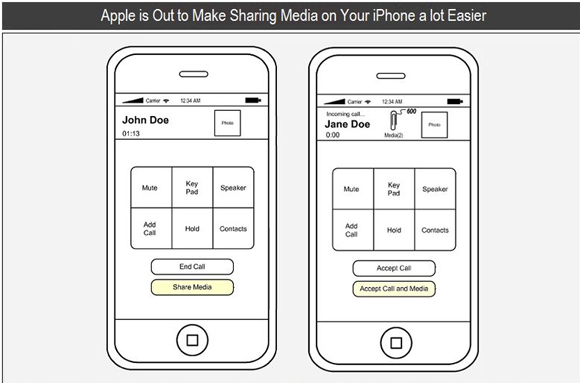 What's even more interesting is how Apple plans to do this. Apple wants to create what's called the 'Binding protocol' using which one or more items can be easily bound to a vice call which will make sharing and communicating faster and easier. Even the UI will have to change for good coming with a special 'share media' button.

A few more uses for it would be in banking for e.g. calling up your banker and telling him to make a transfer by entering your PIN while you are on a call. Furthermore, to attend to your social networking needs, the binding could be done right from your contacts. One could also preview the attachments before sending receiving them using an image viewer.
That is all that is known for now. The patent does not mention whether these changes will roll down to the iPhone 5, but whenever they come they are bound to change not only the way we share, but also the way call, voice mail and network. We also wonder how long till other companies get a whiff of this and accommodate these changes into their upcoming devices.

Thanks to PatentlyApple for the info.