Last week, we told you that Apple is trying to take control over the domain iPhone5.com and today we have learnt that Apple has been successful in getting hold of the domain as its complaint to the World Intellectual Property Organization (WIPO), has been acted upto.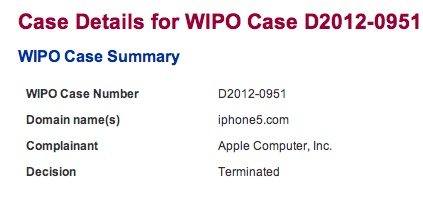 Previously WIPO has stated the issue as open but now the complaint has been terminated and the domain has been taken over by Apple but the ownership is being held up by brand protection agency Corporation Service Company, which may have been used by Apple to take ownership.

The domain iPhone5.com was registered back in 2008 and it was currently being operated as a forum where all rumours and leaks regarding the upcoming iPhone 5 were being shared. But now the domain remains empty when you try to access it. 
 
By Apple taking over the iPhone5.com domain doesn't go on to mean that the Cupertino based giant will go on with the same naming for the next generation of iPhone. But then we can't even ignore the fact too that it may go on to be named. 
 
We also know that Apple will Apple will never use the iPhone5.com domain as until now it has only launched its products on its homepage www.apple.com only. And taking over the domain only means that Apple doesn't want others to take advantage of its trademark by making profit. 

Via