A recent study report by Crittercism has come to a conclusion that mobile applications crash more on Apple's iOS as compared to that of Google's Android. This report analyzed the app crashes that took place in the first 2 weeks of December on both the OS'. This analysis involved almost 23 iOS and 33 Android OS versions. 
According to the study, iOS 5.0.1 is the leader when it comes to app crashes with about 28.64% of crashes taking place on this OS version when compared with Android OS included. When iOS is taken into consideration leaving Android, iOS 5.0.1 again contributes maximum with 33.93% of app crashes on the OS. If you feel that if there is something wrong with the OS then CEO of Crittercism, Andrew Levy clarifies, "It can be a mix of both hardware and software issues that developers may or may not be responding to". So this could mean the app is not properly compatible with the new OS and there can also be many other issues such as memory issue behind the app crashes.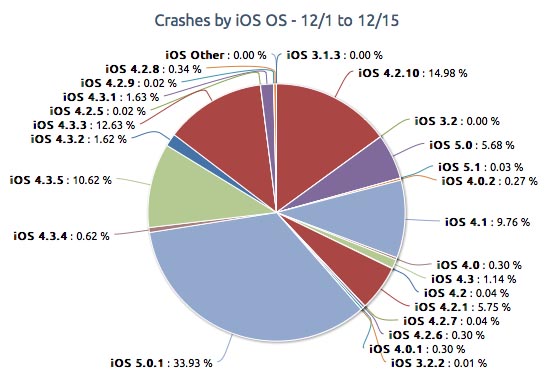 When Android is taken into consideration, there are very less number of app crashes that were reported. When you take into consideration Android alone minus the iOS, then Android 2.3.3 reported maximum crashes amongst all the app crashes which comes to about 24.76% followed by Android 2.3.4 with 23.38% of crashes. But when these crashes are compared with iOS, they are only 3.86% and 3.65% of all crashes combined which is indeed very meagre. But this image would change once Android 4.0 Ice Cream Sandwich will reach out more mobile devices.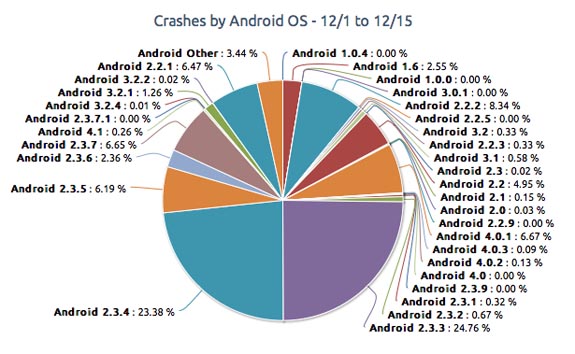 So what do we know from all this? Well we do know that developers work hard to make their current app compatible to any newer version of OS that is released by the company but in order to improve the user-experience, may be they need to put in a little more effort and make the apps more compatible with the OS' in turn, crash-free.