There is one golden rule in the smartphone industry – everything keeps on changing. To stay alive in this competitive market, everyone associated with this industry needs to be dynamically innovative. One fine example is ARM whose processors are used in millions of smartphones around the world. The company has unveiled the next-gen Cortex A17 processor which has many new facets to it but two points that stick out is that it is a  great improvement over its predecessor – the Cortex A9 and is targeted at the mid-range device market.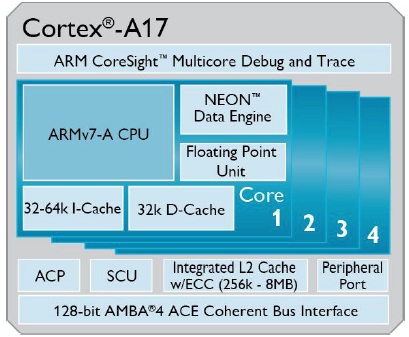 It seems mid-range phones with ARM Cortex-A17 inside will be better suited to the needs of running a multitude of apps or multi-tasking. The technology behind this processor is big.LITTLE, which Samsung is also using in its Octa-core  Exynos CPUs. It will lead to a 60 percent boost in performance as compared to the ARM Cortex A9 CPUs. It will be paired with a Mali-T720 GPU and offer OpenGL ES 3.0 support.
The ARM Cortex-A17 while mainly targeting mid-range devices will also be suited to the needs of Smart TVs, wearables and low-end devices. MediaTek has just unveiled its first Octa-core CPU with Cortex A17 inside, indicating that it might be useful for high-end devices too.