We already knew that ASUS Padfone 2 was to be launched this month and the purported specs of the Padfone 2 already leaked a couple of weeks back.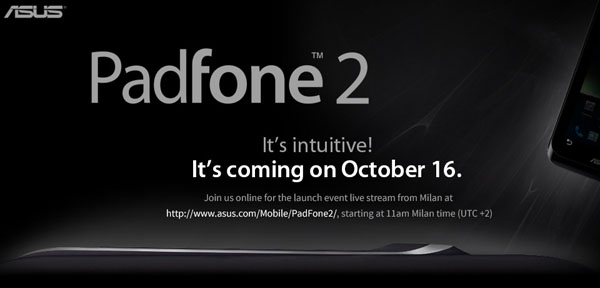 And now ASUS has unveiled that the Padfone 2 is indeed coming on October 16 and this time the launch event will be streamed live from Milan over YouTube.
So if wish to catch the unveiling of the ASUS Padfone 2, mark October 16 and 11 AM local time (15:30 IST). The specifications that the ASUS Padfone 2 is expected to arrive as per the previous leak might include:
 
4.7-inch IPS+ LCS

screen

Display

resolution of 1280 x 720 pixels

Impressive 700 nits of brightness

1.5 GHz Qualcomm APQ8064 quad-core

2 GB RAM

13 MP camera on the rear

1.2 MP camera on the front

3G, 4G LTE support

9mm thick

135 grams

2140 mAh battery
It is also being said that this time around the Padfone 2 will be made available immediately after the launch, so it might be available on October 17th itself or by the end of October. We will still wait for an official confirmation from ASUS.
 
ASUS had recently launched the original ASUS Padfone in India which going by the international releases was too late. And we hope the same doesn't happen with Padfone 2's launch in the Indian subcontinent.