Airtel's mCommerce Services Limited has tied up with Axis Bank for extending banking and payment services to Indian subscribers via the mobile platform. The partnership is basically to focus on providing customers with banking and financial services on their mobile phones.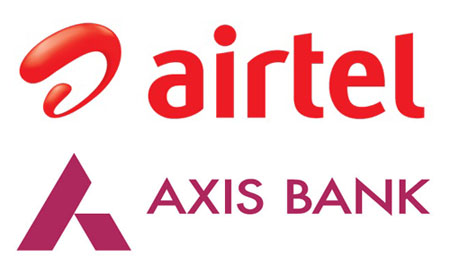 Thanks to this partnership, a new no-frills savings account of Axis Bank will be opened for customers on the Airtel Money platform called 'airtel money Super Account powered by Axis Bank' offering customers banking transactions including cash deposit, money transfer and withdrawal.


These accounts will provide convenient, safe and secure savings avenue to Financial Inclusion customers' paying them savings account interest and also enabling them to make remittances.

The savings and remittance solutions will first be provided in the top four remittance corridors involving Delhi and Mumbai on the sending side and Bihar and East UP on the receiving side. Later these services will be extended to other remittance corridors in the country. Gradually other banking products and services like micro Recurring Deposits, micro Fixed Deposits, small loans and micro-insurance products will also be provided through this platform.
The key features of the
'airtel money Super Account powered by Axis Bank' include
:
A no-frills account of Axis Bank on the Airtel Money platform

Cash Deposit / Withdrawal from authorised 'airtel money – Axis Bank' outlets

Remittance of funds to other 'airtel money Super Accounts'

Remittance to other bank accounts through NEFT (to be enabled soon)

Savings bank interest on balances
Mobile customers can visit nearest authorised'airtel money – Axis Bank outlets and open up an airtel money Super Account powered by Axis Bank on their mobile phones by submitting the prescribed application form and KYC documents.