We know that Research In Motion (RIM) has pushed the launch of its BlackBerry 10 OS and devices to Q1 2013 but we were not sure as to when we were to see the device hitting the shelves.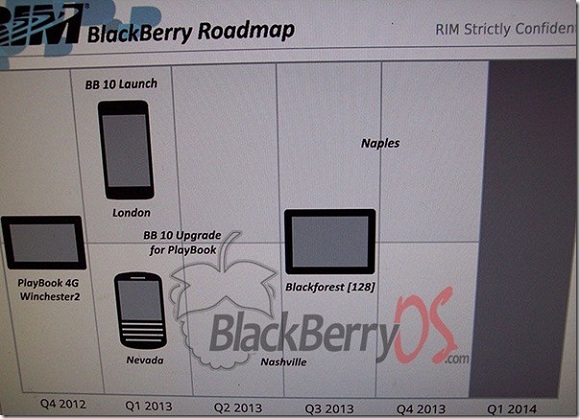 And now a 'RIM Strictly Confidential' roadmap has leaked and gotten into the hands of the guys at BBOS which reveals more than it should and that RIM would have not wished for.
According to the leaked document, RIM is planning to launch

4G PlayBook – Q4, 2012

BlackBerry 10 London/Nevada – Q1, 2013 – Europe launch before N. America

BlackBerry 10 Upgrade for PlayBook – Q1/Q2, 2013

BlackBerry device

codenamed

"Nashville" – Q2/Q3, 2013

BlackBerry 10 inch PlayBook "

BlackForest

" – Q3, 2013

BlackBerry device

codenamed

"Naples" – Q3/Q4, 2013
The 4G enabled Playbook codenamed Winchester2 is expected to arrive in Q4 2012 which means before the end of the year 2012. And the BlackBerry 10 OS running London which would be a full-touch Smartphone on BB10 would be launched in Q1 2013 followed by Nevada which would be a BB10 running Smartphone with QWERTY physical keyboard.

Now these BlackBerry London and Nevada seems to correlate with the recently leaked BlackBerry L-series and BlackBerry N-series which were expected to arrive in September and October this year, if RIM would not have delayed them.

But sources say that when we say that the BlackBerry 10 running London or L-series would arrive in Q1 2013, it would be launched and be available within the first week of January, at least for the lucky European users. And soon the launch will follow in the States. And as for the Nevada or N-series, it would arrive within Q1 2013.

Another BlackBerry device codenamed Nashville would arrive in Q2/Q3 2012 followed by a 10 inch BlackBerry Playbook codenamed 'BlackForest' with internal memory of 128 GB is expected for Q3 2013. Last but not the least, another BlackBerry 10 device codenamed 'Naples' is scheduled for a Q3-Q4 2013 which we expect to be a full QWERTY device.

As per this roadmap, it definitely seems that RIM has planned the year 2013 well to save itself and we do wish that it works for the Canadian giant.