While Nokia made a lot of noise today with its new Lumia 925, Blackberry quietly launched a new handset designed for the emerging markets. The Blackberry Q5, is a classic QWERTY device, which would be available only in selected markets.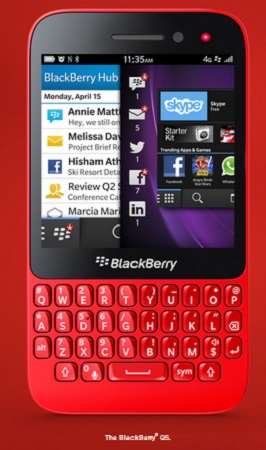 The Blackberry Q5 has 3.1 inch touchscreen along with the famous Blackberry QWERTY keyboard. The phone features a small 5 MP camera and runs on the just released Blackberry 10.1. The device would be available only in markets like Africa, Asia (including India) and Latin America.
At the same time, the company has announced the first major update to its newly launched Blackberry 10 OS. The Blackberry 10.1 update adds in a lot of desired features of which the much awaited HDR mode tops the list.
The update for the Blackberry 10 OS improvises the Blackberry Hub to support PIN to PIN messages for direct communication between BlackBerry devices. Also the notification can be personalised for your accounts to assign a customised ringtone, vibration and LED lighting.
The BlackBerry 10.1 update makes it easier to pinpoint exactly where you want to type. Tap once to bring up the cursor. Place the blue circle exactly where you need to type and tap either side of the circle to move left or right by just one character.
Blackberry also announced that it's popular messaging service, Blackberry Messenger, would get cross platform support and would be available on other mobile OS like iOS and Android. While the Android version of BBM would be compatible with version 4.0 (Ice Cream Sandwich) and above, it would support iOS hardware running iOS 6 and above.