Update: The Twitter account was fake, has now been deleted and is unavailable!
Earlier today, alongside the unveiling of the Nokia Lumia 925 smartphone, Nokia also announced the arrival of Hipstamatic to the Windows Phone OS using which users will be able to customize their images and do a lot more.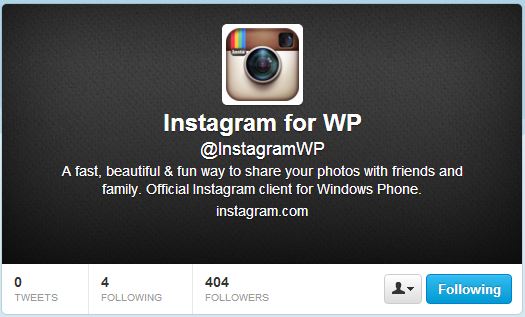 But the absence of the popular image editing and social-sharing app, Instagram has haunted the Windows Phone platform. But in an interesting turn of events, a Twitter account going by the handle @InstagramWP has appeared.
And adding more authenticity that the app is coming soon to the Windows Phone OS soon and that the account is indeed for the Instagram for WP, the first follower to the account is none other than the official Twitter account of Finnish giant, @Nokia.
So this could mean that it might not be long when we hear the app being officially announced for the Windows Phone OS platform and giving that the Nokia's offcial Twitter account followed @InstagramWP, it could very well mean that the app could be 'Exclusive-to-Lumia' in the early few days or months and will then be released for the Windows Phone users of other OEMs. But we would also like to clarify that we cannot confirm anything until we hear it officially from Instagram.
Things are getting interesting! Stay tuned to us as we bring you all the latest development on this story.